Het weekend belooft guur en nat te worden, dus beschouw ik het als mijn plicht wat interessant leesvoer uit de blogosfeer aan te bieden. Is er tenminste nog een lichtpuntje in deze donkere tijd.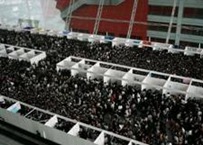 Waar in Nederland een ferme krapte op de arbeidsmarkt bestaat, lijkt China daar nog niet onder gebukt te gaan, getuige deze foto van een jobfair
Of is het optisch bedrog, en is het misschien simpelweg omdat er daar zo ontzettend veel mensen wonen?
Hoe het ook zij, mensen die last hebben van claustrofobie kunnen beter niet in China naar een jobfair gaan!
Een onderwerp waar altijd mooie, verhitte debatten over kunnen ontstaan: Internet toegang op het werk! En helemaal in deze tijd, waarbij online shoppen voor Sinterklaas en Kerst wel een meer dan gemiddeld persoonlijk surfen zal leiden. En dat blijkt zeker uit een onderzoek  van Accountemps.  Want daarin geeft 21% van de respondenten aan bijna 3 uur per week te gaan besteden aan online shoppen. Op het werk wel te verstaan.

Nederland heeft sinds gisteren haar eerste sociale netwerk voor 50-plussers volgens Marketingonline. Dit als gevolg van de facelift van Vijftigplusser.nl. Deze site had al 15.000 actieve leden en wil blijkbaar laten zien dat Eons het fout heeft. Waar Jeff Taylor faalt kan Thijs van Halteren mogelijk wel succesvol zijn?
Hoewel ik met rasse schreden de doelgroep nader voel ik er buitengewoon weinig voor om mij aan een dergelijke club te verbinden. Voor mij althans is leeftijd een redelijk ondergeschikt criterium bij het aangaan van sociale relaties.
Om nog even bij sociale netwerken te blijven, Frankwatching doet verslag van de paneldiscussie tijdens het Corporate Social Networking congres. Onze eigen Bas van de Haterd was als panellid aanwezig.
Het boek "The wisdom of crowds" schetst een (controversiële) theorie dat een inschatting/beoordeling door een groep personen in veel gevallen van hogere kwaliteit is vergeleken met de voorspelling van een individu, zelfs als dat individu een expert is. Jason Calacanis gebruikt de wisdom of crowds als analogie voor Web 3.0; Web 2.0 wordt door hem afgedaan als de madness of mobs. Alex Iskold heeft hierop een m.i. minteressante en relevante reactie.
Het nieuwe weblog Nr.29 vraagt zich af of mensen tegenwoordig van baan veranderen uitsluitend om het veranderen van baan. Dat er geen negatieve redenen zijn om te vertrekken anders dan de duur dat je ergens al werkt: Jobhoppen om het Jobhoppen. Dat lijkt me heel onwaarschijnlijk, maar misschien hoor ik wel tot een andere generatie. Ik heb overigens nooit ergens al te lang uitgehouden, maar dat had hele andere redenen!
Een nieuw fenomeen? De term Social Graph heeft tot een redelijk aantal fundamentele artikelen van serieuze denkers geleid (met dank aan Read/WriteWeb):
Veel leesplezier en tot volgende week!