Het Amerikaanse Bureau of Labor Statistics (BLS) kwam vandaag met het werkloosheidcijfer voor de maand januari. En het was een verbijsterende cijfer; want de werkloosheid is ten opzichte van december 2011 wederom fors gedaald: van 8,5% naar 8,3%. En de Pavlov reflex van de beurzen in de VS en Europa was een ferme stijging. En dat terwijl de onderliggende cijfers ronduit dramatisch zijn. Want als je kijkt naar de arbeidsparticipatie dan is per direct duidelijk waarom de werkloosheid is gedaald: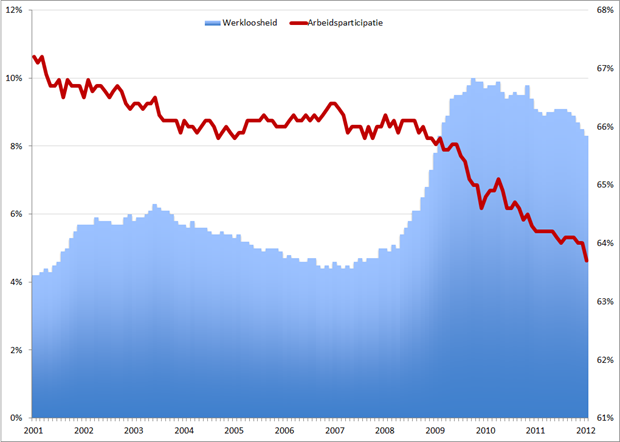 Werkloosheid en arbeidsparticipatie VS, januari 2001 – januari 2012. Bron: BLS.
De arbeidsparticipatie is in januari namelijk ingestort; van 64,0% naar 63,7%. En dankzij deze ineenstorting is de werkloosheid gedaald naar 8,3%. De vraag is natuurlijk of de bijna 1,2 miljoen mensen die het hier betreft zich uit vrije wil uit de beroespbevolking hebben teruggetrokken. Of dat ze gewoon tot het steeds verder groeiende leger van discouraged workers moeten worden gerekend.
ZeroHedge heeft de moeite genomen om de ontwikkeling van de werkloosheid in de VS te berekenen door uit te gaan van een gelijkblijvende arbeidsparticipatie van 65,8% over de periode 1980 tot nu. En dan krijg je dit beeld: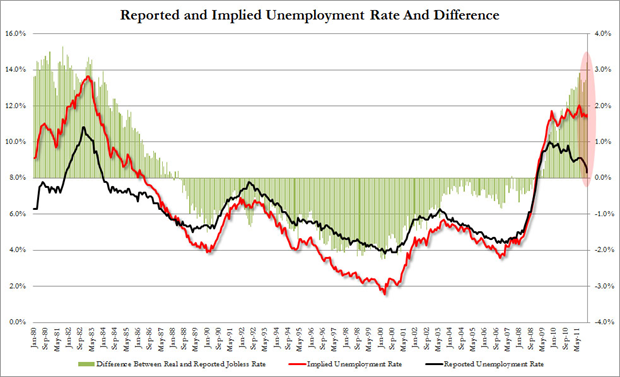 Reported and Implied Unemployment Rate and Difference, 1980 – heden. Bron: ZeroHedge
Met andere woorden, de werkloosheid zou, uitgaande van een gelijkblijvende arbeidsparticipatie per januari op 11,5% staan. Een verschil van een kleine 5 miljoen werkenden… Deze 5 miljoen Amerikanen zullen vast heel blij zijn dat ze door de BLS en de overheid worden 'vergeten'.
Voor de cijferneukertjes ook nog even de volgende beschrijving van het artikel op ZeroHedge:
Sick of the BLS propaganda? Then do the following calculation with us: using BLS data, the US civilian non-institutional population was 242,269 in January, an increase of 1.7 million month over month: apply the long-term average labor force participation rate of 65.8% to this number (because as chart 2 below shows, people are not retiring as the popular propaganda goes: in fact labor participation in those aged 55 and over has been soaring as more and more old people have to work overtime, forget retiring), and you get 159.4 million: that is what the real labor force should be. The BLS reported one? 154.4 million: a tiny 5 million difference. Then add these people who the BLS is purposefully ignoring yet who most certainly are in dire need of labor and/or a job to the 12.758 million reported unemployed by the BLS and you get 17.776 million in real unemployed workers.
De belangrijkste vraag is dus: waarom stijgen de beurzen op basis van dit gruwelijk slechte nieuws?