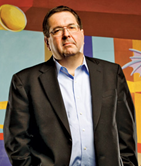 Dit is wat Sal Iannuzzi (CEO Monster) gisteren tijdens de conference call met analisten zei over de nog altijd onduidelijke status rondom de eventuele verkooop van Monster:
I know all of you are interested in our progress in reviewing strategic alternatives. Please appreciate there was little that we can say on that score except to say that we are aggressively pursuing a robust process as we speak.
Wat wil Iannuzzi in hemelsnaam zeggen met het vetgedrukte deel? Betekent het dat er een overnamekandidaat is en dat hiermee serieuze gesprekken worden gevoerd? Is dit Wall Street speak voor een positieve ontwikkeling? Ik heb oprecht geen idee.
Iemand suggesties?