Ga ik toevallig naar BranchOut in verband met een discussie op Quora, krijg ik dit te zien: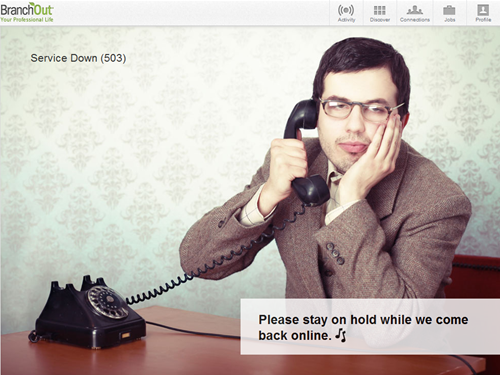 Tegelijkertijd is dit wat Rick Marini (CEO BranchOut) over zichzelf (en BranchOut) zegt op LinkedIn:
Rick is the Founder & CEO of BranchOut. BranchOut is the largest professional network on Facebook with over 30 million active users and over 500 million professional connections.

Je zou toch verwachten dat er iemand van die 30 million active users iets zouden melden als de site down is. Maar nee hoor, er heerst een werkelijk oorverdovende stilte op Twitter. Met uitzondering van een tweet van BranchOut zelf die een kwartier nadat ik bovenstaand scherm zag met de volgende mededeling kwam:

Al die 30 miljoen actieve leden kijken waarschijnlijk net zo geinteresseerd naar deze tweet als bovenstaande rakker richting camera loenst. Hij is ongetwijfeld een active user.