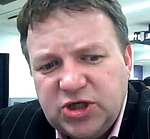 Een tweede sessie Ask the Expert, dit keer met Bill Boorman (Founder, @Bill Boorman and #Tru), die zijn sessie de titel Implementing Social Recruiting & Social Technology heeft meegegeven. Gezien zijn meestal hoge product placement & name dropping gewoonte heb ik grote twijfels ten aanzien van deze sessie, maar de andere sessies die gelijktijdig lopen zijn wat mij betreft nog minder interessant.
Over the past 12 months Bill Boorman has lead implementation projects with Hard Rock Cafe for all new store openings, Oracle EMEA (now global) and The BBC. Bill will be sharing the lessons learnt from these projects and the results achieved, looking at: Process diagnostic, Technology (review and selection.), Social places, People – Brand advocates and Recruiter impact/training, Analytics
Ik ben benieuwd…
Een recruiter die over technologie-ontwikkeling spreekt: we need agile technology because we probably need something different in three months time… Natuurlijk. Alles wijzigt continu in een gigantisch tempo. Hopla, tuned out.
Met daarbij overigens de zeer positieve aantekening: Boorman heeft in het geheel niet aan product placement of name dropping gedaan! En geen t-shirts uitgetrokken.
Tel je zegeningen…