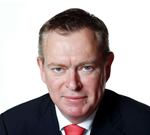 Bruno Bruins (voorzitter van de Raad van Bestuur van het UWV) werd vandaag op Radio 1 (luister vanaf 47:30) geinterviewd. Tijdens dat interview werd ook gevraagd naar de problemen met Werk.nl. En dit is wat de bestuursvoorzitter over die problemen zei:
"Mij staat voor ogen dat Werk.nl van een kwaliteit wordt als, nou laat ik zeggen, Rabobank.nl of ANWB.nl maar dat kost wel een aantal jaren, dus we zijn, je zou kunnen zeggen, aan het bouwen maar het huis is nog niet af. En ik vind het prima om tussendoor beoordeeld te worden hoe wij vorderen met het bouwen van het huis maar het huis is nog niet af. Daar hebben wij echt een aantal jaren voor nodig."
Bruins zegt hiermee niet alleen dat werkzoekenden in de komende jaren niet moeten zeuren, uiteindelijk komt het allemaal goed met de online dienstverlening. Tegelijkertijd zegt Bruins dat minister Kamp in mei van dit jaar glashard heeft staan liegen toen Kamp de Kamer beloofde dat alle problemen met Werk.nl in november 2012 zouden zijn opgelost.
O ja, dit staat onder meer bij zijn profiel op de UWV site:
UWV helpt je, als je werk zoekt of als je een uitkering nodig hebt
Alleen kan die hulp de komende jaren tijdelijk onbeschikbaar zijn, de verkeerde banen voorstellen of onhandig werken. Maar over een aantal jaren is dat allemaal opgelost. Echt waar!