Na het verzenden van mijn zoveelste ontkennende antwoord op een overigens persoonlijke uitnodiging om vriendjes te worden op LinkedIn kreeg ik dit te zien: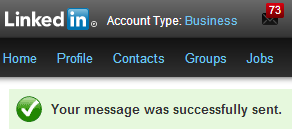 Valt iemand iets op aan deze boodschap? Oke, mij wel. Want waarom staat het woord successfully daar? Voegt dit iets toe aan de overdadige visuele cue's zoals het groene vinkje en de groene achtergrond? Zou ik zonder het woord successfully kunnen denken dat mijn boodschap niet was verzonden?
Dus waarom zie ik niet gewoon dit: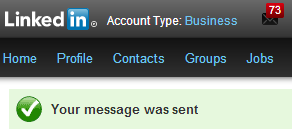 Of zouden LinkedIn gebruikers in dit geval en masse zich richting webcare bewegen met de vraag of hun bericht wel succesvol was verzonden?
En ik vraag me per direct af wat ik te zien krijg als het verzenden van de boodschap niet is gelukt. Krijg ik dan een rood kruis, een rode achtergrond en de tekst Your message was unsuccessfully sent?
Less is more…