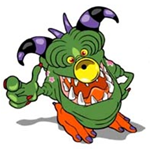 Het is begint als een gebarsten plaat te klinken, maar bij de presentatie van de cijfers over het vierde kwartaal heeft Sal Iannuzzi (CEO) wederom niet kunnen melden over de nu al bijna 12 maanden durende zoektocht naar een koper. Eind februari is het exact een jaar geleden dat Iannuzzi Monster in de etalage zette, en vandaag zij hij er dit over:
On the strategic alternatives front, the process continues and we will respond quickly if an opportunity arises. We are not able to anticipate when or whether our Board will have a concrete transaction to consider and we will only comment further if and when this occurs
Vrij vertaald: niemand wil ons hebben. Waarmee de deconfiture van Monster compleet is.
O ja, en de omzet over het vierde kwartaal ($211 miljoen) was maar liefst 10% lager dan in het vierde kwartaal van 2011 ($235 miljoen). Over heel 2012 is een verlies van $259 miljoen behaald, tegen een winst van $54 miljoen in 2011. Waarmee de scherpe daling van de koers (op dit moment –7%) onder meer valt te verklaren.
En dat terwijl het bedrijf ook in het afgelopen kwartaal allerhande maatregelen heeft genomen om als een aantrekkelijker overnamekandidaat te worden gezien:
During the fourth quarter, we implemented a series of actions designed to improve profitability and cash flow, consistent with our previously announced restructuring. As a leaner, more focused company, we are concentrating our resources on our core markets and are aggressively taking the steps necessary to strengthen our business.
Dat is een duidelijk verhaal, maar om volstrekt onduidelijke redenen volgt Iannuzzi dat op met de volgende onzin:
Our advanced product offerings, robust government business and a leading traffic position provide a solid foundation for future growth as the global economy recovers.
Hoor ik daar een beer schijten? Welke advanced product offerings, en welk herstel van de global economy? In dit verband is de Freudiaanse verpspreking van Iannuzzi tijdens de earnings call veelzeggend:
In Europe, we do not believe that the econom situation is getting worse. It appears to be stable, unfortunately, at a low level. In the US, we do not see signs of recovery, but they are – we do see signs of recovery, I apologize, but thet are very tentative.
De verspreking was de eerlijke versie…
Maar het wordt nog veel leuker; wat hiervan te denken:
Even more importantly, our clients are seeing a significant increase in the number of replies they get. This superior traffic in applied positions, combined with our superior search capability, means our core value proposition is better than ever.
Heeft Iannuzzi wel opgelet hoe het zit met het groeiende leger langdurig werklozen en personen die weliswaar niet meer tot de beroepsbevolking worden gerekend maar nog altijd proberen een baan te vinden? Wat een ronkende onzin!
Overigens heeft Monster de verkoop van ChinaHR aan Saongroup nu eindelijk bevestigd, zonder overigens de overnamesom bekend te maken. Dit zal mogelijk pas bij de presentatie van de financiele resultaten over Q1 2013 gebeuren. Wel heeft Monster een minderheidsaandeel van 10% in de Chinese operatie van Saongroup genomen als onderdeel van deze deal.
Als laatste, voor de fijnproevers, een antwoord van Iannuzzi op de vraag van een van de analisten over het type bedrijven waar mee is gesproken bij de pogingen om Monster te verkopen:
We've talked to both strategics, as well as the financial. We've cast the net extremely wide. As you know, we have 2 bankers involved, Stone Key and Bank of America. We've talked to an awful lot of people. And as is normal in these processes, some had greater interest than others. And we've engaged, at times, with multiple conversations simultaneously. And that's it. So it's been — what I can tell you, it's been an extremely robust process and a very comprehensive process. And some of it continues. But as I said in my comments, there is no — it is slow. It's certainly slower than I would have anticipated when we began last — end of last February or beginning in March. And I certainly can't guarantee that there's anything of interest or an expression of interest that is appropriate for us to bring to our board for consideration.
Voor als er nog iemand twijfel had dat er eigenlijk geen hond interesse heeft in Monster. Ze staan er helemaal alleen voor in een wereld die alleen nog maar oog heeft voor LinkedIn. Een weinig benijdenswaardige positie.