Ik heb me weer eens aan een Bill Boorman steen gestoten, maar dit is wel de laatste keer. Want de onbeschaamde plug van Boorman voor de IE add-on Colleague is mijn zoveelste teleurstelling over het (gebrek aan) onderscheidingsvermogen dat deze online recruitment "goeroe" aan de dag legt. Want niet alleen is de plugin een monsterachtig misbaksel; het kreng werkt niet eens!
Dit is wat de plug-in zou moeten doen:
The Colleague Internet Explorer Add-on is a free recruitment tool that enables recruiters to easily search over – x-ray – any website for candidate, contact and client data and even source social profiles from photos.
Vanzelfsprekend denk ik hierbij aan een sidebar tool zoals Falcon.io of de add-on sidebars van Entelo en TalentBin. Maar wat ik na een omslachtige installatieprocedure te zien krijg, tart elk voorstellingsvermogen.
Want dit is wat ik als eerste te zien krijg na de add-on te hebben gedownload, uitgepakt, geinstalleerd en binnen IE te hebben geactiveerd: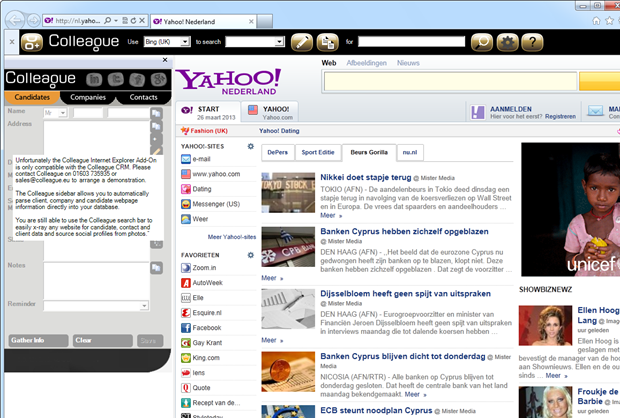 Een monsterachtig grote searchbar met een angstaanjagende hoeveelheid iconen aan de bovenzijde, en een linker sidebar die uitsluitend kan worden gebruikt als je ook het CRM systeem van Colleague gebruikt. Die sidebar kan dus meteen het roterend archief in.
Op basis van een video op de Colleague site heb ik al begrepen dat de gebruiker Colleague alles moet vertellen (welke search engine je moet gebruiken, welke sites doorzocht moeten worden, welke zoekcriteria daarbij gebruikt moeten worden). Daarmee lijkt deze plugin al in niets op de sidebars van Falcon.io, TalentBin en Entelo. Die werken zonder enige configuratie.
Maar Colleague blijkt ook helemaal geen personen te kunnen herkennen en de andere locaties van een persoon te tonen; het is gewoon een zoek'ding'. Die ook geen scan doen van social media maar gewoon een zoekopdracht op 1 site uitvoert. Waarmee voor mij de toegevoegde waarde van Colleague per direct volstrekt onduidelijk wordt. Google werkt tenslotte prima
Even ter illustratie, dit is de manier waarop een gebruiker Colleague dient in te richten. Allereerst de zoekmachines en de sites die ik wiil gebruiken: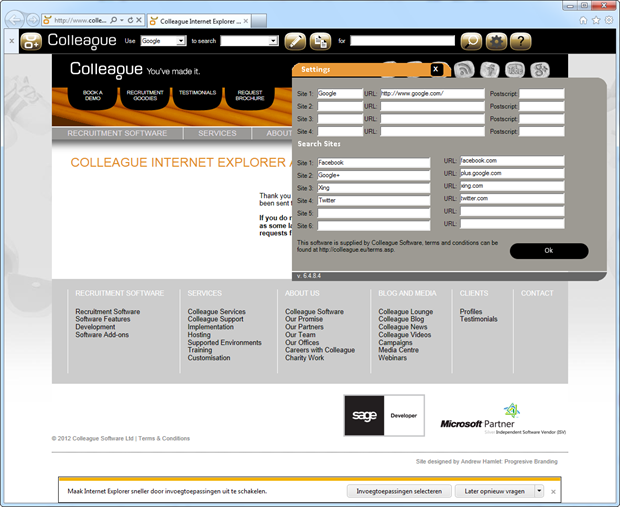 Hilarisch, ik heb het gevoel dat ik minimaal 5 jaar terug in de tijd ga..
En dan de zoekcriteria; dat gaat als volgt: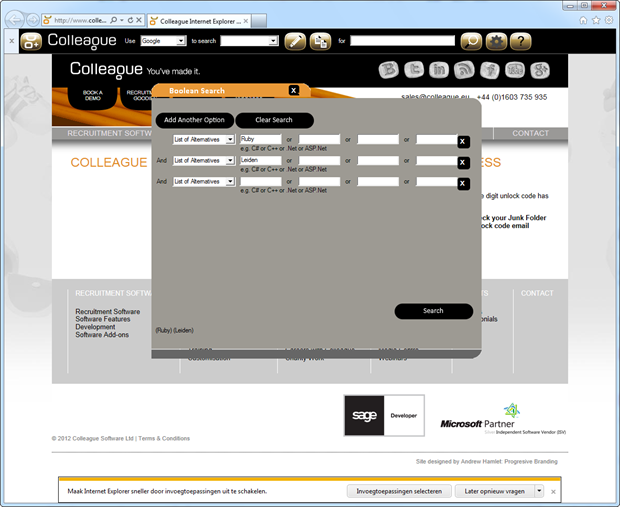 Whoehaha! De makers van dit gedrocht gaan er dus blijkbaar vanuit dat iedere recruiter een soort boolean searcher is. Maar het maken van een boolean searchstring gaat een stuk sneller zonder Colleague… Gewoon, in Google.
Als ik dan eenmaal alles heb ingesteld en mijn eerste zoekopdracht wil uitvoeren komt Colleague ook nog even met een blokkade; ik moet  mijn e-mail adres opgeven om een unlock code te ontvangen! Alternatieven als Falcon.io en Talentbin vragen niet om een e-mail adres; die gaan ervan uit dat de kwaliteit van hun dienstverlening wel zorgt voor voldoende business…
Maar als ik dan eenmaal mijn unlock code heb ontvangen en ingevoerd en mijn zoekopdracht opnieuw probeer uit te voeren krijg ik dit te zien: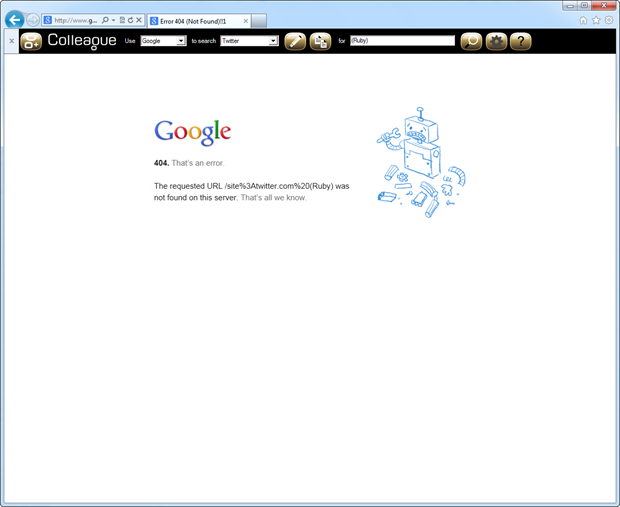 Holy crap!
Ik heb Colleague per direct op de brandstapel gegooid en om het vuur gedanst. Wat een bagger!
Conclusie
Deathpool.