Iedereen die wel eens een vaktijdschrift leest, weet dat daar eens in de zoveel tijd een kleurige kaart uit komt rollen, waarmee je bij Google 10 of 20 of 50 euro gratis advertentietegoed kunt krijgen. Dat werkt één keer – als echte Hollander heb ik natuurlijk geprobeerd of ik vaker gratis kon adverteren, maar nee – en alle volgende vouchers kunnen dus linea recta bij het oud papier.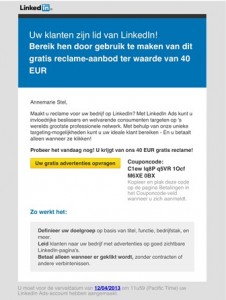 Ik vind dat altijd een beetje zonde, maar het wordt vast wel gerecycled en van Google kan ik het hebben. Die maken er geen geheim van dat 'advertenties verkopen' hun core business is. Maar van de week viel bijgaande voucher van LinkedIn in de digitale bus. Nu vind ik toch al dat LinkedIn soms aardig van het rechte pad aan het afdwalen is, maar toen ik dit zag, dacht ik: "Huh? LinkedIn doet een Googletje?" Van sociaal, c.q. zakelijk netwerk naar aandeelhoudersgedreven zelfverloochening is blijkbaar maar een kleine stap.
Ik ga de voucher niet gebruiken. Hij is geldig tot a.s. vrijdag, 12 april. Wie wil mag de code hebben: C1ew lq8P q5VR 1Ocf M6XE 0BX. Wees er snel bij en invullen in het Couponcode-veld. Da's toch weer 40 euro bespaard.