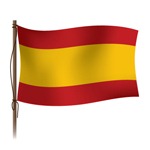 De Spaanse equivalent van het CBS is het Instituto Nacional de Estadistica (INE). Eerder deze week publiceerde het INE het werkloosheidspercentage (volgens de nationale definitie) over het eerste kwartaal van 2013. En dat was een schokkend hoog percentage: 27,2%. Exact gelijk aan het werkloosheidscijfer van Griekenland voor januari 2013; maar dat cijfers is volgens de internationale definitie waarmee de werkloosheid in Griekenland nog altijd de hoogste in Euroland blijft.
Maar het is niet alleen de hoogte van de werkloosheid in Spanje die zorgen baart; de duur van de werkloosheid is zo mogelijk nog zorgwekkender. Want als je in Spanje eenmaal werkloos wordt neemt de kans dat je zeer langdurig werkloos zal blijven hand over hand toe. Ondertussen is ruim 1/3 van alle Spaanse werklozen langer dan 2 jaar werkloos…
Het restant van deze blog posting bevat beelden die als schokkend kunnen worden ervaren.
Ontwikkeling van de werkloosheid in Spanje sinds 2008
Laat ik beginnen met een relatief onschuldige grafiek, hoewel de inhoud ernstig genoeg is om je een ferme depressie te bezorgen; de ontwikkeling van het aantal werklozen in Spanje sinds begin 2008: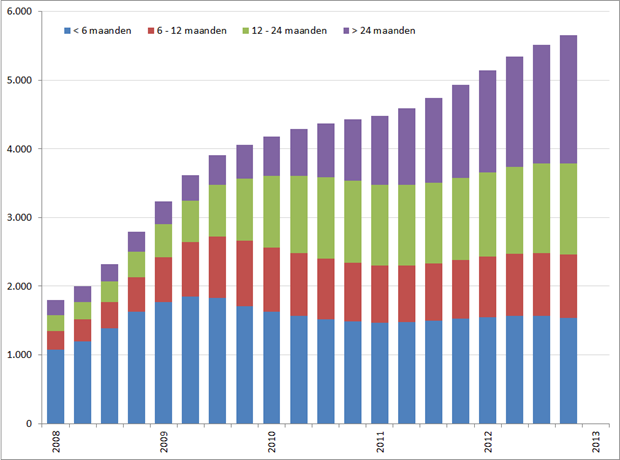 Aantal werklozen (* 1.000) naar duur werkloosheid (voortschrijdend jaargemiddelde) Q1 2008 – Q1 2013. Bron: INE
De groei van de werkloosheid in Spanje sinds het uitbreken van de financiele crisis is evident, maar daarbinnen is vooral de groei van een steeds langere werkloosheidsduur bijzonder goed zichtbaar.
De ontwikkeling van die werkloosheidsduur is in onderstaand vierluik nog veel duidelijker weergegeven: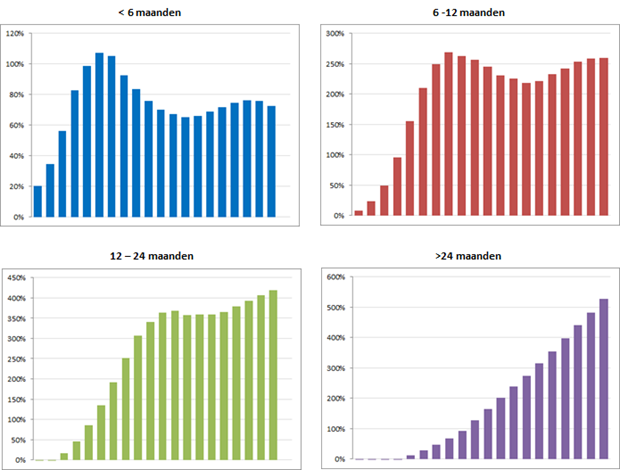 %verandering aantal werklozen naar duur werkloosheid, Q1 2008 – Q1 2013, (2007 = 0%). Bron: INE, RecruitmentMatters
De impact van de financiele crisis word vrijwel direct zichtbaar in de ontwikkeling van de werkloosheidsduur tot 6 maanden. Deze stijgt explosief in een zeer korte tijd (in anderhalf jaar meer dan een verdubbeling) om vervolgens na een lichte daling te stabiliseren op ongeveer 70% boven het niveau van 2007.  De werkloosheidsontwikkeling met een duur van 6 – 12 maanden laat zoals mag worden verwacht een vertraagde reactie zien maar groeit naar een aanzienlijk hoger niveau dan de kortdurende werkloosheid. Ten opzichte van 2007 staat dit type werkloosheid op een toename van bijna 260%…
Maar de grootste rampspoed voltrekt zich in de werkoosheid met een duur van meer dan 1 jaar. Waarbij een werkloosheidsduur van 12 – 24 maanden ondertussen is gestegen tot een niveau dat meer dan 4 keer (418%) hoger dan in 2007. En dat verschil wordt nog altijd groter. Helaas is zelfs dit astronomische verschil nog niets vergeleken met de langste werkloosheidsduur; die van meer dan 24 maanden. Want daar is een parabolische groei zichtbaar waarbij de teller op dit moment stilstaat op ruim 5 keer (528%) boven het niveau van 2007. En de groei van het aantal langdurige werklozen in deze categorie neemt nog altijd razendsnel toe.
Ondertussen is ruim 1/3 van de werkloze beroepsbevolking in Spanje langer dan 2 jaar werkloos. Een onvoorstelbaar hoog percentage. Maar voor bijna 2,1 miljoen Spanjaarden is dit een dagelijkse realiteit. En hun aantal groeit iedere dag met bijna 2.000…
Overigens is de sterke groei van werkloosheid en werkloosheidsduur nog niet eens het volledige beeld van de rampzalige situatie waar de Spaanse arbeidsmarkt zich op dit moment in bevindt. Want ook de ontwikkeling van het aantal mensen dat zichzelf als underemployed (is werkend maar wil meer uren werken) kwalificeert neemt sterk toe: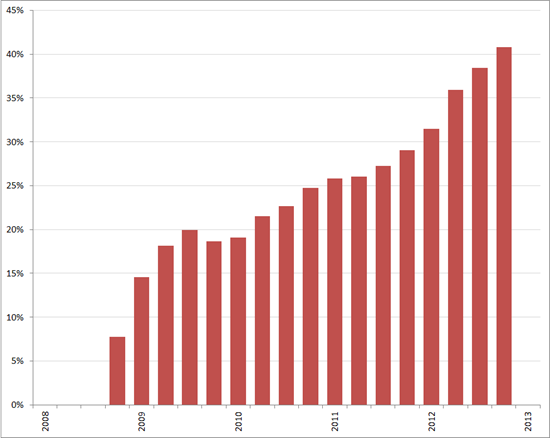 %verandering aantal underemployed, Q1 2008 – Q1 2013 (2008 = 0%). Bron: INE, RecruitmentMatters
De arbeidsmarkt in Spanje is sinds de financiele crisis feitelijk geimplodeerd waarbij de nog altijd sterk stijgende werkloosheid duidelijk maakt dat deze implosie nog lang niet is geeindigd. Er is voor een snel stijgend deel van de Spaanse beroepsbevolking een volstrekt uitzichtloze situatie aan het ontstaan waarbij hun afstand tot de arbeidsmarkt zo groot is geworden dat terugkeer bijzonder moeilijk zal blijken. Nog even los van de vraag wanneer er uberhaupt sprake zal zijn van een terugkeer. Want daarvoor is economisch herstel noodzakelijk.
Een extraatje
Gelukkig is er in dat verband een duidelijk groen waas waarneembaar; de Spaanse overheid stelt namelijk dat in 2014 de vruchten van het bezuinigingsbeleid geplukt gaan worden. Waarbij ik me wel voorzichtig afvraag op welke bezuinigingen de Spaanse overheid doelt. Deze soms?:
Ja, er is zo strak bezuinigd dat de Spaanse schuld in de periode van 2007 – 2012 met een slordige 140% is toegenomen. Een volstrekt uniek bezuinigingsbeleid. Zoals uit bovenstaande grafiek blijkt is de Spaanse overheid overigens lang niet de enige schuldverslaafde…
Ben je nog altijd niet afgehaakt als gevolg van een opkomende depressie? Dan heb ik nog een fijne uitsmijter voor je, die het lezen meer dan waard is. Elk vezeltje resterende groene waas zal na lezing gegarandeerd verdwenen zijn:
What I will discuss today is the prime mover, in my opinion, of the destabilization of the European economies and yet, like the debt to GDP ratios on the Continent; just because it isn't counted does not mean that it does not exist. I will endeavor to explain it as simply as possible.

A bank in some European country such as Spain lends money but the collateral, Real Estate or commercial loans, are going bad. The bank then securitizes a large pool of this collateral and pledges it at the ECB to receive cash. In many cases to take the pool the country has to guarantee the debt. So Spain, in my example, guarantees the loan package which is then pledged at the ECB and is a contingent liability and which is not reported in the debt to GDP ratio of the country but nowhere else that you will find either. "Hidden" would be the appropriate word.

Then as time passes the loans get even worse so that the ECB demands cash or more collateral because they will not be taking the hit; thank you very much. The bank cannot afford to post more collateral so that the country, Spain, must post the collateral and add an additional guarantee for the new loan or they must post cash which is oftentimes the case.

Consequently as time passes and more cash has been spent the country, Spain, begins to run out of capital and the 10.6% deficit figure, that Spain announced recently, is not anywhere close to the actual reality so that they will get forced to officially borrow more money from the ESM as the sovereign guarantee of bank debt becomes unsustainable.

What is happening is then becoming clearer as the nations of Europe are running out of capital as they endeavor to support their banking institutions. The breadth and depth of this problem is nowhere to be found but the effect is unmistakable.  The European nations are going bankrupt.

The problem is that Europe pretends to be asleep. The difficulty then is that you cannot wake them up.

The longer that time passes; the worse the situation. The countries cannot afford to pay their known bills. The banking crisis worsens. The debt at the ECB must get paid which worsens the finances of the sovereigns. It is a death spiral unless the economies pick-up and experience real growth which is just not happening. Soon the problems will become bad enough that they will hit the fan once again and this time; there will be real Hell to pay.

You can expect this for Spain, Greece, Portugal, Cyprus, Slovenia, Ireland et al and in short order. I have used Spain as the example today because their stated 10.6% economic decline is only a fraction of their real issue. Again, what is not counted or what is not stated does not ease the burden of what must be paid. They may proclaim fantasy but they are living in reality. The famous windmills are becoming unhinged.
Het is maar goed dat onze massamedia collectief in lente-, zomer-, herfst- en winterslaap verkeren als het om economische ontwikkelingen in (onder meer) Euroland gaat. Want anders hadden we wel iets belangrijkers om ons hoofd over te breken dan een of ander koningslied.
En denk niet dat Spanje het enige land is met financiele 'probleempjes'. Onderstaande grafiek laat van deze gedachte geen spaan heel: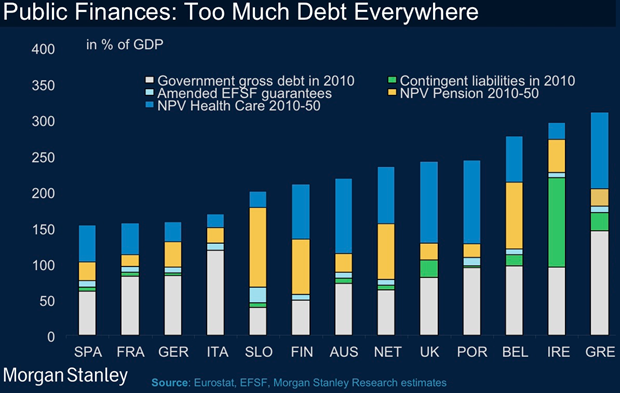 De afkorting NET staat voor ons landje. Fraai om te zien wat de impact is (als net present value) van de kosten voor onze gezondheidszorg en de pensioenlasten. Wij staan er een stuk beter voor dan Spanje. En bedenk vervolgens dat dit angstwekkende plaatje niet eens onze private schuldenberg laat zien. Inderdaad, de hypotheekschuld. Want daarin is Nederland de onbetwiste wereldleider. Hoewel in de huidige situatie eerder van wereldlijder kan worden gesproken.
Maar wees gerust, dit najaar zijn er geen aanvullende bezuinigingen nodig. Waarom niet? Omdat onze minister-president een groen waas heeft gezien. Steady as she goes, Mr. Baines