Werk.nl is een rampzalig slechte website, maar het lijkt er op dat niet-werkende werkzoekenden in Engeland er nog bekaaider vanaf komen. Zij zijn veroordeeld tot de website van het Department of Work and Pensions (DWP), waar ze vervolgens naar alle waarschijnlijkheid met deze melding geconfronteerd worden:

En als je dan op de hyperlink Tell me more klikt krijg je me toch een verbluffende opsomming te zien…
Lees en huiver: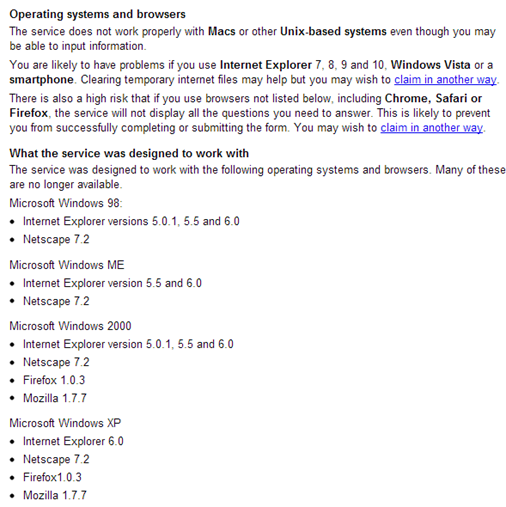 Met andere woorden, vrijwel niemand kan van de online diensten van DWP gebruik maken zonder op zolder een oude computer te zoeken, af te stoffen en te hopen dat het allemaal nog werkt. O ja, en een of ander modem zien te scoren.
Werk.nl komt ineens in een heel ander daglicht te staan… Ook al blijft de website onveranderd de slechtste website in online recruitmentland.