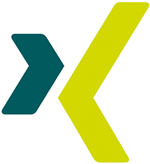 Vandaag kwam XING voorbeurs met haar resultaten over het eerste kwartaal van 2013. En hoewel elke vergelijking met LinkedIn volledig mank gaat, is het bijna onvermijdelijk om beide professionele netwerken niet met elkaar te gaan vergelijken. Waarbij ik me onwillekeurig afvraag wanneer de globale Goliath het Duitse Klein Duimpje nou eindelijk eens inlijft.
Want hoewel XING trots probeert te klinken staat de groei van het professionele netwerkje natuurlijk niet in verhouding tot de explosie van LinkedIn. Ter illustratie; de omzet van XING groeide in het eerste kwartaal met 11% ten opzichte van hetzelfde kwartaal van 2012; LinkedIn noteerde een groei van 73%… No contest.
Het laat onverlet dat XING in het Duits-sprekende deel van de wereld nog altijd heer en meester is. Nog altijd, maar de vraag begint zich op te dringen in hoeverre XING zich kan blijven onderscheiden ten opzichte van LinkedIn in een wereld die zelfs voor de relatief insulaire Duitsers, Oostenrijkers en Zwitsers steeds internationaler wordt.
Ik heb geen idee, maar de nogal onrustige ontwikeling van de omzet lijkt hierop enig licht te schijnen: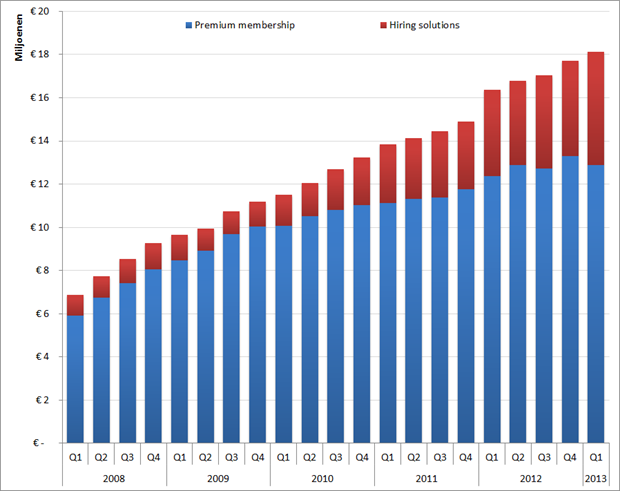 XING: Omzet voor Premium subscriptions en Hiring solutions per kwartaal, Q1 2009 – Q1 2013
Tweederde van de omzet van XING is afkomstig van betalende gebruikers (Premium membership); en de laatste kwartalen lijkt de omzetgroei uit deze groep te zijn gestagneerd.
Onderstaande grafiek toont de duidelijke sterkere daling van de groei van het aantal betalende leden (donkerrood) ten opzichte van de groei van het totale ledenvolume: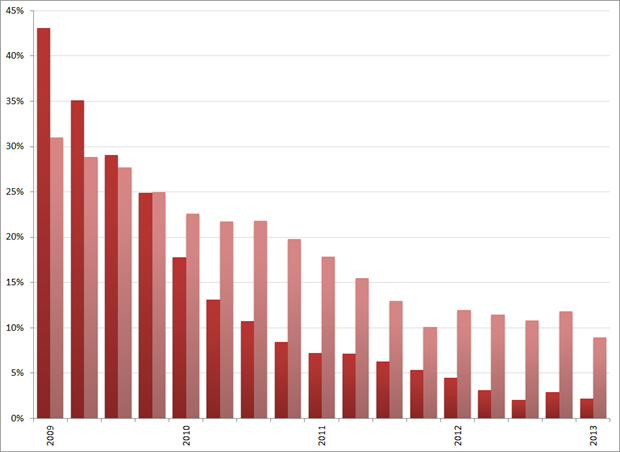 XING: groei (in %, op basis van voortschrijdend jaargemiddelde) van het totale aantal leden (lichtrood) en het aantal betalende leden (donkerrood), Q1 2009 – Q1 2013).
De toekomst voor XING ziet er bepaald ongunstig uit als het om de groei van het omzetvolume van Premium subscriptions gaat. Die groei lijkt hard op weg te zijn naar de 0% grens.
Het is dus maar goed dat de omzet uit Hiring solutions lekker blijft doorgroeien en daarmee de stagnatie bij Premium subscriptions meer dan goed maakt. Overigens is een vergelijking met LinkedIn op het gebied van Hiring solutions meteen een droefmakende voor XING; over Q1 2013 had LinkedIn een omzet van ruim $184 miljoen, XING stelt hier ruim EUR 5 miljoen tegenover… Ook in termen van omzet per 'member' is dat nog altijd mager; waar LinkedIn $0,84 omzet per 'member' realiseert, komt XING niet verder dan EUR 0,40 per 'member' voor Hiring solutions. XING is dus niet alleen in omvang een dwerg, ook in de mate waarin het professionele netwerkje haar 'members' tot omzetgenerator weet om te toveren binnen Hiring solutions is ver beneden het niveau dat LinkedIn realiseert.
Maar natuurlijk kan dat CEO Thomas Vollmoeller er niet van weerhouden om selectief de loftrompet te tuiten:
XING has again seen solid growth during the first quarter of 2013 with revenues increasing in all areas of the business. Demand for our corporate solutions, which are helping businesses in the battle for talent, is growing all the time. Our Talent Manager provides access to the largest candidate pool in the D-A-CH region
De wereld rondom Duitsland, Oostenrijk en Zwitserland is op dit moment van LinkedIn. Het lijkt nauwelijks nog een vraag of maar vooral wanneer LinkedIn besluit dat ook het Duits-sprekende deel van de wereld moet worden geannexeerd. Wanneer die keuze wordt gemaakt is het voor XING slechts zaak haar huid zo duur mogelijk te verkopen.