Gisteren was collega-blogger (en zelfverklaard dataliefhebber) Laurens Tienkamp in de war door een stukje op Nu.nl over de jeugdwerkloosheid naar aanleiding van de publicatie van het ILO (International Labour Organization) rapport Global Employement Trends for Youth 2013. Tienkamp raakte waarschijnlijk in de war toen hij de volgende alinea las:
In 2012 ging het nog om een werkloosheidspercentage van 12,4 procent. In 2007, voordat de kredietcrisis uitbrak, was 11,5 procent van de jongeren werkloos.
En dat leverde, onder meer, deze interactie op: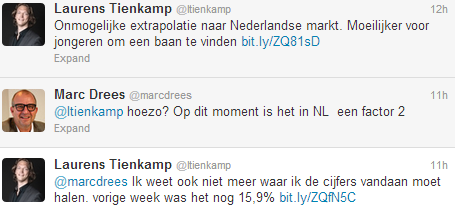 Nu.nl maakt er geen gewoonte van om werkloosheidscijfers correct weer te geven, maar in dit geval was Tienkamp in de war; hij haalde cijfertjes door elkaar. En daarom heb ik hem beloofd een blog te schrijven zodat hij weer rustig kan slapen.
Het door Nu.nl gemelde cijfer van 12,4% komt uit de volgende zin van het ILO-rapport (pg. 3):
The global youth unemployment rate, which had decreased from 12,7% in 2009 to 12,3% in 2011, increased again to 12,4% in 2012, and has continued to grow to 12,6% in 2013.This is 1,1 percentage points above the pre-crisis level in 2007 (11,5%).
Het gaat dus om de wereldwijde jeugdwerkloosheid. Het door Tienkamp gemelde cijfer van 15,9% komt uit een heel ander stukje:
Patrick Bakker, CEO van Adecco Group Nederland, is erg blij met het initiatief: "De (jeugd)werkloosheid neemt momenteel over de hele wereld extreme vormen aan. De jeugdwerkloosheid in Nederland onder jongeren tot 25 jaar liep in het eerste kwartaal van 2013 bijvoorbeeld al op naar 15,9%."
Zoals voor iedere oplettende lezer direct duidelijk wordt, is er in dit geval sprake van de jeugdwerkloosheid in Nederland, niet die van de hele wereld. Probleem opgelost.
Maar er is meer. Want hoe kan het dat een zogenaamde data-afficionado als Tienkamp bovengenoemd cijfer van 15,9% als zoete koek slikt? Is meneer Bakker de bron als het om jeugdwerkloosheid gaat? Nee, natuurlijk niet. Zoals een kort bezoekje aan het CBS per direct duidelijk maakt: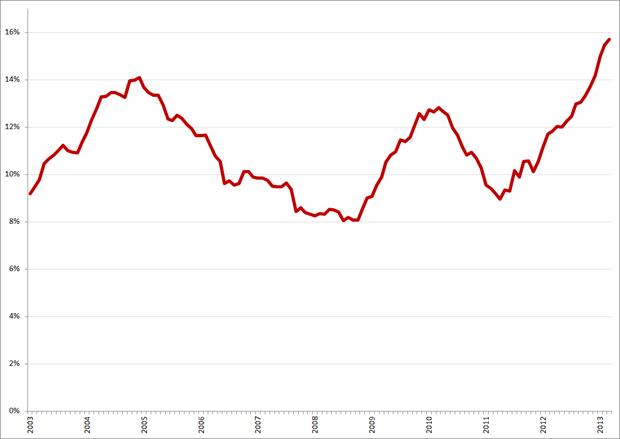 Jeugdwerkloosheid Nederland (volgens nationale definitie), januari 2003 – maart 2013. Bron: CBS
Op dit moment (maart 2013) staat de jeugdwerkloosheid in Nederland op 15,7%. Dus geen 15,9% over het eerste kwartaal. Wwaar Bakker dat cijfer vandaan heeft gehaald is een volstrekt raadsel, maar de dikke duim lijkt mij een aannemelijke bron.
Afijn, verwarring opgelost.
Om het toch nog een heel klein beetje ingewikkeld te maken; de (jeugd)werkloosheid wordt in Nederland zowel volgens de aloude nationale definitie als volgens de internationale definitie gerapporeerd. En volgens die internationale definitie staat de jeugdwerkloosheid in Nederland op 10,5% (maart 2013).  Voor echte dataliefhebbers heb ik in dit verband ook nog een kleine uitsmijter; de ontwikkeling van de jeugdwerkloosheid binnen een aantal Europese landen:
Ja, dat is andere koek! En bepaald droefmakende koek, zeker als je jong bent en in een van de PIIGS-landen woont. Waar ze overigens geen ambassadeur voor de jeugdwerkloosheid hebben…
Wil je meer weten over de jeugdwerkloosheid in Europa, ga dan naar Eurostat.