Een belangrijke indicator van de gezondheid van de consument en daarmee van de gezondheid van de economie is het aantal verkochte nieuwe auto's. En het gaat nog altijd slechter met de gezondheid van die consument (en van de economie) als we kijken naar de autoverkopen in de PIIGS-landen: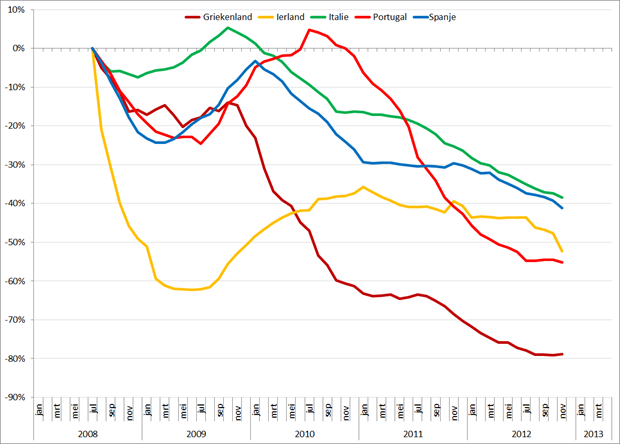 Trendlijn autoverkopen PIIGS-landen op basis van 12-maands gemiddelden, jan 2008 – april 2013. Bron: ACEA
Griekenland is aan het bottom bouncen geslagen; geen stijging of daling maar gewoon ronddobberen op de bodem. Het land waar op dit moment nog maar 20% van het aantal auto's wordt verkocht in vergelijking met 2008 zakt niet verder. En dat is meteen het positieve nieuws van deze maand, want alle andere landen laten een daling zien.
Italie en Spanje dalen min of meer synchroon; ondertussen is in beide landen het volume aan verkochte auto's al met 40% ingezakt ten opzichte van 2008… Ierland lijkt plotseling op weg naar een veel grotere krimp na geruime tijd de indruk te hebben gegeven op een bodem te zijn aangekomen. En Portugal lijkt voorlopig op haar eigen bodem te zijn aangekomen en dobbert net als Griekenland een beetje in het rond.
Zien we groene waasjes in deze cijfers? Nee! Het waas is donkerrood.
Maar hoe zit het dan met de 'gezonde' Eurolanden? Nou, daar is de ontwikkeling als volgt: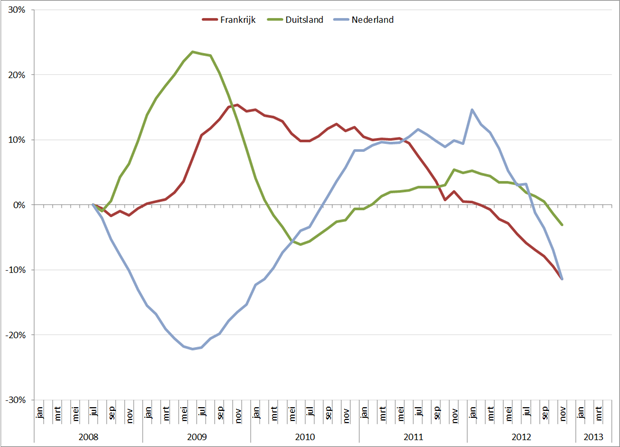 Trendlijn autoverkopen, per maand en op basis van 12-maands gemiddelde, jan 2008 – april 2013. Bron: ACEA
In Nederland kan over een ineenstorting van autoverkopen worden gesproken. In minder dan een jaar tijd is de trendlijn van +15% naar –11% gedaald. Hoor ik massale faillissementen bij autodealers naderen? Groen waas iemand?
Frankrijk laat een geleidelijke erosie zien die in snelheid lijkt toe te nemen. Geheel in lijn met de zich versnellende implosie van de Franse economie, hoewel president Hollande gisteren de Eurocrisis al in de achteruitkijkspiegel had gezien. Zelden is een politicus zo los van de werkelijkheid geweest als deze man.
En dan Duitsland. De grafiek van dit land is bijzonder, omdat direct na het uitbreken van de financiele crisis Duitsland haar eigen cash for clunckers programma had opgezet om zo de Duitse auto-industrie een impuls te geven. Gezien de enorme piek is dat uitstekend gelukt, maar zoals in het vervolg van de grafiek kan worden gezien is hiermee vooral de vraag naar voren getrokken. Er vanuit gaande dat ondertussen de rust is hersteld is ook in Duitsland ondertussen de structurele krimp ingezet. Waarmee de belangrijkste motor van Euroland ook lijkt te haperen.
Een belangrijke indicator van consumentenvertrouwen en consumentenuitgaves staat dus (diep) in het rood. En met elke nieuwe maand gaat die indicator dieper in het rood. Maar in de tweede helft van 2013 gaat het allemaal beter. Kijk maar, ik heb blauwe ogen…