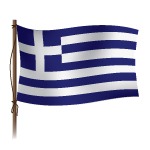 Het Griekse bureau voor de statistiek (Elstat) heeft zomaar een consistente boodschap uitgebracht bij de rapportage van de werkloosheidscijfers over april. Want de vorige maand gerapporteerde 26,8% werkloosheid over maart 2013 staat nog steeds en de werkloosheid voor april 2013 is uitgekomen op 26,9%. Een toename van 0,1% dus.
Overigens is het bijzonder merkwaardig om te constateren dat volgens Elstat de werkloosheid over het eerste kwartaal van 2013 is uitgekomen op 27,4%, terwijl in de onderliggende maanden gemiddeld een werkloosheid van 26,6% per maand is vastgesteld (januari 26,4%, februari 26,6%, maart 26,8%). Hoe dit moet worden verklaard is mij een raadsel, maar de wegen van Elstat zijn in de afgelopen jaren al vaker volstrekt ondoorgrondelijk gebleken.
Zo ziet de ontwikkeling van het werkloosheidspercentage van Griekenland (en Spanje, het tweede rampeland in de Eurozon als het om de werkloosheid gaat) er over de afgelopen jaren uit: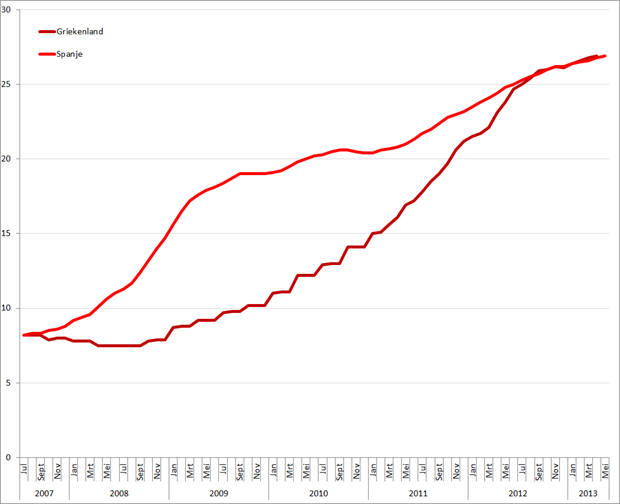 Werkloosheid Griekenland en Spanje (januari 2007 – april/mei 2013). Bron: Eurostat, Elstat
Beide landen staan ondertussen een olifantshaar verwijderd van een werkloosheidspercentage van 27%. Volstrekt onvoorstelbaar wat een dergelijk hoge werkloosheid met een land doet. Of liever gezegd, met de mensen die werkloos zijn geraakt en soms al jaren vruchteloos op zoek zijn naar een baan. Het kan niet anders of de grijze economie tiert welig in dit land; zonder een dergelijk vangnet zou er allang een burgeroorlog zijn uitgebroken. Hoe 'onze' minister Dijsselbloem denkt dat Griekenland ooit de honderden miljarden aan steun gaat terugbetalen is mij een volstrekt raadsel. Dat geld dienen we collectief als verloren te beschouwen of we moeten gewoon delen van Griekenland tot ons grondgebied kunnen gaan rekenen.
De jeugwerkloosheid maakt overigen nog altijd bijzonder rare sprongen. In januari was de jeugdwerkloosheid 59,3%, in februari 64,5%, in maart 58,3% en in april 57,5%. De rapportage van de jeugdwerkloosheid kan om die reden dan ook maar beter met een flinke korrel zout worden genomen.