Iemand weleens van Beyond gehoord? Eerlijk gezegd had ik er weleens van gehoord, maar was het verder nog nooit ergens tegen gekomen. Wat merkwaardig is, aangezien Beyond meer dan 35 miljoen professionals in haar database claimt te hebben, en daarmee aanzienlijk groter is dan XING (15M) en kleiner dan Viadeo (50M). Beyond is namelijk ook van het soort social professional network:
Beyond.com is The Career Network, focused on helping people grow and succeed professionally.
Waarmee de site dus een soort micro LinkedIn is, net als XING en Viadeo. Maar waarom maken 35 miljoen mensen gebruik van Beyond terwijl er tegelijkertijd zo weinig van bekend is? Tijd voor een nader onderzoek.
De homepage
Dit is de homepage van Beyond: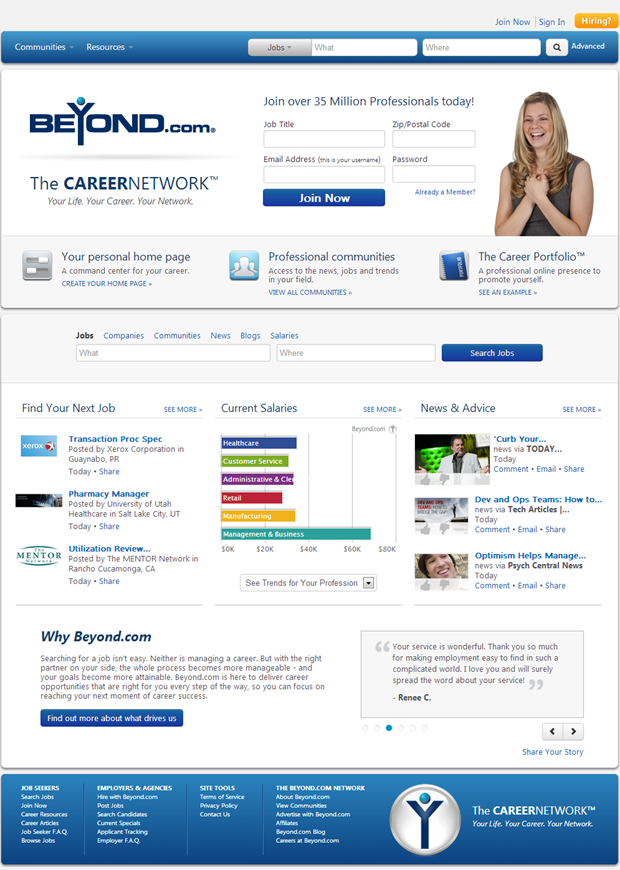 Een soort trip down memory lane. Beyond zou zichzelf een dienst bewijzen door haar website een fundamentele refresh te geven. Dit is wel heel erg 2005.
Maar los daarvan maakt de homepage duidelijk dat Beyond een site is om aan professional personal branding te doen naast een professionele sociale component: Professional communities. En dat zijn er wel een paar:

Deels sector, deels functiegroep gebonden communities
Ik weet niet precies wat er in zo'n community gebeurt, maar het lijkt er verdacht veel op dat het vooral gaat om vacatures en aanzienlijk minder om andere content. Tenzij de Marketing community een uitzondering is natuurlijk: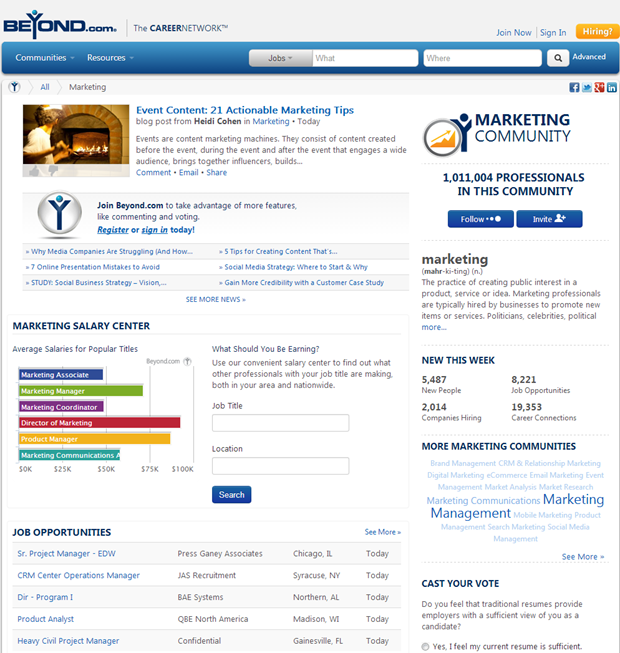 Afijn, laat ik mijzelf maar eens inschrijven. De enige social login die Beyond biedt is Facebook, om voor de hand liggende redenen is er geen Linkedin optie. Overigens werkte de Facebook optie voor geen meter, dus moest ik op de traditionele mijn inschrijving regelen. Wat ook niet vanzelf ging; in eerste instantie kreeg ik een foutmelding. Ik ben benieuwd hoeveel mensen afhaken dankzij dit soort onvolkomendheden…
Maar als het me dan eenmaal gelukt is om me in te schrijven krijg ik als eerste dit te zien: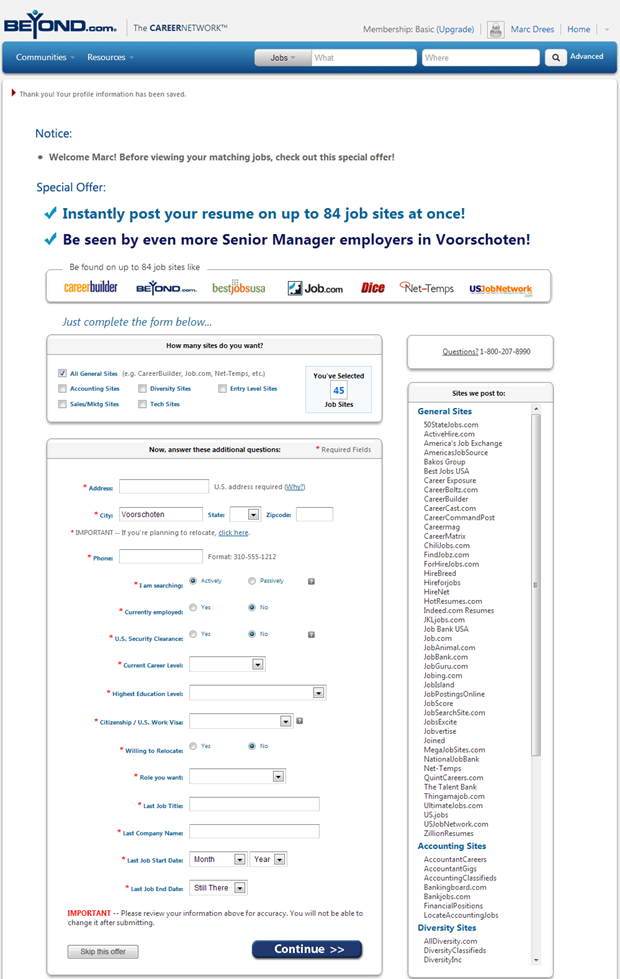 Krijg nou wat! Beyond is een resumeblaster. Of liever gezegd, een cv multiposter. Via deze 'aanbieding' kan ik mijn cv naar maar liefst 84 cv-databases versturen. Blijkbaar is Beyond bedoeld voor de actieve werkzoeker in paniekmodus. Want anders kan ik me niet voorstellen dat je van een dergelijke service gebruik maakt. Beyond maakt overigens voor deze multiposting actie zelf weer gebruik van ResumeRabbit.
Ook is het hilarisch om te zien dat Beyond mijn functietitel (Senior Manager) en locatie (Voorschoten) in haar special offer heeft verwerkt terwijl geen van de vacaturesites een Nederlandse aanwezigheid heeft. Nog los van het feit dat ik een Amerikaans adres nodig heb, anders kan ik niet eens gebruik maken van deze special offer. Het ziet er allemaal wel heel knullig en goedkoop uit.
Ik klik maar op Skip this offer om vervolgens hier terecht te komen: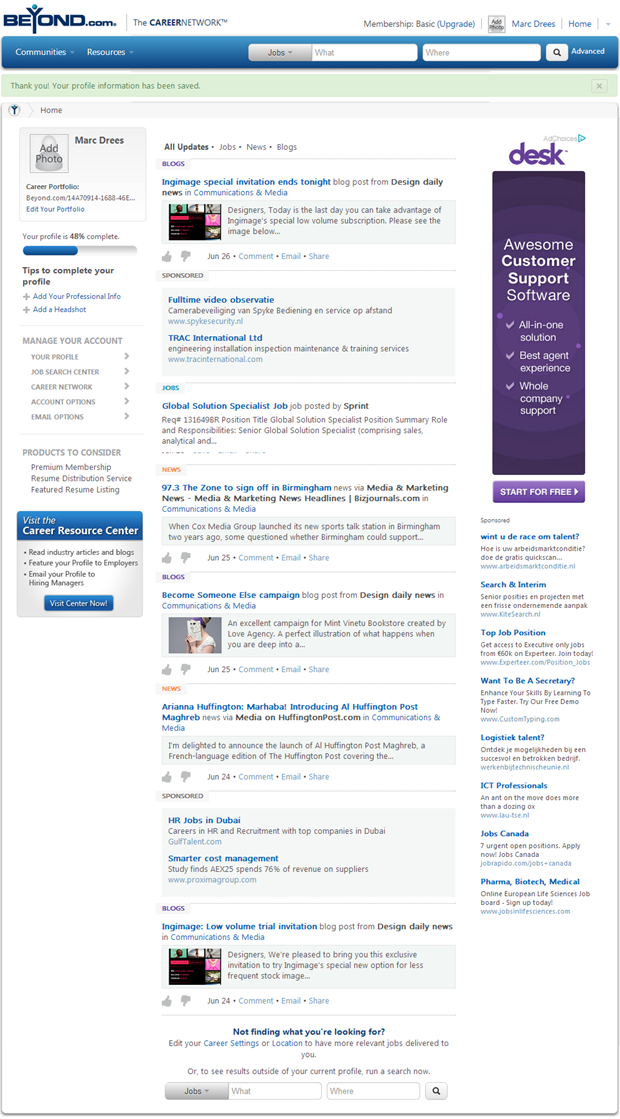 Goddamn, Beyond is gek op lange pagina's. Verder heb ik geen idee waar ik naar zit te kijken en Beyond is te lui om het me uit te willen leggen.
Maar ik ploeter door, ik ben er eenmaal aan begonnen en nu wil ik het ook afmaken. Dus ik voeg een Headshot toe evenals Professional Info. Om vervolgens hier te belanden: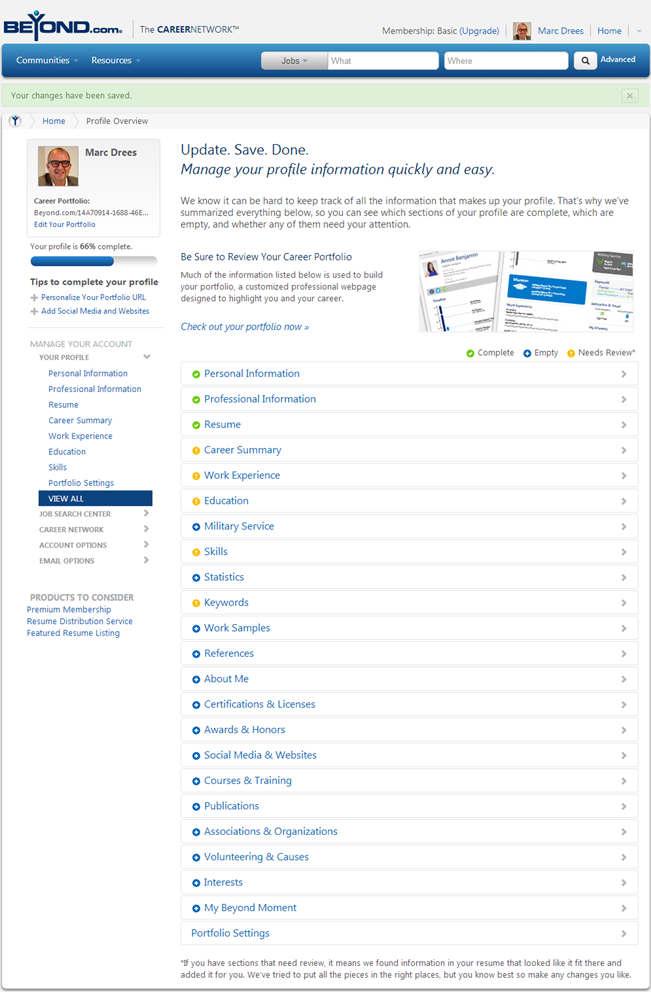 Om gek van te worden. Wat moet ik allemaal wel niet invullen? Doe me een lol!
Wel prettig om te ervaren is het feit dat mijnj gekoppelde LinkedIn profiel (via een PDF omweg) is uitgeplozen door Beyond:

En ik heb er een infographic-achtige timeline van mijn professionele leven bij. Hoera…
En dit is Beyond. Je hebt ook nog betaalde opties en je hebt dus die communities. Maar het blijft voor mij een raadsel waarom 35 miljoen mensen gebruik maken van Beyond.
Gelukkig heeft Beyond de optie DeActivate Account. Inderdaad, met een hoofdletter A in Deactivate. Joost mag weten waarom. Maar ik kan dit proflel tenminste verwijderen en dat doe ik ook meteen. Wat ook nog deze fraaie taalmix oplevert: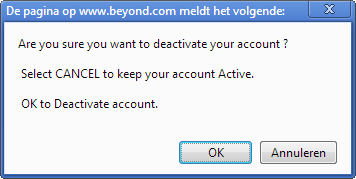 Maar na op OK te hebben geklikt is mijn profiel (hopelijk) verwijderd.