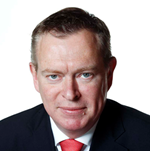 Bruno Bruins heeft nog altijd geen tijd gehad om alle 'klanten' van het UWV excuses aan te bieden voor de problemen die zij ondervinden als gevolg van de langdurige onbeschikbaarheid van Werk.nl. Opvallend genoeg had Bruins wel tijd om gisteren een zelfbevlekkend stukje over UWV te schrijven in zijn rol als expert-columnist bij De Telegraaf. De voorzitter van de Raad van Bestuur van het UWV heeft zijn prioriteiten scherp zullen we maar zeggen…
Onder de titel De rechten van de gehandicapte mens gutst Bruins over de rol die het UWV heeft kunnen spelen bij het weer aan het werk krijgen van de 50-jarige Bennie. Na een dwarslaesie kon Bennie dankzij interventie van een UWV arbeidsdeskundige weer aan de slag met de hulp van enige aangepaste hulpmiddelen. Top voor Bennie natuurlijk.
Alleen… Bruins rept met geen woord over de 6750.000 werklozen die mede afhankelijk zijn van het hulpmiddel Werk.nl om weer aan het werk te kunnen, een uitkering aan te vragen of hun werkmap bij te werken. En dat allemaal niet kunnen vanwege het chronisch falen van het UWV.  Blijkbaar weegt één gehandicapte medemens veel zwaarder dan 675.000 werklozen.
Way to go Bruins!