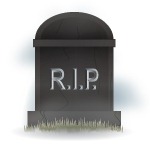 In augustus is het aantal faillissementen binnen de arbeidsbemiddeling voor het eerst in vier maanden weer onder de 20 gedoken. Overigens met de hakken over de sloot, want in de afgelopen maand is het aantal faillissementen op 19 uitgekomen.
De sector arbeidsbemiddeling laat zich hiermee nog altijd van haar beste kant zien als je bedenkt dat de werkloosheid maar blijft stijgen en uitzenders nog altijd met krimp worden geconfronteerd. Maar krimp is nog geen faillissement. En hebben die onwaarschijnlijk hoge vacaturevolumes hier soms iets mee van doen?
In de maand augustus is het aantal faillissementen dus op 19 uitgekomen, 3 minder dan in de maand juli. En dat geeft het volgende beeld van het aantal faillissementen in de afgelopen jaren..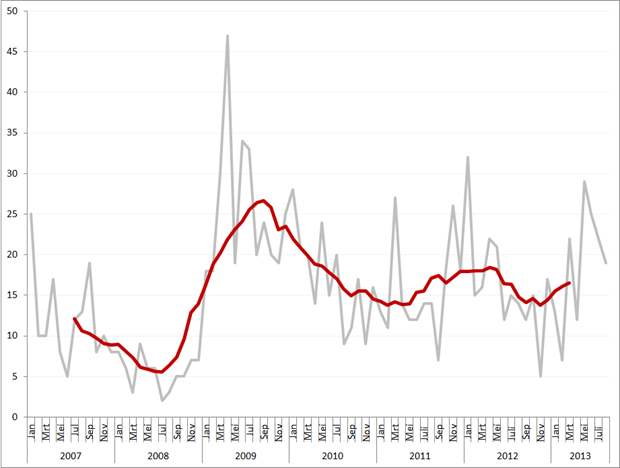 Aantal faillissementen per maand en obv. voortschrijdend gemiddeld maandvolume, januari 2007 – augustus 2013
De schommelingen per maand zijn de laatste tijd zeer fors, maar de trendlijn van het voortschrijdend 12-maands gemiddelde gaat nog altijd omhoog. De afgelopen tijd zijn er een barrage aan bodemaankondigingen gedaan. De bodem van de crisis is bereikt, de bodem van het aantal huisverkopen, de huizenprijs, de inkoopmanagersindex en wat dies meer zij. Of dit alles daadwerkelijk eerste tekenen van herstel zijn of slechts de natuurlijke behoefte van de mens om hoop te putten uit meevallende (lees: minder slecht dan verwacht) cijfers zal de toekomst moeten uitwijzen.
De grafiek is gebaseerd op de faillissementsinformatie van Faillissementen.com. De cijfers betreffen bedrijven binnen de SBI-code 78(Arbeidsbemiddeling/uitzendbureau's/personeelsbehoefte) die in de database van Faillissementen.com als failliet staan geregistreerd.