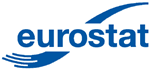 De grapjassen bij Eurostat melden vandaag zonder blikken of blozen dat de werkloosheid in de Eurozone in september gelijk is gebleven met augustus. Alleen, een maand geleden rapporteerde Eurostat voor augustus een werkloosheidscijfer van 12,0%. Terwijl voor september vandaag dus 12,2% werkloosheid wordt gemeld. Hoe kan de werkloosheid dan gelijk blijven? Door magische correcties achteraf. Waarmee een leugentje zomaar geen leugentje wordt. Maar een objectieve rapportage… Terwijl daarmee de werkloosheid in Euroland dus feitelijk op haar hoogste niveau ooit is gekomen. Ach, statistisch detail…
En die daling van de werkloosheid in Spanje in voorgaande maanden? Die is als sneeuw voor de zon verdwenen. Plotseling (en geheel onverwacht…) is de werkloosheid van 26,2% weer naar 26,6% gestegen, overigens is ook de werkloosheid in voorgaande maanden fors naar boven bijgesteld. Maar verder is Spanje natuurlijk wel uit de recessie gekropen, dus we hoeven ons nergens zorgen over te maken in Euroland verband.
In onderstaande grafiek zijn de werkloosheidscijfers van Duitsland, Nederland, Belgie, Frankrijk en de PIIGS landen (Portugal, Ierland, Italie, Griekenland (bron: Elstat) en Spanje). En sinds de Euroland gangbang ook Cyprus. Allen onderdeel van Euroland, maar met zeer verschillende werkloosheidscijfers: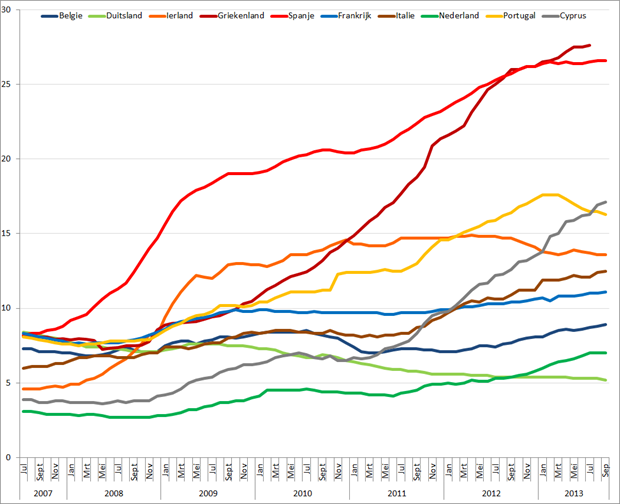 Werkloosheid geselecteerde Eurolanden (januari 2007 – september 2013). Bron: Eurostat, Elstat
Tja, Ierland en Portugal zijn van de PIIGS-landen de positieve uitzondering met dalende werkloosheidscijfers. En bij de niet-PIIGS landen verkeert alleen Duitsland in goede staat, de overige landen laten een stijgende werkloosheid zien. Waar blijft toch dat economische herstel waar iedereen het over heeft? Bestaat het eigenlijk wel of is het uitsluitend een fantasie van GDP-manipulerende economen en politici?
Jeugdwerkloosheid
En dan nog even het meest gruwelijke stuk; de jeugdwerkloosheid. Griekenland komt (voor juli 2013) uit op 57,3%. Een maand geleden was het nog 61,5%, de maand daarvoor was het 62,9%, hoewel Griekenland nu over juni ineens 57,6% rapporteert. Een slordige 4% lager dan vorige maand het geval zou zijn geweest. Die Grieken kunnen echt heel erg goed rekenen… Spanje stijgt (blijft staan na een 'kleine' historische correctie) naar 56,5%, waarmee de jeugdwerkloosheid in Spanje en Griekenland vrijwel gelijk zijn. Voor zolang het duurt want volgende maand kan die jeugdwerkloosheid in Griekenland zomaar weer boven de 60% zijn geschoten.
Italie staat ondertussen op een jeugdwerkloosheid van 40,4%. In Portugal is na een daling vorige maand de jeugdwerkloosheid weer gestegen (naaar 36,9%  van 36,8%), Ierland zakt naar 28,0%  terwijl Frankrijk stijgt naar 26,1%. Ter vergelijking; volgens de internationale definitie heeft Nederland een jeugdwerkloosheid van 11,7% ; na Duitsland (7,7%), Oostenrijk (8,7%) is dat nog altijd de laagste jeugdwerkloosheid in Euroland.
Kan iemand mij aanwijzen waar al dat herstel in de Eurozone toch vandaan komt? Want ik zie het niet.