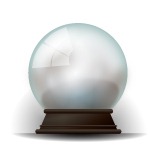 Medio dit jaar stelden prof.dr. Philip Hans Franses en prof.dr. Bert de Groot dat voor het derde kwartaal van 2013 een groei van het BBP van maar liefst 1,0% zou optreden. Waar zij hun boude voorspelling op baseerden? Op hun zelfverzonnen Econometric Institute Current Indicator of the Economy (EICIE). En die indicator is weer gebaseerd op de relatie tussen de werkenden via de uitzendorganisatie Randstad (als bedrijf in zijn soort de nummer 2 van de wereld) en de bewezen voorlopende activiteiten van de uitzendmarkt op de Nederlandse economie.
Nou, dat is wat anders uitgepakt. Want het CBS kwam niet met een 1,0% groei ten opzichte van het vorige kwartaal maar met een groei van slechts 0,1%. Een groei die dan ook nog eens uitsluitend kan worden toegerekend aan de wederuitvoer, niet bepaald een segment waar uitzendorganisatie Randstad veel uitzendkrachten in tewerk heeft gesteld.
Met andere woorden, prof.dr. Philip Hans Franses en prof.dr. Bert de Groot hebben uit hun hooggeleerde nekken zitten te lullen. Hun EICIE is geen rooie kroot waard. Ik ben buitengewoon benieuwd of de twee hooggeleerde heren nog met een verklaring gaan komen voor hun spectaculaire misser. Verder ben ik ook zeer benieuwd of de Limburgse EICIE papegaai Harm Wiertz meer dan 0,1% groei heeft weten te realiseren dankzij zijn roodgloeiende telefoons. Zou hij soms de explosieve groei in de wederuitvoer voor zijn uitzendrekening hebben genomen?