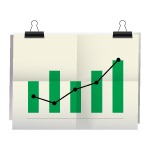 Met de terugkeer van Joof is voor de tweede achtereenvolgende week het aantal vacatures fors hoger dan vorige week. Hoewel vorige week het verschil aanzienlijk groter was. De vraag is of we volgende week weer op een normaal volume staat of dat november uiteindelijk de eerste goede maand van 2013 gaat worden. En met een goede maand bedoel ik een maand met meer vacatures dan de overeenkomstige maand in 2012. Het gaat er wel op lijken…
Het aantal vacatureplaatsingen is hoger in vergelijking met dezelfde periode een jaar geleden (4,4%). Hetzelfde is het geval voor het volume aan unieke vacatures (7,9%). Ook het volume aan unieke vacatures zonder stages, bijbanen en vrijwilligerswerk is hoger (7,1%) dan vorig jaar.
De wekelijkse top 10
De top 10 over de afgelopen drie weken ziet er zo uit: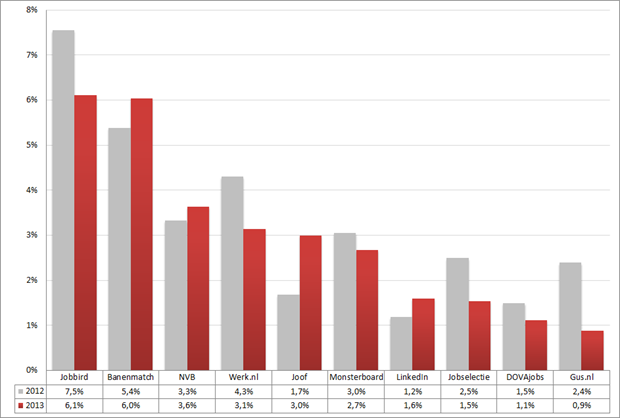 Marktaandeel top 10 vacaturesites; 2012 – 2013 op basis van het aantal nieuwe vacatures in de afgelopen drie weken. Bron: Jobfeed
Jobbird neemt de koppositie weer over van Banenmatch, hoewel er dit keer nauwelijks een verschil te zien is. De twee sites hebben elk een marktaandeel dat bijna twee keer zo hoog is als het marktaandeel van Nationale Vacaturebank of Werk.nl, de nummers drie en vier. Ondertussen heeft Joof de vijfde plek ingenomen en daarmee Monsterboard achter zich gelaten. LinkedIn is de koploper van de kleintjes, elk met een markaandeel van (veel) minder dan 2%.
Social media buzz
De social media buzz van de grootste vacaturesites: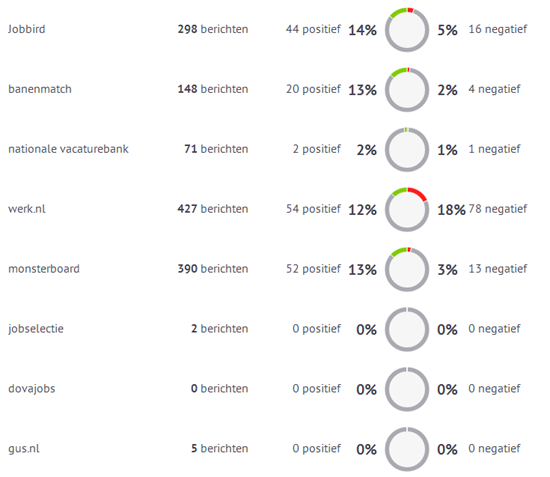 Social media 'buzz' en sentiment van de 10 grootste vacaturesites, afgelopen 30 dagen. Bron: Coosto
Geen bijzonderheden te constateren, afgezien van het onverminderd hoge negatieve sentiment bij Werk.nl, hoewel ook dit natuurlijk geen bijzonderheid is.
LinkedIn en Joof zijn niet opgenomen in de social media 'buzz'. De term LinkedIn is niet specifiek voor het vacaturesite-gedeelte van dit sociale netwerk, de term Joof blijkt voor allerlei andere doeleinden te worden gebruikt.