Na 24 perioden zonder positief cijfer is het in periode 12 van 2013 dan eindelijk zover, we hebben een plus! Het is weliswaar de kleinst denkbare plus, maar een kniesoor die daar op let:
In periode 12 (week 45 – 48) is het aantal uitzenduren gestegen met 1% en de uitzendomzet nam toe met 2% ten opzichte van dezelfde periode vorig jaar.
Hoezee! Nu niet meteen allemaal gaan roepen dat de uitzendbranche uit het dal is want daarvoor is het ravijn eenvoudigweg veel te diep. Maar het is een positief signaal na bijna twee jaar (de laatste plus was uit periode 13 van 2011) zonder enige vrolijkheid. En dat een dag voor Kerstmis!
In onderstaande grafiek is de procentuele toe- of afname over de 13 periodes van de jaren 2011 t/m 2013 weergegeven: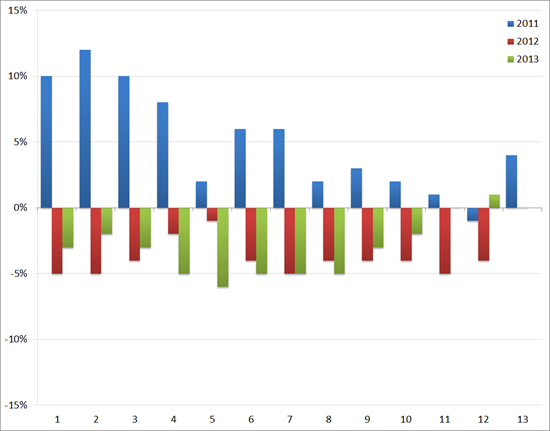 ABU: YoY groei/afname (in %) van het volume aan uitzenduren : 2011 t/m 2013
Mooi he? Een groen staafje aan de positieve kant van de Y-as. Wat hebben we hier lang op moeten wachten. Overigens niet schrikken als we in periode 13 alsnog een klein minnetje gaat zien, tenslotte was vorig jaar periode 13 de enige periode zonder negatieve score.
Door het resultaat over periode 11 blijft de trendlijn van de index op basis van de ABU cijfers op exact hetzelfde niveau als 4 weken geleden. Ik heb deze index berekend door voor 2006 elke periode de waarde 100 te geven en vervolgens de verandering in de overeenkomstige periode van de daarop volgende jaren daarmee te verrekenen. Vervolgens is het voortschrijdend 12-maands gemiddelde berekend om eventuele seizoensinvloeden (zoveel mogelijk) te elimineren. Dat geeft het volgende beeld: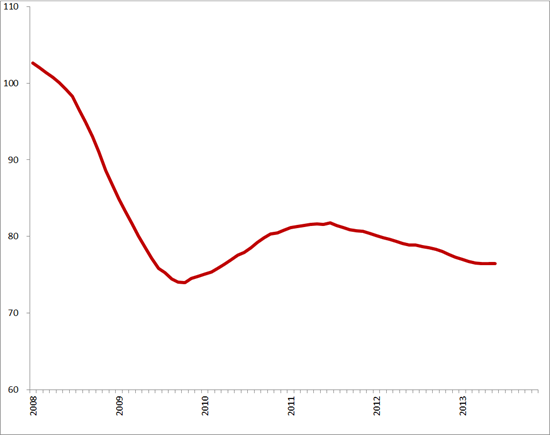 Trendlijn index uitzenduren op basis van ABU, periode 2008 – 2013 (2006 = 100)
Het is misschien niet te zien, maar er is een miniscuul kleine stijging (+0,07) in de trendlijn gekomen. En gezien de afvlakking in de achter ons liggende periode mogen we er zo langzamerhand wel vanuit gaan dat we een bodem hebben bereikt. Of dit automatisch tot gevolg heeft dat hierna de weg omhoog ingeslagen gaat worden is nog te vroeg om hier een uitspraak over te doen. En eerlijk gezegd vind ik het feit dat er een bodem lijkt te zijn bereikt al reden tot feest. En al helemaal in deze tijd van het jaar.
Ontwikkelingen per sector
Net als vorige week laten de ontwikkelingen per sector een zeer gevarieerd beeld zien. De sector Medisch krimpt razendsnel door, dit keer met een whopping 30%. De sector Administratief laat daarentegen voor de tweede achtereenvolgende periode een ferme plus zien (van 4%). De secor Industrie blijft steken op 0% terwijl de sector Techniek met 1% krimpt.
Ook voor de verschillende sectoren is een index gerealiseerd op de manier zoals hierboven omschreven voor het totaal aan uitzenduren. En dat geeft het volgende beeld voor het voortschrijdend jaargemiddelde binnen de verschillende sectoren: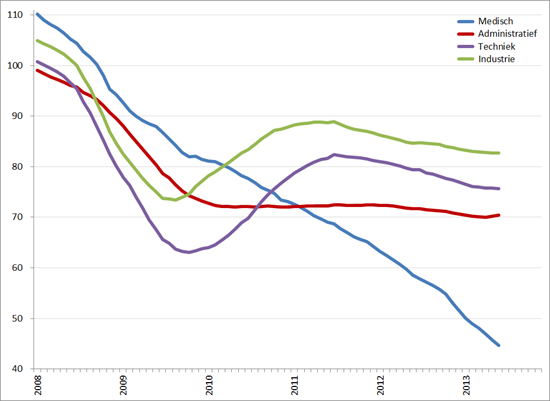 Index uitzenduren op basis van ABU, periode 2008 – 2013 (2006 = 100), per sector
De sector Medisch blijft onveranderd in een vrije val en lijkt in 2014 door de indexgrens van 40 heen te gaan breken. Waarmee deze uitzendsector in slechts 5 jaar tijd tegen de 70% van haar uitzendvolume is kwijtgeraakt. Volstrekt onvoorstelbaar. En met de bijstandsplannen van Klijnsma lijkt ook in de toekomst een verdere krimp gegarandeerd.
De sector Administratief  laat ondertussen een duidelijke stijging zien. Wat twee positieve periodes voor impact kunnen hebben. De vraag is natuurlijk in hoeverre deze sector nog echte groeikansen heeft. De financiele crisis heeft in combinatie met de impact van automatisering voor een kaalslag in deze sector gezorgd. Ik ben zeer benieuwd wat hiervan de impact zal zijn op de potentie van administratief uitzenden. Maar het kan nooit positief zijn…
De sectoren Industrie en Techniek lijken beiden min of meer op een dieptepunt te zijn aangekomen. Er is nauwelijks enige beweging te constateren. En als onze economie uit het slop wil komen dan zal met name in de sector Industrie toch wel iets positiefs moeten gaan gebeuren. Maar voorlopig zullen we tot begin 2014 moeten wachten om te zien of dit ook daadwerkelijk het geval gaat zijn.