Nadat periode 12 met het kleinst mogelijke positieve resultaat (+1% ten opzichte van periode 12 van 2012) was afgesloten doet periode 13 er nog een schepje bovenop (+2%) waardoor we een zeer matig uitzendjaar alsnog met een positieve noot af kunnen sluiten:
In periode 13 (week 49 – 52) is het aantal uitzenduren met 2% toegenomen en de omzet met 3% gestegen ten opzichte van dezelfde periode vorig jaar.
Jawel, twee opeenvolgende periodes van groei, de uitzenders zullen elkaar wel met champagneflessen aan het natspuiten zijn! Wat een ongekende weelde. Dit is sinds periodes 10 en 11 van 2011 niet meer voorgekomen.
In onderstaande grafiek is de procentuele toe- of afname over de 13 periodes van de jaren 2011 t/m 2013 weergegeven: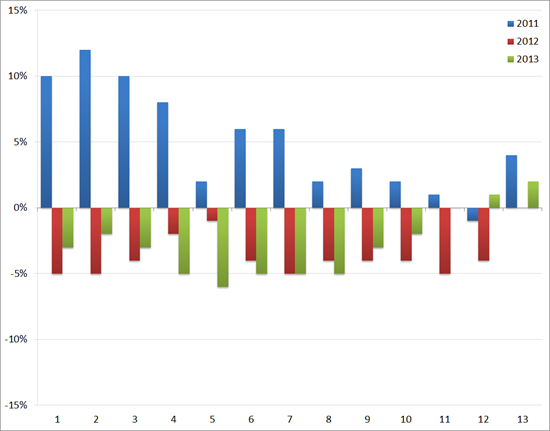 ABU: YoY groei/afname (in %) van het volume aan uitzenduren : 2011 t/m 2013
Twee groene staafjes aan de rechterkant van de grafiek die boven het maaiveld uitsteken. Wat een grandioos einde van 2013. Maar laten we elkaar niet meteen de schouders kapot slaan van al dit fraais, staat de uitzendindex nog altijd op een bijzonder laag niveau.
Ik heb deze index berekend door voor 2006 elke periode de waarde 100 te geven en vervolgens de verandering in de overeenkomstige periode van de daarop volgende jaren daarmee te verrekenen. Vervolgens is het voortschrijdend 12-maands gemiddelde berekend om eventuele seizoensinvloeden (zoveel mogelijk) te elimineren. Dat geeft het volgende beeld: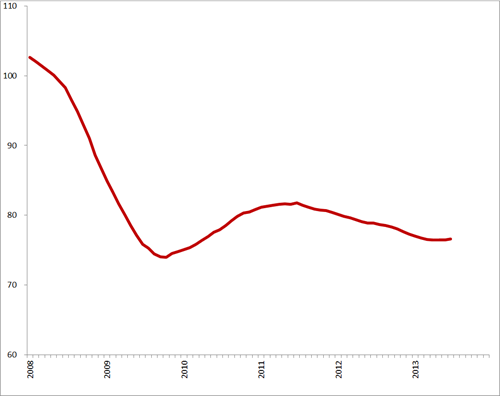 Trendlijn index uitzenduren op basis van ABU, periode 2008 – 2013 (2006 = 100)
Het enige positieve aan deze grafiek is dat de index nu definitief de angst voor het ravijn van 2009 achter zich heeft gelaten en weer heel voorzichtig naar boven mag kijken. We hebben het dal nu wel gehad en er mag op enige groei in 2014 worden gerekend. Of misschien wel veel groei in 2014 maar dat kan alleen de toekomst maar gaan leren. Hoe dan ook, 2014 is voor de uitzenders van Nederland met een positief geluid van start gegaan!
Ontwikkelingen per sector
De sector Medisch krimpt razendsnel door, dit keer met 33%. Het lijkt er hier eerder op dat de ongeveer 20 uitzenders die deel uitmaken van de ABU cijfers de markt van medisch uitzenden massaal verlaten dan dat deze uitzendsector maar als een idioot door blijft krimpen. De sector Administratief laat voor de derde (!) achtereenvolgende periode een ferme plus zien (van 4%). De secor Industrie groeit met 2% terwijl de sector Techniek met 1% groeit.
Ook voor de verschillende sectoren is een index gerealiseerd op de manier zoals hierboven omschreven voor het totaal aan uitzenduren. En dat geeft het volgende beeld voor het voortschrijdend jaargemiddelde binnen de verschillende sectoren: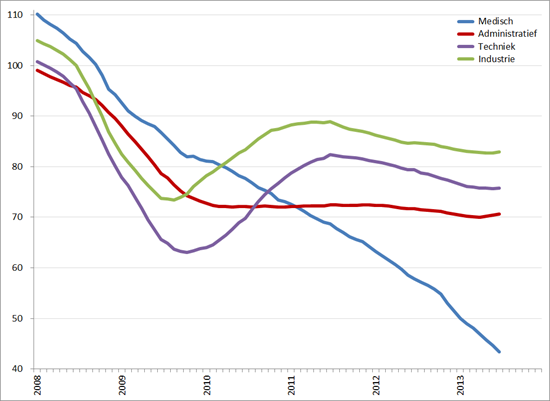 Index uitzenduren op basis van ABU, periode 2008 – 2013 (2006 = 100), per sector
En daarmee laten de sectoren Industrie, Techniek en Administratie nu alledrie een fraai omhoogwijzende trend zien. Het resultaat van de sector Medisch vertrouw ik eenvoudig niet meer. Een vrijwel rechte, neergaande lijn gedurende vijf jaar is geen trend maar een exodus.
We gaan tijdens de financiele rapportages over het vierde kwartaal van 2013 veel vrolijke CEO's en CFO's zien. Die in ronkende taal een fraaie toekomst gaan voorspellen en zo hun aandelen richting de stratosfeer proberen te lullen. Bonussen zullen fraaie vormen aannemen en politici zullen de resultaten aangrijpen om het succes van hun economische maatregelen te onderstrepen. Wie kan het ze kwalijk nemen? Maar laat ik een waarschuwend vingertje opsteken temidden van al dit feestgedruis. Onze economie, die van Europa, de VS en Japan zijn allen reuzen op lemen voeten. Als ergens in deze contreien de rente en de inflatie op gaat lopen, is het beter om je zuidwester bij de hand te hebben. Want dan was 2008 slechts een licht briesje…