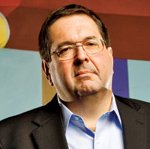 Het lijkt er op dat Monster een nieuwe PR fimra in de arm heeft genomen want plotseling wordt de wereld overstelpt met 'persoonlijke' boodschappen van Monster's CEO Sal Iannuzzi. Enkele weken geleden kon ik al uit zo'n boodschap voordragen, en vandaag is alweer de tweede boodschap van Iannuzzi afgeleverd.
Maar net als zijn voorganger blinkt ook deze boodschap uit in hyperbole en nietszeggendheid. Typisch Amerikaans dus. Met pareltjes als deze:
The last few years have been economically challenging for most businesses. Recruiting and staffing teams continue to do more with less. And in a world of tightened budgets and fewer resources, we recognize that you must make every dollar count. So, I wanted to let you know that we remain relentlessly focused on delivering value for our customers, and that core value is driving all of our future plans.
Kan iemand mij even een teiltje geven?
En in deze boodschap komt Iannuzzi alweer terug op die mysterieuze initiatieven waar Monster het nu al ongeveer een jaar lang over heeft:
We have also been working hard on a number of initiatives intended to strengthen Monster for the long term, and to further enhance the value we deliver to you. Over the coming months, we will share more with you about the new things we have planned. I'm confident that these initiatives will provide you with even more ways to find, recruit and manage talent.
Initiatieven die pas in mei zullen worden gedeeld met de wereld in plaats van maart, de datum die eerder door Monster was genoemd. Maar die vertraging heeft een reden, leerde ik dankzij de analist call eerder vandaag. Want volgens Iannuzzi zijn de financieel analisten daarvoor verantwoorelijk
I do apologize for the meeting being — we have promised that the meeting would be at the end of March. But this is one of the few times I get to blame you guys for not being able to do it at the end of March. Due to other commitments, we took a little bit of a poll, and many of you have other commitments and there were other conferences and things. So we pushed it back to May, and we set a date so that hopefully no one else cross us out, if you will.
WTF? Monster vraagt aan financieel analisten wanneer zij haar strategische initiatieven mag ontvouwen? Heeft die Iannuzzi een klap van de molen gehad? We stellen de introductie van onze producten gewoon twee maanden uit, want dat komt de financiele community beter uit. Whoehaha!
Tegelijkertijd maakt Iannuzzi een wel zeer boud statement over wat er in mei gepresenteerd gaat worden:
And basically, what I can tell you is the approach that we've taken is deliver a product mix that really makes it hard for a customer to justify going anywhere else to seek talent. And I know that's a broad statement and a grand statement, but that is really the strategy we laid just around very early — very late in '12 and early in '13. And that's where we're executing on, and as I said, we are making what I would consider a very, very good progress. I think we'll demonstrate that in May in a meeting.
Ondanks deze aan grootheidswaanzin grenzende uitspraken kan de CEO niets zeggen over de omzetpotentie van deze game changers. Op een vraag van een analist wat Iannuzzi denkt in termen van the magnitude of the revenue lift die Monster dankzij de nieuwe producten gaat bereiken, fumbelt de CEO als volgt:
Really, and I'm not — this isn't just a hedge or just not telling you. I — we really are not thinking about it in terms of revenue increase right now.

But certainly, to project revenue implications and things of that nature, way too early in the game.
What the fuckerdefuck? Dit kan toch niet waar zijn? We gaan ongekende producten lanceren waardoor de hele wereld zaken met ons moet doen maar we hebben geen idee welke impact dat zal gaan hebben op ons omzetvolume…
Elk bedrijf krijgt de CEO die het verdient. Maar ik heb oprecht medelijden met al die Monster medewerkers die het met zo'n CEO moeten doen. Wat een ongekende knoeier!