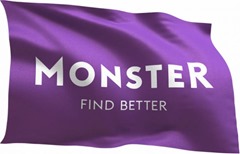 Ik heb lange tijd niet meer op Monster gekeken en daardoor volledig haar revamp gemist. Hoewel, ik denk dat ik niet de enige ben, want die revamp heeft zich beperkt tot een vlag met een tekst er op. Een vlag die volgens het bedrijf haar nieuwe elan weergeeft:
Monster also unveiled a new brand identity, a purple flag emblazoned with a new company word mark. Rolling out across Monster's global web network, the updated identity reflects Monster's global footprint and represents the expanded ability to help employers and job candidates to Find Better.
Overigens is het interessant dat Monster spreekt over haar global footprint terwijl ze in het afgelopen jaar vooral bezig is geweest zich uit allerlei regio's terug te trekken.
In het persbericht, van 1 juli overigens…, wordt ook melding gemaakt van people aggregator TalentBin, nu TalentBin by Monster geheten. Zoals bekend heeft Monster deze people aggregtor 5 maanden geleden gekocht, samen met Gozaik, voor een gezamenlijk bedrag van $27 miljoen. Misschien dat ik binnenkort TalentBin maar weer eens een bezoekje breng…