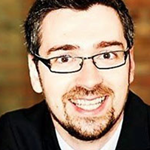 Al sinds ik vorig jaar kennis maakte met Balazs Paroczay, ben ik benieuwd naar het Shared Recruitment Centre in Budapest. (Is het een soort oude farm? Komen jullie ooit buiten?) Vandaag legt Balazs uit hoe het 50 man sterke team werkt, hoe zij hun successen meten, en hoe ze daarmee hun dienst verbeteren. Een enorm interessante sessie en wederom complimenten voor Balazs, die zelfs het onderwerp "data" met humor kan brengen.
Allereerst geeft Balazs antwoord op de vraag; wat is een Sourcing Factory? Om te laten zien wat een Sourcing Factory NIET is, verteld Balazs hoe hij laatst geheadhunt werd, zich ontzettend VIP voelde, maar er vrij snel achter kwam dat zijn overige 49 collega's exact dezelfde Inmail hadden ontvangen. Eveneens vertelde hij hoe opdrachtgevers altijd vooraan staan om om meer meer meer searches te vragen (Oh, herkenbaarheid!), alsof dat de heilige graal is, altijd en overal.
Dit oa. zijn twee redenen waarom het proces een belangrijke rol speelt voor het Shared Recruitment Centre. En dan bedoel ik niet het sourcing proces, maar het gehele recruitment proces, van intake tot hire. Waar zitten mogelijkheden tot verbetering, wat kan scherper of efficiënter?
Om terug te komen op de vraag, wat is een Sourcing Factory, dan komt dat dus hier op neer:
Standaard procedures;
Stil staan bij iedere stap in het recruitment proces;
De Sourcer is owner over het proces, het proces is waar mogelijk geautomatiseerd en kan repeterend zijn;
Efficiënt werken dmv Lean;
Continue proces verbetering.
Balazs laat zien te werken met een duidelijk methodologie: ICES, door allereerst het sourcing proces in stukjes op te delen. Wat gaat goed en wat kan beter bij de Identificatie van een kandidaat? Wat is de respons rate bij het benaderen (Contact)? Welke tekst werd gebruikt, welke werkt het best en waarom? Waarom is je Engagement hoog of laag? Was het vakantieperiode? Geen call to action gebruikt? En als laatste, iedereen die reageert moet in meer of mindere mate Submitted zijn. Waarom lukt dat wel of niet en waar gaat het eventueel fout?
Aan al deze 4 processtappen zitten streefgetallen vast, want naast dat het goed is om op deze manier succes te kunnen meten of te kijken of er ruimte is voor verbetering, is het natuurlijk ook een uitdaging voor de sourcers hun eigen scores te verbeteren.
Niet alleen het proces wordt op deze manier doorgemeten, dit gebeurt ook per platform.
Wil je kandidaten benaderen via Xing? Ook hiervan is de data beschikbaar. Dit geldt eveneens voor de verschillende landen, hoe open staan bijvoorbeeld Nederlanders om benaderd te worden? Het Shared Recruitment Centre weet dat soort dingen dus.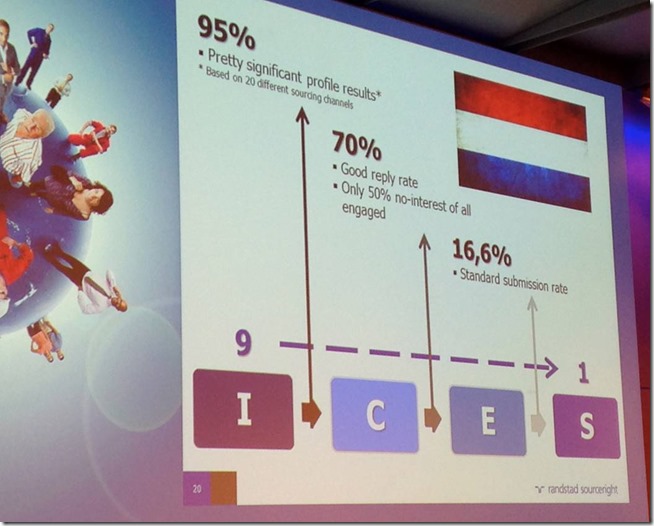 Door je data goed door te meten ben je in staat een goede forecast te maken en je weet wat je kunt verwachten, per land, per rol, per doelgroep, per platform.
Jonathan Campbell gaf het vanmorgen al aan; Kan iedereen een sourcer zijn? JA!
Maar hoe houd je het werk uitdagend? Balazs geeft ook daar nog even snel wat do's en don't over:
Training, Training, Training, en begrijp de cijfers
Geef de Sourcer ownership over de aanvraag
Niet " always – search – for – more"
Geen targets
Stuur aan op output, niet op input
Live LEAN en love DATA!
Een prachtige en heldere presentatie van Balazs Paroczay, iemand naar wie eigenlijk iedereen een keer zou moeten luisteren als het aan mij ligt!
Dit gastblog is geschreven door Britt van Capelleveen, adviseur e-Recrutiment bij Tempo-Team