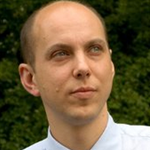 En dan nu een break-out session met Jakub Zavrel (CEO Textkernel) die het gaat hebben over boolean (?) en semantic search, oftewel a smarter way to find talent. Ik heb een donkerbruin vermoeden dat hiermee een voor mij redelijk bekend verhaal zal worden gehouden. Jawel, ik hoor cv parsing voorbijkomen en natuurlijk Search! en Match!, dat zijn natuurlijk de tools van Textkernel. Maar ik zit hier ook niet voor deze informatie, ik zit te wachten op het deel waarin Zavrel een primeur gaat delen. Maar daarover later meer, want we gaan eerst een presentatie van vorig jaar beluisteren. Ideaal, kan ik even de essentie van mijn blog posting van 2013 hierover kopiëren.
Na enig ontleden van boolean search ("black magic") komt Zavrel met de volgende twee belangrijke criteria:
Precision: the % of good candidates as part of all results returned,

Recall: the % of all relevant candidates in my results
En boolean search is niet goed in het balanceren van precision en recall wat natuurlijk wel het ideale resultaat zou zijn. Ik hoor plotseling de trein van semantic search aankomen….
Kenmerken van semantic search zijn volgens Zavrel de volgende:
Begrijpen wat de gbruiker heeft ingevoerd (robustness against typo's, autosuggestion, spelling variants, abbreviations, etc.)
Oplossen van ambiguïteit (same word different context, meaning in context, know which meaning is more likely, faceted search)
Gebruik concepten ipv trefwoorden (synoniemen. gerelateerde termen, smallere en bredere termen)
Similarity and relatedness (probeer dat maar eens te vertalen…) (always get te best possible results, meaningful relevance ranking , search for similar, identify clusters)
Parts and wholes (specific meaning of separate query parts, impact of each part on the relevance, combining mutiple criteria)
Relationships (reasoning about relationships, ontologies, fusing information, predictive models)
Fully natural language search (no boolean, no query syntax to learn, job description as a query)
Meaningful results (understandable and actionable, deduplication, answers vs. documents, merging/fusion of objects)
Volgens Zavrel is semantic search a search engine that let's you find what you mean instead of what you type (dus exact het tegenovergestelde van boolean search). En nu komen achtereenvolgens Search! en Match! op het scherm. Wat het voor mij weer heel makkelijk maakt, want ik kan nu naar mijn eerdere artikel over Match! verwijzen.
Nog even een fijne soundbite van Zavrel: Semantic search makes boolean search accessible for the masses. Dat u het maar weet. Straks zijn boolean strings en soucing ninja's helemaal niet meer nodig?
Maar nu de primeur (wat zeg ik: wereledprimeur!), de nieuwe versies van Textkernel Search! en Match! zijn nu ook mobiel te gebruiken. Met als bewijs het volgende screenshot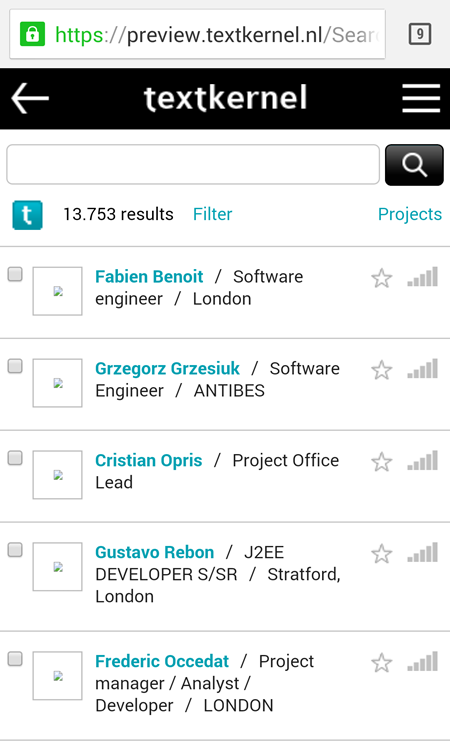 En dat was het voor deze keer.