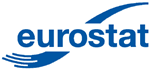 Eurostat heeft gisteren de werkloosheidscijfers over september 2014 gepubliceerd. En volgens Eurostat is de werkloosheid voor de vierde achtereenvolgende maand op 11,5% uitgekomen. En daarmee blijft de werkloosheid dus op een zeer hoog niveau steken, ondanks steeds krampachtiger klinkende berichten dat de Eurozone steeds sterk wordt.
Niets lijkt echter minder waar. Of hebben we in de Eurozone grotendeels met een jobless recovery te maken? Dat zal dan gezellig worden als de triple dip zich gaat aankondigen. Want ik heb nog nooit van een jobless recession gehoord, oftewel een recessie waarbij geen banen verloren gaan. En als we met een niveau van 11,5% een nieuwe recessie inschieten is het leed voor de Europese beroepsbevolking waarschijnlijk niet te overzien.
In onderstaande grafiek zijn de werkloosheidscijfers van Duitsland, Nederland, België, Frankrijk en de PIIGS landen (Portugal, Ierland, Italië, Griekenland (bron: Elstat) en Spanje). En sinds de Euroland gangbang ook Cyprus. Allen onderdeel van Euroland, maar met zeer verschillende werkloosheidscijfers: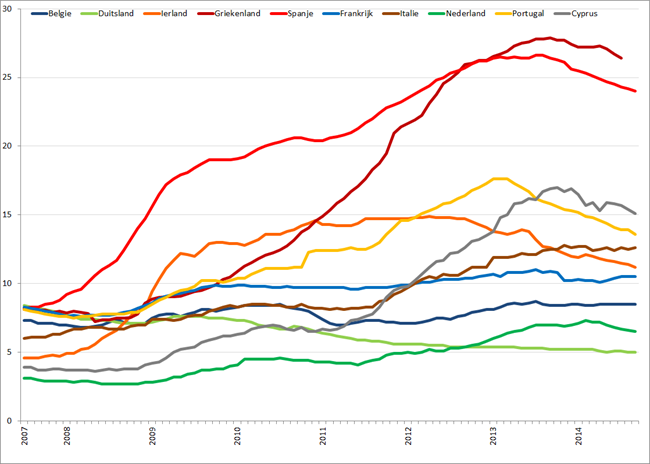 Werkloosheid geselecteerde Eurolanden (januari 2007 – september 2014). Bron: Eurostat, Elstat
Opvallend genoeg laat alleen Italië een stijgende lijn zien en dat getuigt in ieder geval van een enigszins betrouwbare rapportage. Dat Frankrijk maar halsstarrig een niet of nauwelijks groeiende werkloosheid laat zien, wordt steeds minder geloofwaardig. Ik verwacht nog wel een correctie van de werkloosheidsontwikkeling van dit land, maar het kan even duren.
Jeugdwerkloosheid
En dan nog even het meest gruwelijke stuk; de jeugdwerkloosheid. Griekenland komt (voor juli 2014) uit op 50,7%. Spanje blijft gelijk op 53,7%, Portugal zakt naar 35,2%, Ierland daalt naar 24,4% en in Frankrijk stijgt de jeugdwerkloosheid naar 24,4%. Ter vergelijking; volgens de internationale definitie heeft Nederland een jeugdwerkloosheid van 9,8%, na Duitsland (7,6%), Oostenrijk (9,1%) is dat nog altijd de laagste jeugdwerkloosheid in Euroland. O ja, in België staat de jeugdwerkloosheid ondertussen op 23,8%, meer dan het dubbele van Nederland. In dit perspectief gezien is er op geen enkele manier sprake van een jeugdwerkloosheidsprobleem in Nederland, ondanks alle drukte die er in ons land om wordt gemaakt.