Ik ken people aggregator HiringSolved vooral van de rechtszaak die LinkedIn tegen het bedrijf had aangespannen en waarbij HiringSolved, niet geheel verrassend, aan het kortste eind trok. Maar enkele dagen geleden bleek dat HiringSolved ook een social cross-referencing tool heeft uitgebracht, overigens zonder enige directe verwijzing naar HiringSolved zelf, afgezien van het kleurgebruik.
Natuurlijk is ook deze social cross-referencing tool een Chrome add-on, en de naam is Prophet. Een toepasselijke naam, gezien onderstaande omschrijving:
Prophet is a new Chrome extension that uses an advanced engine to predict the most likely email combination for any given person based on their name, company and other social data.
Een advanced engine waarmee je de meest waarschijnlijke email voor een persoon kan bepalen? Dat moet ik zien.
En om het nog mooier te maken, is deze advanced engine gratis. En werkend:
It's free to download, and most importantly of all: it works.
Dat gaan we natuurlijk even op basis van eigen waarneming bepalen, want HiringSolved heeft al eerder grote woorden gebruikt.
Prophet is een sidebar die zichzelf rechts bovenin het browser window kenbaar maakt als je de profielpagina van een persoon in één van de grote sociale netwerken (About.me, Facebook, Github, Twitter, StackOverFlow, LinkedIn) hebt geopend.
En als je dan op een pijltjesicoon klikt, opent zich de sidebar met… nou ja, kijk maar: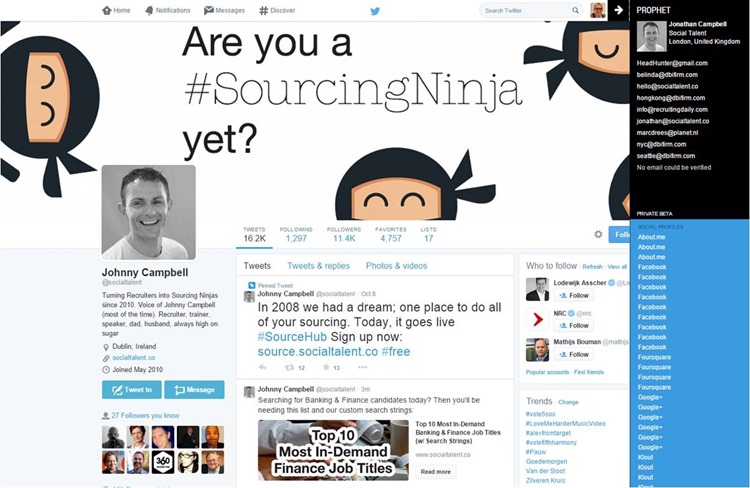 Ik weet niet precies die advanced engine precies doet, maar het lijkt erop dat het motortje op hol is geslagen. Allemaal emails, waaronder die van mijzelf. En geen van de emails kon worden geverifieerd. Daar schiet ik niet veel mee op.
Overigens, al die social media profielen zijn ook lang niet allemaal van de persoon in kwestie. Prophet maakt er een ongekend grote Monster van Frankenstein van.
En het wordt nog veel erger. Want als ik uit arren moede dan maar mijn eigen profiel op Twitter bekijk, krijg ik dit te zien: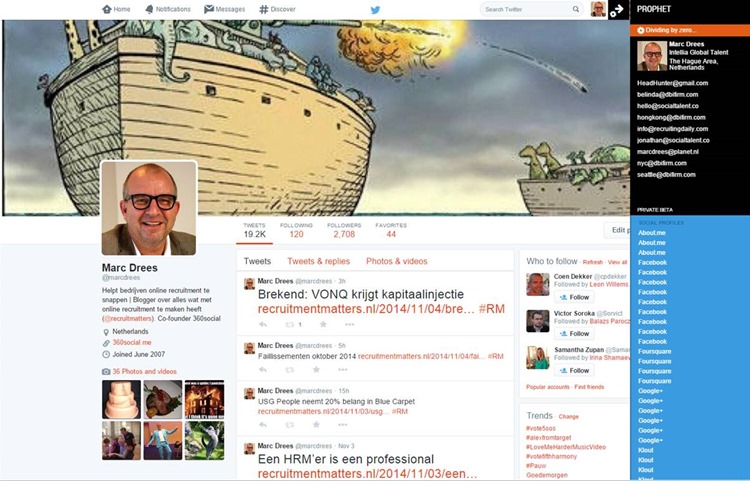 Wat de F…? Intellia Global Talent? Nog nooit van geoord! En ik heb exact dezelfde email adressen als Johnny Campbell? Dat gaat een troep geven. Opvallend genoeg krijgt ik ook exact hetzelfde rijtje sociale netwerken aan mijzelf toegewezen als Campbell. Wat betekent dat?
O ja, enige tijd later ging ik nog een keer naar mijn profiel, in de (ijdele) hoop dat het een tijdelijke glitch was. Het tegendeel bleek echter het geval: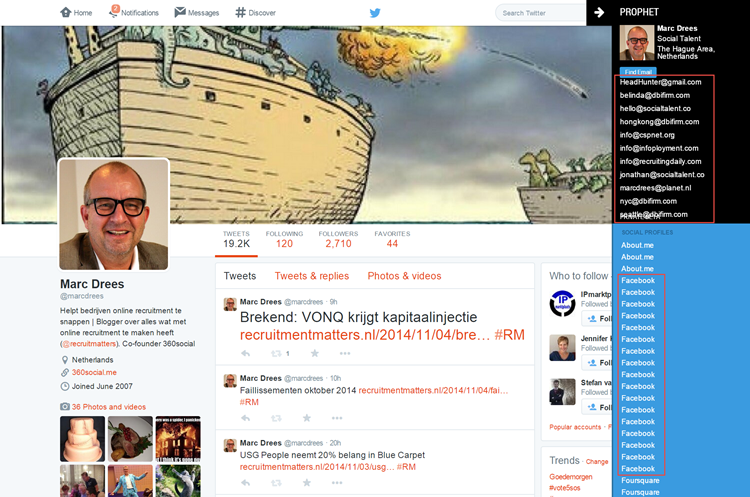 Het aantal email adressen is gegroeid van 9 naar 11 en het aantal Facebook vermeldingen is helemaal uit de pan gegroeid. Ik snap er niets van. O ja, en scrollen in de sidebar gaat niet, ook al gaat het aantal sociale netwerken nog tot ver below the fold door.
En toen ik vervolgens ook nog even op Facebook ging kijken explodeerde het aantal Facebook referenties nog eventjes wat verder. Evenals het aantal email adressen wat dat zijn er ondertussen een slordige 17 geworden (die je niet eens meer allemaal kan zien: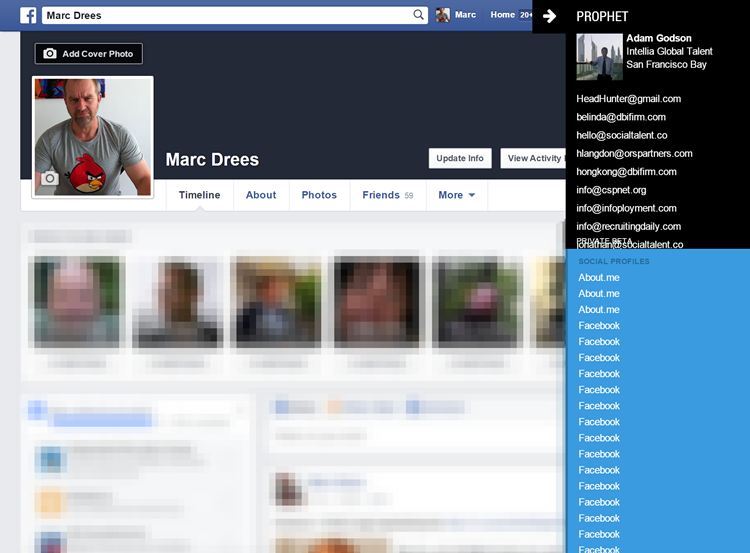 Bij elke volgende poging maakt Prophet het Monster van Frankenstein syndroom groter en groter. Ik durf de tool hierna niet meer te gebruiken en heb het maar zo snel mogelijk uit mijn
lijstje met broqser add-ons verwijderd.
Prophet is misschien een advanced engine, maar het ding maakt er een onvervalst soepzooitje van. Geef maar een seintje als het ding wel zijn naam eer aan gaat doen.
Met de komst van Prophet is de verzameling van social cross-referencing tools weer een beetje groter geworden maar zeker niet beter. Je vraagt je af hoelang dit nog door kan gaan zonder warme of koude sanering.