Vandaag kwam de ABU met de cijfers over periode 12. En het is wederom een zeer goede periode geworden:
In periode 12 (week 45 – 48) steeg het aantal uitzenduren met 9% en ook de uitzendomzet nam toe met 9% ten opzichte van dezelfde periode vorig jaar.
Nog maar een keer 9% groei, net als in periodes 8 en 11! De uitzendbranche zit in een bijzonder positieve flow, waardoor de grijssluier van de afgelopen jaren slechts een akelige herinnering lijkt…
In onderstaande grafiek is de procentuele toe- of afname over de 13 periodes van de jaren 2012 t/m 2014 weergegeven: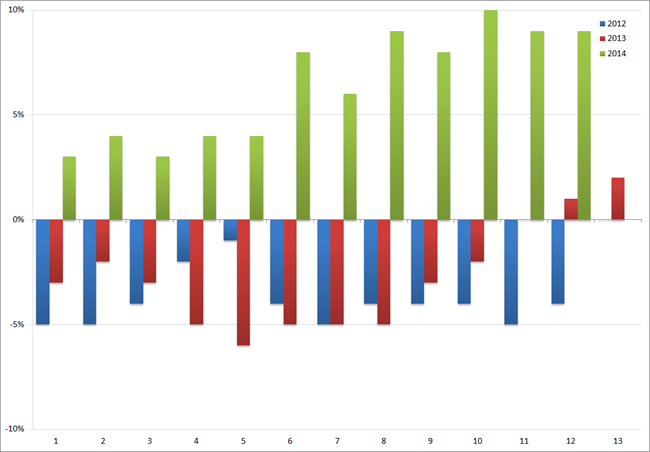 ABU: YoY groei/afname (in %) van het volume aan uitzenduren : 2012 t/m 2014
Wat een prachtig jaar gaat 2014 worden voor de uitzendbranche! Alleen maar groei in alle periodes tot op heden. En gezien het hoge niveau van de groei moet het wel heel erg gek lopen als periode 13 ineens geen groei te zien zou geven. Ondertussen weten de uitzenders natuurlijk allang wat periode 13 naar alle waarschijnlijkheid op gaat leveren. En ik ga er gemakshalve vanuit dat hierbij louter groei te zien zal zijn.
Om een beeld te krijgen van de langere termijnontwikkeling heb ik de index berekend door voor 2006 elke periode de waarde 100 te geven en vervolgens de verandering in de overeenkomstige periode van de daarop volgende jaren daarmee te verrekenen. Vervolgens is het voortschrijdend 12-maands gemiddelde berekend om eventuele seizoensinvloeden (zoveel mogelijk) te elimineren. Dat geeft het volgende beeld: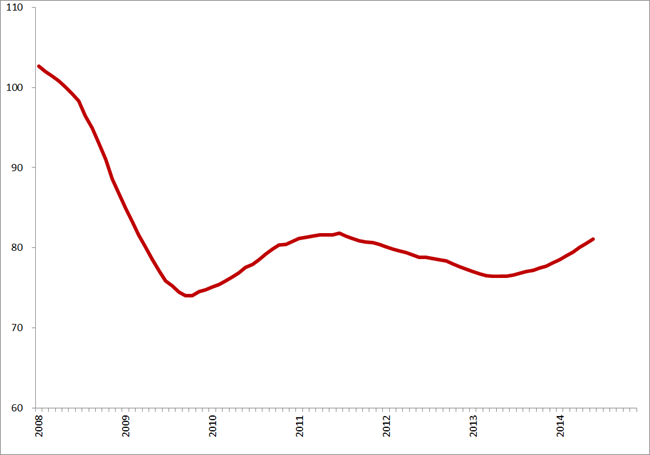 Trendlijn index uitzenduren op basis van ABU, periode 2008 – 2014 (2006 = 100)
Wat een prachtig gezicht! De opgaande trendlijn heeft ondertussen bijna de tussenpiek van 2011 bereikt en het zou me niets verbazen als deze grens met de resultaten van periode 13 doorbroken gaan worden. Natuurlijk is het nog wel een heel eind naar het niveau van 2008 dus we moeten ons ook niet rijker rekenen dan we zijn. Maar laten we daar in het nieuwe jaar ons mee gaan vermoeien, nu is het tijd  voor een feestje.
Ontwikkelingen per sector
De sector Administratief laat in periode 10 een duidelijk mindere groei zien, van 9% in periode 13 naar 6% nu.  Dee sector Industrie groeit iets minder sterk (8% in periode 13) en blijft op 7% steken. Dit alles staat in schril contract met de astronomische groei van de sector Techniek die een groei van 23% mag noteren! Alsof het niets is…
Ook voor de verschillende sectoren is een index gerealiseerd op de manier zoals hierboven omschreven voor het totaal aan uitzenduren. En dat geeft het volgende beeld voor het voortschrijdend jaargemiddelde binnen de verschillende sectoren: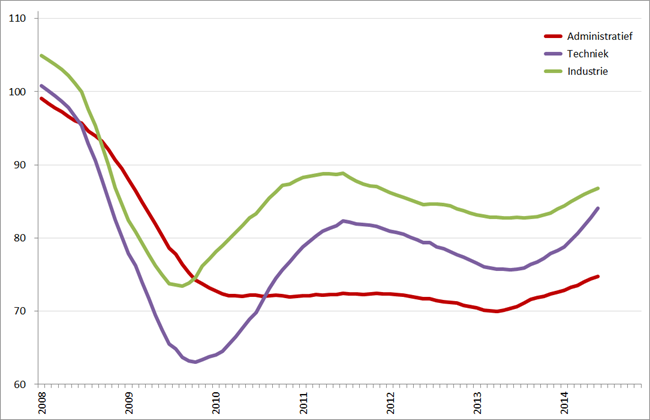 Index uitzenduren op basis van ABU, periode 2008 – 2014 (2006 = 100), per sector
De sector Techniek nadert de sector Industrie met rasse schreden. Het lijkt slechts een kwestie van tijd tot Techniek tot beste performer van de drie sectoren mag worden gekroond Tegelijkertijd lijkt de sector Administratie het goede gevoel enigszins te verliezen. Er is sprake van een afnemende snelheid van de groei en dat kan een teken zijn van een op handen zijnde omkering.  Of die er ook daadwerkelijk gaat komen ligt in de toekomst besloten. We zullen naar alle waarschijnlijkheid een paar periodes geduld moeten oefenen voordat we hier uitsluitsel over gaan krijgen.