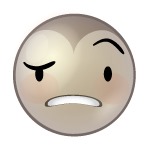 Het gaat ondertussen wel heel erg grijs worden, want juli 2015 is een absolute recordmaand geworden als het gaat om het online vacaturevolume. In deze maand zijn er meer dan 150.000 nieuwe vacatures gepubliceerd, een stijging van ruim 40% ten opzichte van juli 2014. En tegelijkertijd is dit het hoogste online vacaturevolume ooit. En dat voor een vakantiemaand… Ik kan het niet meer bevatten.
Deze cijfers blijven eveneens verbazingwekkend in relatie tot de hardnekkig hoge werkloosheid (8,8% in juni 2015). Ik heb deze tegenstrijdigheid in twee eerdere artikelen (De kleintjes zijn niet de grootste banenmotor plus een toegift en Misère index arbeidsmarkt april 2015, correctie) al uitgebreid behandeld.
Vacaturevolume in juli
Dit is de ontwikkeling van het vacaturevolume in juli sinds 2008: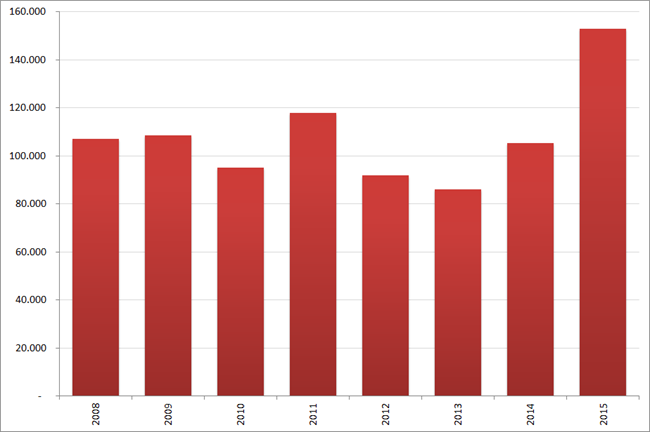 Aantal nieuwe vacatures in juli, 2008 – 2015. Bron : Jobfeed
De julimaand van 2015 is buitenproportioneel beter dan alle voorgaande julimaanden. En zelfs als het online vacaturevolume in de komende tijd tot onder de 150.000 zal gaan zakken dan nog is juli 2015 een volstrekte outlier. Juli 2011 komt er niet eens bij in de buurt, juli 2013 is iets meer dan de helft van juli 2015. Onvoorstelbaar…
Voor de volledigheid en consistentie van deze maandelijkse reeks ook nog even onderstaande grafiek: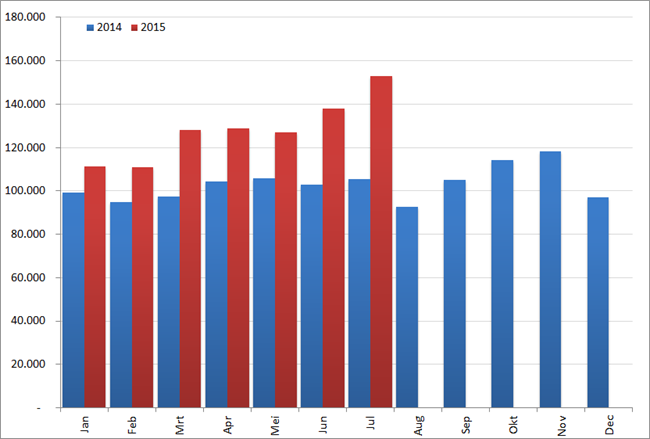 Aantal nieuwe vacatures per maand, 2014 en 2015. Bron : Jobfeed
Dus… De maanden van 2015 worden steeds minder vergelijkbaar met de maanden van 2014. Alsof er in januari 2015 een extra sluis met vacatures is opengezet.
Om het vacaturevolume van juli 2015 in een nog breder perspectief te plaatsen is het goed om ook de langere termijn even in ogenschouw te nemen. In onderstaande grafiek is zowel het maandvolume als het 12-maands gemiddelde van het maandvolume over de afgelopen jaren weergegeven: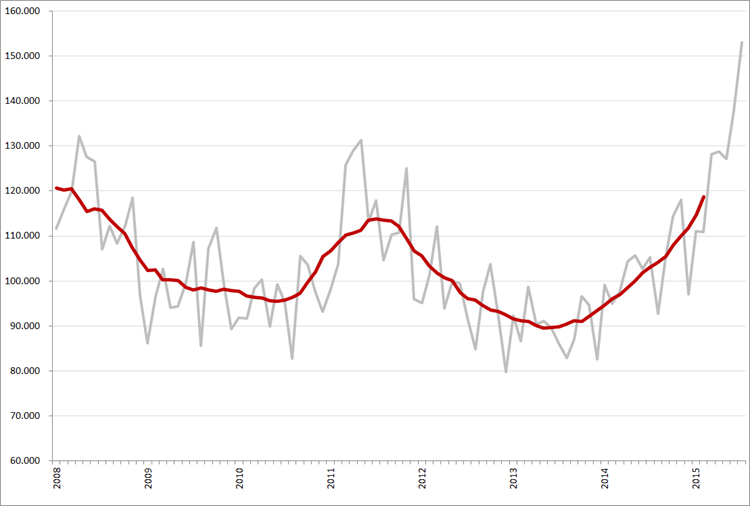 Maandtotalen en gemiddeld (12-maands) vacaturevolume (minus, bijbanen, stages en vrijwilligerswerk), 2008 – heden. Op de maandcijfers van 2008 is een correctiefactor van 11,6% toegepast
To the stars and beyond lijkt het devies van het online vacaturevolume. Het jaar 2014 werd afgesloten met minder dan 100.000 vacatures terwijl we nu op meer dan 150.000 vacatures zijn aanbeland. Alsof de Nederlandse arbeidsmarkt aan de anabole steroïden zit, zo ziet deze grafiek er uit. Waarbij het niet anders kan dan dat we met augustus met de trendlijn door de grens van 120.000 vacatures gaan breken en tegelijkertijd een nieuw record gaan vestigen. Dus waarom is onze werkloosheid nog altijd zo hoog?