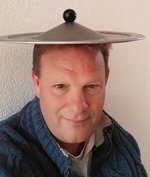 Laatst solliciteerde ik bij een bedrijf omdat ik hun recruitment-proces eens wildebekijken. Er werd mij gevraagd om een test te doen. Altijd leuk een test. Een cultuurtest via CompanyMatch (Voorheen Werken bij Merken). De vraag in hoeverre de bedrijfscultuur een rol moet spelen bij de match van een kandidaat houdt mij al een tijdje bezig.
Jaren geleden was ik in de ban van een klein Amerikaans bedrijfje Jiibe. Jiibbe dat een paar jaar geleden de stekker uit haar experiment trok, stal mijn hart met een batterij aan testen die steeds nauwkeuriger vertelden of je wel of niet bij een bedrijf paste. De uitkomst liet geen twijfel of de match er was, want er stond net zo makkelijk dat je voor 90% gematched was als dat de match er maar voor 10% was. Heldere taal. Helaas waren het voor mij meestal vrij onbekende Amerikaanse bedrijven, dus de resultaten zeiden mij verder weinig. Uit de match van CompanyMatch kwam een grote match van 87%
In eerste instantie dacht ik: dat is een match. Maar toen ik de resultaten las en en later keek hoe mijn match met andere bedrijven was rezen er vragen. Na een kleine test kon ik geen bedrijven vinden waarbij de match minder dan 78% was. Nu zijn het veelal bedrijven die mij wel wat zeggen dus ik had hier wel een beeld van. Wat vriendjes gebeld en ook gevraagd of zij wilden kijken. Bij Iedereen was een match op alles. Altijd zo tussen de 93% en 73%. .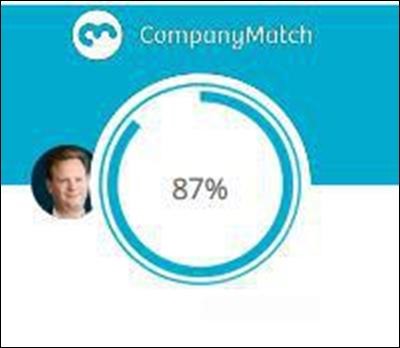 Wat zegt dan zo'n cultuurmatch? Bedrijfscultuur types vaststellen is een bekend vakgebied en er is al heel wat op dat gebied gedaan. In de jaren '80 ontwikkelde Quin & Rohrbaugh het zogenaamde "Competing Values Framework". Hier onderscheidden zij typeringen als: Mensgericht – medewerkers staan centraal, Resultaatgericht – het eindproduct staat centraal, Beheersgericht – regels en procedures zijn belangrijk, Innovatiegericht – ontwikkeling veel nieuwe producten of diensten. Later kwam Quin met het OCAI model (Organizational Culture Assessment Instrument). Andere namen in dezelfde dimensies. De dimensie intern versus extern gericht en de dimensie laag flexibel versus hoog flexibel. De overtuiging van Quin is dat indien iemand werkt bij een bedrijf met een cultuur die bij hem of haar past, hij of zij effectiever is. Ik wil hem geloven. Naast de bekende Quin is er door C. Handy (1978) en Harrison (1972) vergelijkbare typeringen beschreven. Ik kreeg tijdens mijn studie te maken met Geert Hofstede die vooral keek hoe internationale bedrijfsculturen van elkaar verschilden. Vooral om te leren om te gaan met deze verschillen. Later heb ik ook testen gezien die op dezelfde theorie waren gebaseerd die meer een uitspraak deden in hoeverre je wel of niet bij een bedrijfscultuur paste.
Kortom, er valt wat over bedrijfsculturen te vertellen. In hoeverre is dit nu een goed recruitment instrument? Net zo goed als een bedrijf wil weten wie zij aanneemt, wil een werknemer ook weten waar hij of zij terecht komt. Bij die keuze spelen naast harde criteria ook zachtere criteria een rol, of het past of niet. Bij cultuur vraag je je natuurlijk af of in een tijd van veranderingen het nu om de bestaande cultuur gaat of om de gewenste cultuur. In hoeverre spreken we van een bedrijfscultuur of is er ook verschil per afdeling? Bij de korte duur dat mensen met elkaar samenwerken is cultuur dan überhaupt van belang of is deze cultuur altijd maakbaar?
Een aantal weken geleden sprak ik met een klein bedrijfje in de opstartfase Recrout. Ook zij willen graag naast het CV, vacatureprofiel en competentietesten als basis voor het recruitment proces, naar de cultuur kijken van mensen en organisaties. Ook zij zochten antwoorden op veel van de eerder gestelde vragen. Maar welke vraag er ook wordt beantwoord, het recruitmentproces is een selectieproces: zo snel mogelijk een passend dekseltje zoeken bij een potje. Wat je ook wil geloven, je hebt dan niets aan een antwoord waarbij gezegd wordt dat ieder dekseltje op ieder potje past. Behalve natuurlijk als voor de domme dekseldraaiertjes een handleiding wordt bijgevoegd hoe we dan dat dekseltje op dat potje krijgen.