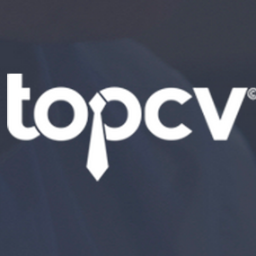 Een aantal dagen geleden struikelde ik over de wel zeer retro personal brander Seeveeze, maar het lijkt wel alsof er een revival van personal branders aan de gang is. Want vandaag is het Topcv die haar opwachting (bijna) maakt. Want Topcv is nog in closed beta. Gelukkig kon ik me inschrijven om early access te krijgen, zo'n klein procesje waar de social mediageile startups meteen willen dat je likes en mentions gaat rondstrooien, ook al heb je nog helemaal niets gezien. Dit hijgerige gedrag blijft toch opmerkelijk.
Topcv legt in merkwaardig Engels uit waar ze voor staan:
TOPCV is the simplest way to have an impressive cv without Photoshop/AI skills.

We are eager to help the people lacking of Photoshop, AI skills owing the impressive CV designed by many talented designers all around the world. Join with us to experience the visual CV tool and a lot of stunning CV in our various collections. You can enjoy all the CV templates before making decision buy or not.
De homepage
Dit is een soort homepage van Topcv, er is met een closed beta mogelijk nog geen sprake van een definitieve homepage: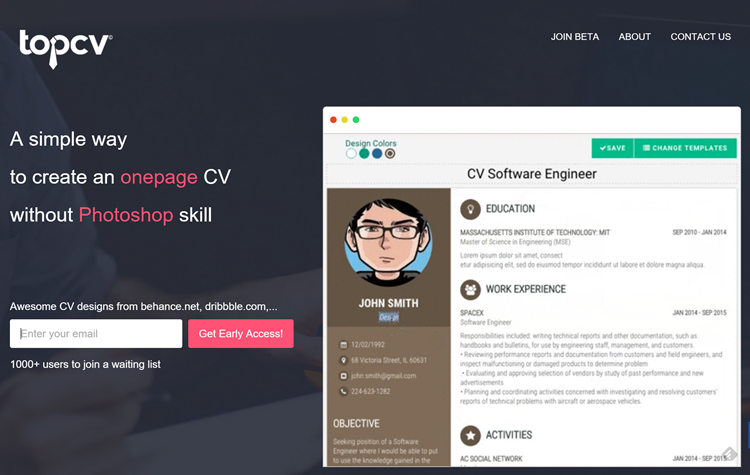 De annoncering lijkt overigens vooral bedoeld om designers te verleiden cv-designs te ontwerpen. Want zonder templates is een personal branding service die leunt op templates niet echt waardevol. Hoewel het de vraag is of dit wel het geval zal zijn als Topcv wel een indrukwekkende lijst aan cv-templates heeft. Maar daar zal ik nog even tot na de uitnodiging op moeten wachten. Hopelijk later meer…
Dit is overigens het indrukwekkende, maar ongetwijfeld lang niet volledige lijstje van personal branders: Cvgram,PictoCV, Beyond,TalentRal, Jobber's Park,VisualCV, Vizualize.me, Vizify, Resumup,Lifebrander, Sumry, Seeveeze en Typify. Ik ben er recent niet meer langsgegaan, maar het zou me niets verbazen als een behoorlijk aantal van deze initiatieven alweer het loodje hebben gelegd.