Vrijdag 30 oktober kwam USG People voorbeurs met de resultaten over het derde kwartaal van 2015. Het enthousiasme over de resultaten spat er vanaf, te beginnen met de titel van het persbericht: Strategy paying off, revenue up 10%, EBITA up 28%. Rob Zandbergen (CEO USG People) is door het dolle van blijdschap, getuige onderstaand commentaar:
In the third quarter we accelerated our growth once again. In the Netherlands, Belgium and France our focused organisation enabled us to gain market share. The growth in our services continued strong, both for large clients and in the small and medium-sized business (SME) segment. We were able to realise this growth amid lower expenses, resulting in a strong improvement in our profitability. […]. We expect the positive trend to continue in the final quarter of the year.
Het ziet er dus naar uit dat USG People een mooi 2015 gaat krijgen.
Zo ziet de ontwikkeling van omzet en brutomarge er over de afgelopen jaren uit: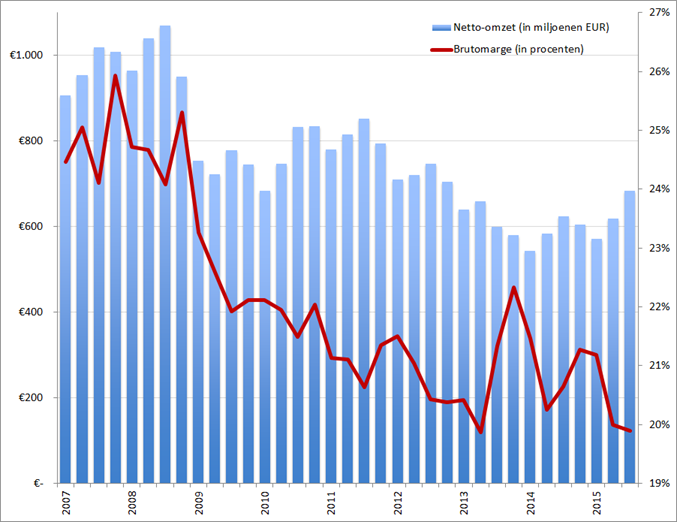 USG People omzet (kolommen) en brutomarge (rode lijn) per kwartaal, Q1 2007 – Q3 2015
Ten opzichte van 2014 zijn de resultaten duidelijk beter te noemen, maar de brutomarge lijkt nog altijd onder druk te staan. De margefluctuaties zijn in de afgelopen jaren heftig dat er niet veel chocolade van valt te maken.
En zelfs de trendlijn van het voortschrijdend jaargemiddelde geeft slechts beperkt uitsluitsel, als gevolg van de extreme variatie per kwartaal: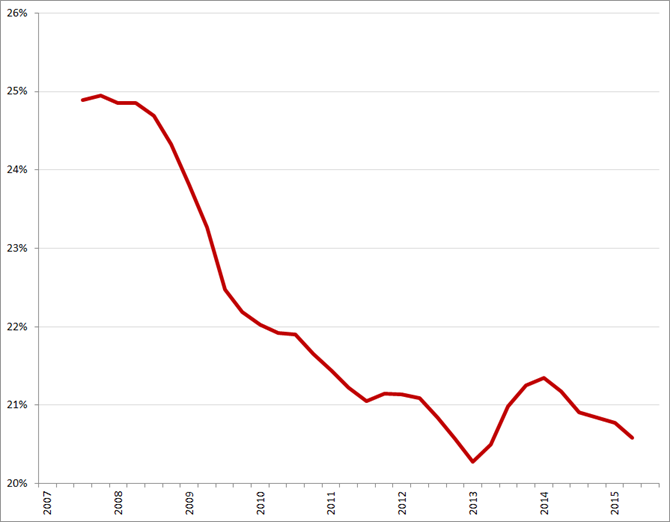 USP People, voortschrijdend jaargemiddelde bruto marge, Q1 2007 – Q3 2015
De ontwikkeling van de bruto marge is desondanks nog altijd verontrustend te noemen. De situatie van vóór de financiële crisis zal 'nooit' meer terugkeren, maar USG People heeft duidelijk grote moeite om het dal achter zich te laten, en dat is temidden van al het feestgedruis toch een wel een minpuntje te noemen. Maar je kan het C-level van USG People nauwelijks kwalijk nemen dat ze in hun media-uitingen op de plussen focussen.
De resultaten in Europa
Dit zijn de resultaten van USG People in Europe, vergeleken met Randstad en Manpower:
Frankrijk, omzetstijging van 6% (ten opzichte van Q3 2014), Randstad +3%, Manpower +2%
Nederland, omzetstijging van 12% (10%, -2%)
België, omzetstijging van 13% (1% (België & Luxemburg), -3%)
Duitsland, omzetstijging van 1% (+2%, +8% (organic basis))
En daarmee mag USG People zichzelf tot winnaar uitroepen van deze onderlinge vergelijking.
Maar er is ook ander nieuws, want USG heeft dankzij haar recente acquisities een positie binnen online recruitment services opgebouwd. En die wordt apart gerapporteerd als business unit Online Business Solutions . En daar valt eerlijk gezegd niet veel fraais te melden: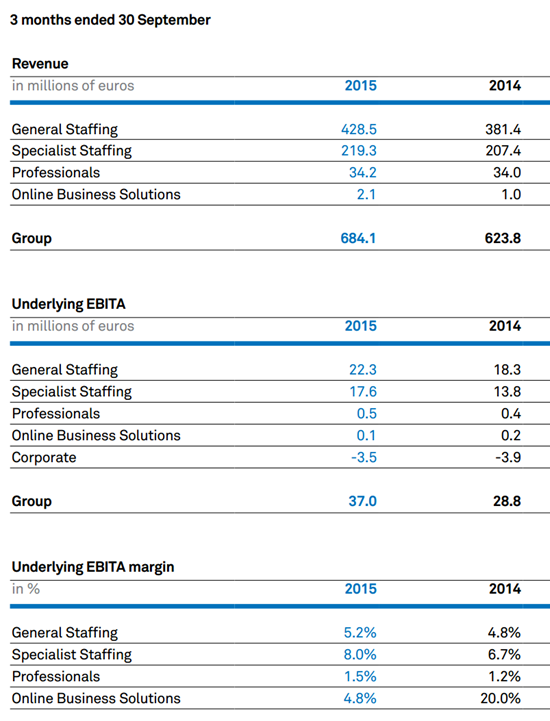 Een in mijn optiek tegenvallend resultaat in omzet en vooral in EBITA. Is er soms iets aan de hand bij de onderliggende partijen (Adver-Online, Netwerven en Connecting expertise)? Dit zou toch high growth en high margin moeten zijn, zoals ook blijkt uit de marge in 2014? Ik heb geen verklaring van USG People kunnen vinden, misschien zijn er wel grote investeringen gedaan die het resultaat zo sterk drukken dat het zelds minder is dan de EBITA van General Staffing?