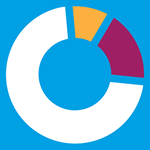 Een aantal maanden geleden evalueerde ik hier Textio, met de volgende conclusie:
Textio is een indrukwekkende tool die mij een gedetailleerd inzicht geeft in de kwaliteit van een vacaturetekst vanuit het perspectief van een aantal response-indicatoren.
En blijkbaar zijn er ook de nodige VC-firma's onder de indruk van Textio's kwaliteiten want het bedrijf heeft maar liefst $8 miljoen aan Serie A funding (!) gekregen, waarmee de totale investering in Textio nu op $9,5 miljoen komt. Bepaald indrukwekkend.
En dat is nog niet alles, want Textio claimt nu ook emails aan kandidaten te kunnen beoordelen. Dat moet ik zien!
Dit is de aankondiging van de nieuwe functionaliteit die ik van Textio ontving: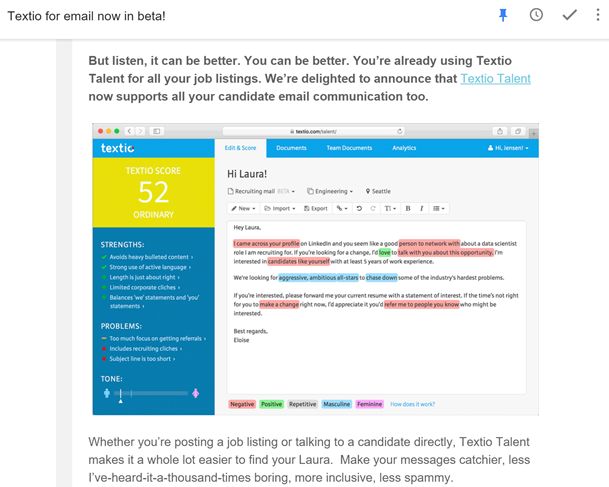 De bekende Textio interface maar nu voor emails van recruiters aan kandidaten en dus niet voor vacatureteksten. Ik ben benieuwd…
Mijn eerste test komt van de blog posting Shit recruiters say: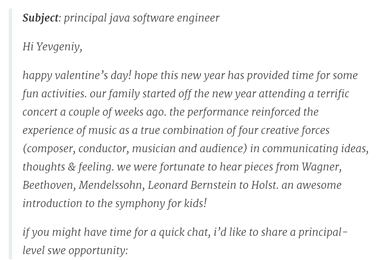 Met moge duidelijk zijn dat de betreffende blogger bovenstaande email niet positief beoordeelde.
En dit is wat Textio ervan maakt: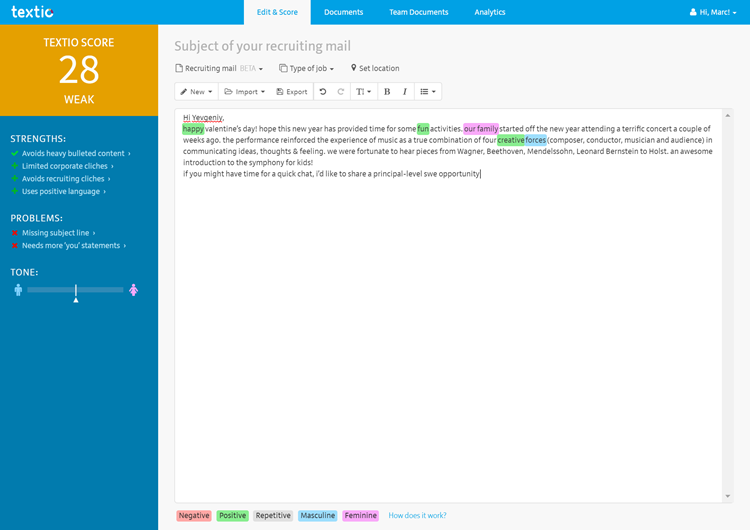 Textio is ook bepaald niet onder de indruk van deze email, maar is dat nou op basis van de inhoud of omdat er geen onderwerp is en er onvoldoende 'you' statements in staan?
Een tweede email komt van de bedenker van Ruby on Rails, David Heinemeier Hansson:
My name is Kelly and I am reaching out to you to see if you would be looking to make a career move. I am searching for creative and talented Ruby Developer to add to a rapidly growing team. The position is located in the San Francisco Bay Area. You do not need to be there now, but should be willing to relocated there within a short but realistic time frame. Relocation expenses will be shared by my client.

They are serious about bringing on the right talent, so they will pay for the right person. Base Salary is open and depends on your experience.

..snip…

About My client: They are a rapidly expanding, VC-funded tech startup positioned squarely on top of the social media marketing revolution. Their platform allows brand managers and marketers of all shapes and sizes to quickly create a variety of promotional campaigns to engage and interact with the users and fans of their brands.
Volgens David een volstrekt stompzinnige email, maar wat maakt Textio ervan: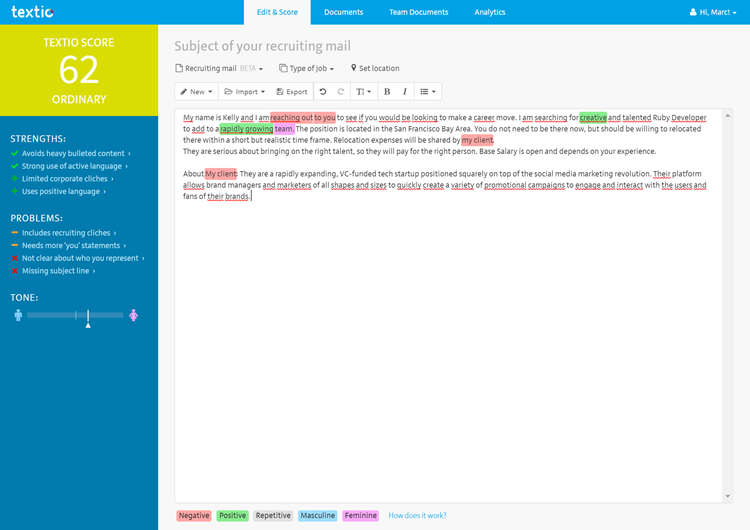 Kijk eens aan. Textio ziet de email weliswaar niet als een hoogvlieger maar is het in het geheel niet met David eens. Maar wie heeft er nu gelijk? David natuurlijk, want hij is degene die de email heeft ontvangen. Waarmee meteen duidelijk is dat tekstbeoordeling van een email misschien constructiefouten weet te ontdekken, maar niet kan beoordelen of de ontvanger rood zal aanlopen van woede.
Conclusie
Bij de analyse van teksten en het geven van een beoordeling is het misschien verstandiger om het bij 'objectieve' documenten te houden, zoals vacatureteksten. Een email is een communicatie van persoon tot persoon, hoewel veel kandidaten het daar al niet mee eens zullen zijn gezien de boilerplate of stupiditeit die recruiters over hen kunnen uitgieten. Maar een persoonlijke communicatie proberen te beoordelen schiet het doel een beetje voorbij. Volgens mij kan Textio zich beter beperken tot vacatureteksten.