Google heeft haar aandacht gericht op de arbeidsmarkt. En dat zou zomaar eens het einde kunnen betekenen van vacature aggregatoren, met Indeed als grootste en meest waarschijnlijke slachtoffer.
De publieke rationale van Google om de arbeidsmarkt te betreden is niets minder dan puur altruïsme:
We also think it can help millions of people today by democratizing access to information and surfacing new opportunities. For example, almost half of U.S. employers say they still have issues filling open positions. Meanwhile, job seekers often don't know there's a job opening just around the corner from them, because the nature of job posts—high turnover, low traffic, inconsistency in job titles—have made them hard for search engines to classify. Through a new initiative, Google for Jobs, we hope to connect companies with potential employees, and help job seekers find new opportunities.
De economische werkelijkheid laat zien dat binnen wereldwijde arbeidsmarkt op jaarbasis een bedrag van $4 miljard tot $200 miljard omgaat, afhankelijk van wie je het vraagt. En ik maak me sterk dat dit voor Google een extra stimulans is om goed te doen…
Google for Jobs
Google for Jobs is een initiatief onder de paraplu van Google.ai (Bringing the benefits of AI to everyone), een verzameling van artificial intelligence / machine learning initiatieven binnen Google. De onderliggende technologie van Google for Jobs is de Google Cloud Jobs API, de functionaliteit die op 'magische' wijze een zoekopdracht weet om te zetten in relevante banen. En het resultaat van die zoekopdracht wordt vervolgens via Google getoond met de behoorlijk opvallende Google for Jobs lay-out: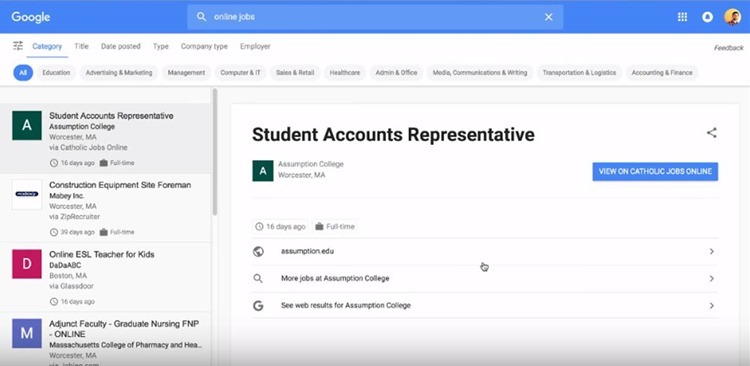 De zoekresultaatpagina van de gemiddelde vacaturesite of vertical search engine zien er heel anders uit: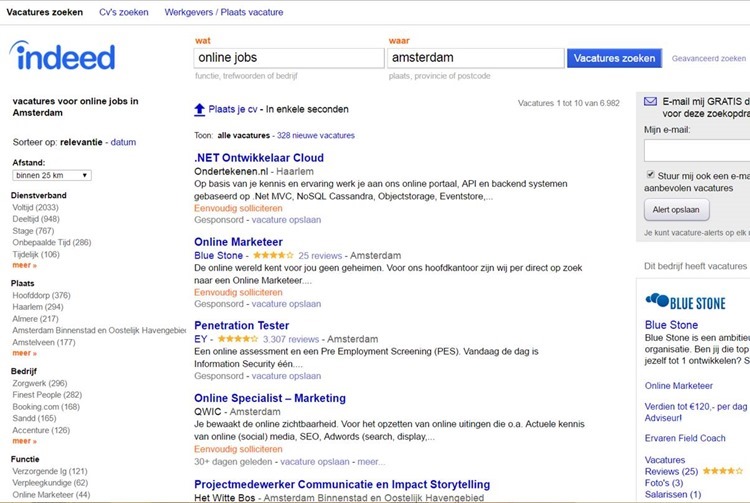 Google gebruikt één zoekveld waar binnen het arbeidsmarkt domein een "Wat" en een "Waar" zoekveld gebruikelijk zijn. Verder plakt Google haar facets (Category, Title, Date posted, Type, Company type, Employer) horizontaal, waardoor je geen zicht hebt op de opties per facet. Maar het meest opvallende verschil is de combinatie van een zoekresultaatpagina met een vacaturepagina, waardoor ik zowel de zoekresultaten als de gedetailleerde informatie van de geselecteerde vacature uit het zoekresultaat te zien krijg. Erg veel informatie in een kleine ruimte.
Is deze lay-out van Google een opmaat voor de volgende generatie interfaces van vacaturesites en vertical search engines? Vanuit UX perspectief vind ik het geen vooruitgang, maar als dit de norm wordt voor werkzoekers moeten vacaturesites waarschijnlijk wel volgen.
Maar laat ik niet verder uitwijden over interfaces en terug gaan naar het onderwerp. Google dicht haar Cloud Jobs API menselijke trekjes toe:
[…] Cloud Jobs API understands the nuances of job titles, descriptions, skills and preferences, and matches job seeker preferences with relevant job listings based on sophisticated classifications and relational models
De Cloud Jobs API is dus een vacature (en cv?) classifier. En als ik me niet vergis heeft Google hier sinds 2013 aan gewerkt, dit is althans de periode waarin de huidige product manager volgens zijn LinkedIn profiel heeft gewerkt aan een confidential project binnen Google.
En in die periode heeft Google blijkbaar haar eigen ontologie gerealiseerd waarmee vacatures met ongekende precisie kunnen worden geclassificeerd. Zegt Google. Waarmee werkzoekers via Google alle relevante vacatures kunnen vinden. Zegt Google. Want we moeten nog even wachten tot we er mee kunnen spelen en dan nog alleen in Noord-Amerika. Hoewel Google plannen heeft om nog dit jaar de API in 8 talen te vertalen en aan te passen.
Wat zit er onder de motorkap?
Google heeft onder de motorkap van de Cloud Jobs API een knowledge domain voor de arbeidsmarkt gemaakt op basis van functies en vaardigheden:
· The occupation ontology, an enhanced evolution of O*NET Standard Occupational Classification, has three layers: The top layer includes approximately 30 broad job categories (e.g., accounting and finance, human resources, restaurant and hospitality). The second layer lists 1,100 occupation families (e.g., emergency registered nurses, foresters, database administrators), and a third layer consists of 250,000 specific occupations (e.g., software engineer, senior software engineer and parking enforcement officer).

· The skill ontology defines and organizes around 50,000 hard and soft skills with different types of relationships such as is_a, related_to, etc.

· Relational models encode the popularity and specificity of each skill for any occupation family and any specific occupation.
Dat moet een hoop werk zijn geweest. Volgens Google heeft ze daar echter maar 17 miljoen vacatures voor nodig gehad. En deze vacatures kwamen volgens Google van hundreds of thousands of company websites. Zegt Google hier nu dat ze haar eigen Jobfeed heeft ontwikkeld? Eigenlijk wel..
Het is misschien een hoop werk maar dan heb je ook wat, want dit knowledge domain kan vervolgens door machine learning technieken worden begraasd: Enter machine learning, which plays a central role in the uses of these knowledge representations, including:
· Detecting occupation in job seeker queries and mapping them to nodes in the occupation ontology with a confidence score

· Mapping job posting titles to nodes in the occupation ontology with a confidence score

· Detecting skills in job seeker queries and mapping them to nodes in the skills ontology

· Extracting skills in job postings and mapping them to nodes in the skills ontology

· Computing the relational models between occupations and skills
En waarom zou Google zich beperken tot vacatures? Cv's zijn minimaal even interessant.
Wie doen er mee?
Misschien wel het meest opvallende zijn de door Google genoemende deelnemers aan de private alpha van de Cloud Jobs API: CareerBuilder, Monster, Glassdoor, LinkedIn en Facebook. Holy shit! En de opvallende afwezige in dit lijstje is natuurlijk een vacature aggregator. Zoals Indeed. Blijkbaar vindt Google de SEO omzet van Indeed niet langer interessant genoeg… En Indeed kan niet zonder Google. Het is niet leuk om op dit moment Indeed CEO te zijn, hoewel Indeed President Chris Hyams lacht als een boer met kiespijn:
What Google is doing is logical for them, and we welcome competition. The difference is that we have 5,000 employees who are focused solely on helping people get jobs. Google is a big organization, but they don't have 5,000 people focused on employment.
Ballsy is misschien de beste manier om zijn reactie te omschrijven. Maar ik vraag me af wat Hyams werkelijk denkt. En hoe Recruit op dit moment tegen haar overname van Indeed aankijkt…
CareerBuilder, Monster, Glassdoor, LinkedIn en Facebook zeggen in koor dat ze het initiatief van Google verwelkomen als een manier om hun zoekresultaten te verbeteren en meer bezoek te krijgen, maar ook daar moeten donkere wolken aan de horizon zichtbaar zijn.
Daarnaast zijn er bedrijven die via een integrator de API testen, waaronder Johnson & Johnson. En daar wordt het verhaal van Google in één klap een stuk minder krachtig. Want Johnson & Johnson komt met voorbeelden waar je tenen van gaan krullen. Zoals een zoekopdracht voor accounting manager waarbij de "oude" Johnson & Johnson werken-bij site dit soort resultaten toont: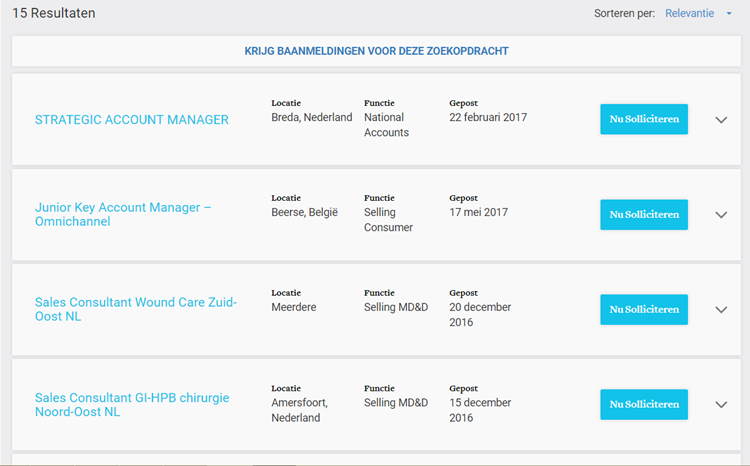 Inderdaad, dit is van een schokkend laag niveau. Dus het feit dat Cloud Jobs API wel correcte banen teruggeeft is niet veel meer dan een vanzelfsprekendheid. Maar daar heb je geen gigantische ontologie en een hyperspace met meer dan 100K dimensies voor nodig. Een semantische zoekmachine is meer dan voldoende.
We staan mogelijk aan de vooravond van een revolutie als Google daadwerkelijk de Gordiaanse knoop, die het bij elkaar brengen van vraag en aanbod binnen de arbeidsmarkt is, heeft ontward. Maar tot bewezen is dat Google het schier onmogelijke heeft bewerkstelligd, lijkt het me verstandig om rustig door te gaan met ademhalen. En massaal aandelen Recruit te dumpen…
Het beste voor het laatst
Hoewel de Cloud Jobs API op zichzelf al interessant genoeg lijkt, is er voor Google blijkbaar geen reden om tevreden achterover te leunen. Voor 2017 heeft Google de ambitie om job-to-person recommendations te gaan bieden, oftewel smart job recommendations based on resumes and profiles so that job seekers never even have to search. Toe maar. En om deze ambitie nog duidelijker te maken zegt Google ook het volgende over de job-to-person recommendations: Leveraging machine learning to intelligently match job seekers with your company's open opportunities. Because search is not always the right tool to do the job.
Jawel, de grootste zoekmachine ter wereld zegt dat search niet altijd werkt (pun intended). En zegt ook dat wij niet meer hoeven te zoeken naar onze volgende baan. Maar dat de volgende baan aan ons wordt voorgesteld zonder enige inspanning van onze kant. Dit is niet alleen de dood voor Indeed en alle andere vacature-aggregatoren maar ook voor iedere vacaturesite.
Wordt ongetwijfeld vervolgd.