Dit is hoe de applicatie Fillip haar diensten beschrijft op Betalist:
Fillip designed an amplified, accelerated recruitment process that gets job opportunities maximum exposure to "information agents" that are spread everywhere at any given time and are better able to point out the passive job seekers out there.
Inderdaad, dat klinkt wel heel erg als een online referral site. En ik maar denken dat dit type sites enkele jaren geleden was uitgestorven. Blijkbaar niet dus…
Overigens beschrijft Fillip haar dienstverlening op verschillende manieren, dit is hoe Fillip het via haar website uitlegt: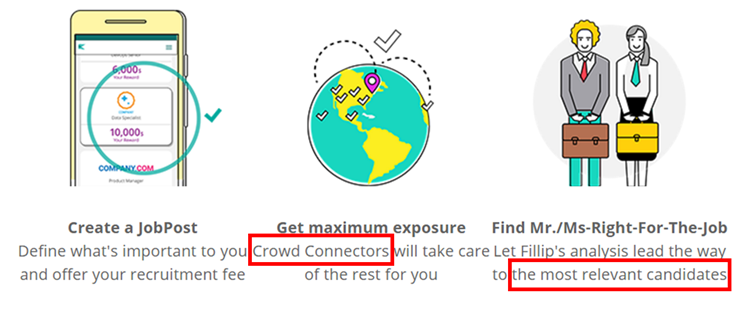 Aan ingelogde gebruikers vertelt Fillip het weer net even iets anders:
Fillip is a market place for crowd recruitment, allowing companies to attract nonprofessional crowd recruiters to help them fill a job position by publishing a JobPost that includes the open position and the reward the company is willing to pay for a successful hire.
En op haar homepage noemt Fillip het zo: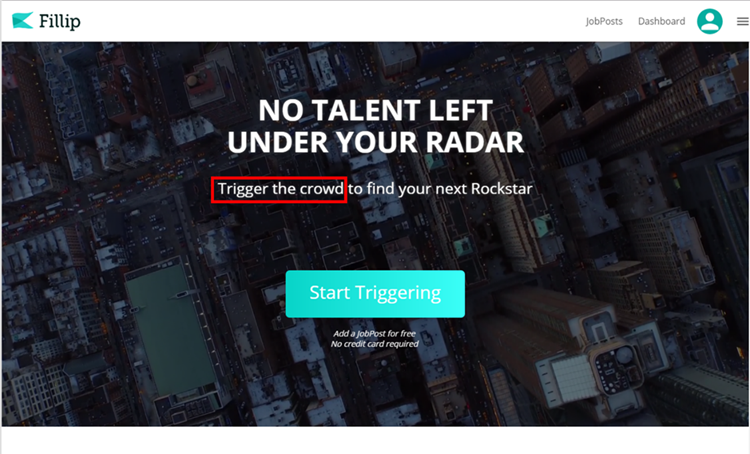 Information agents, Crowd Connectors, nonprofessional crowd recruiters, triggered crowd… Het duizelt me eerlijk gezegd een beetje, maar het gaat in alle gevallen natuurlijk om referrers. Zij moeten de verbintenis maken tussen vacature en kandidaat. Maar hoe dan? Dat blijft volstrekt onduidelijk.
Dat je diep in de buidel moet tasten om the most relevant candidates te 'krijgen' is ook snel duidelijk; de referral bonus voor de Crowd Connector is minimaal USD 3.000, met een 10% opslag voor Fillip. Toe maar…: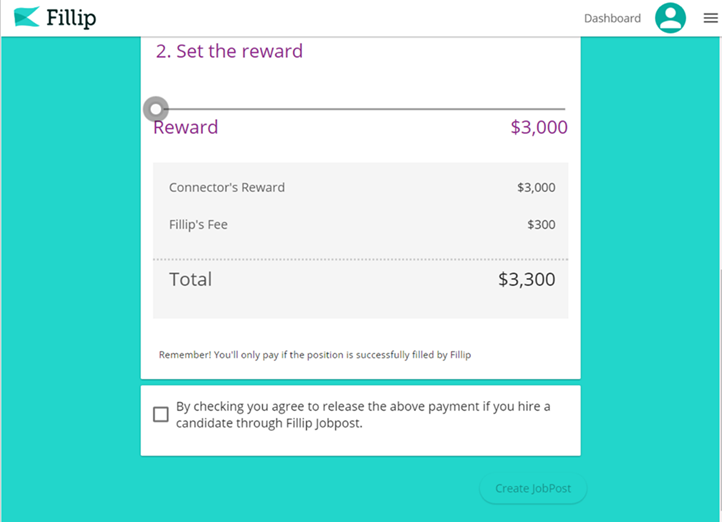 Volgens Fillip krijg ik via een one-click management recruitment process dan wel analyzed, ranked, quality matches. Maar hoe dat in zijn werk gaat blijft volstrekt onduidelijk. Zeker als je bedenkt dat die geanalyseerde, gerankte kwaliteitsmatches op basis van dit soort input tot stand moeten komen: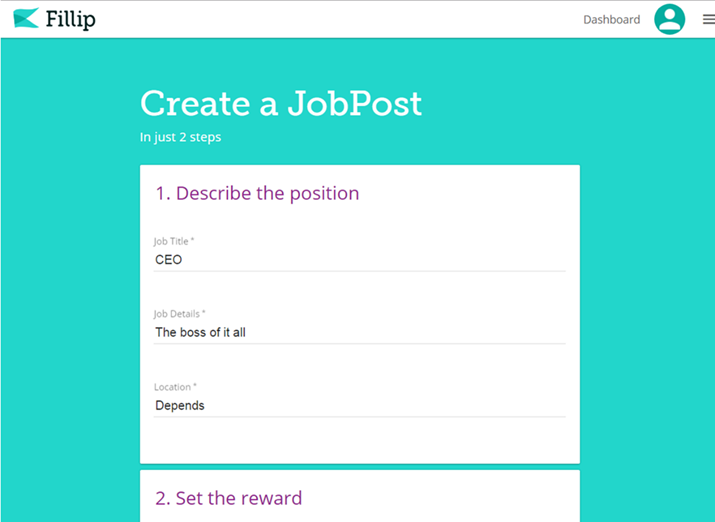 Mijn bullshit radar slaat zeer sterk uit; het enige wat ik nog mis zijn de termen AI en machine learning…
Het aantal vacatures op Fillip is overigens zeer beperkt; in totaal zijn er op dit moment 55 vacatures gepubliceerd. Een aanzienlijk deel daarvan is stokoud, met een publicatiedatum tot meer dan een jaar geleden. Wekt niet de indruk van een levende en levendige site. Waarom verbaasd me dat toch weer niet…?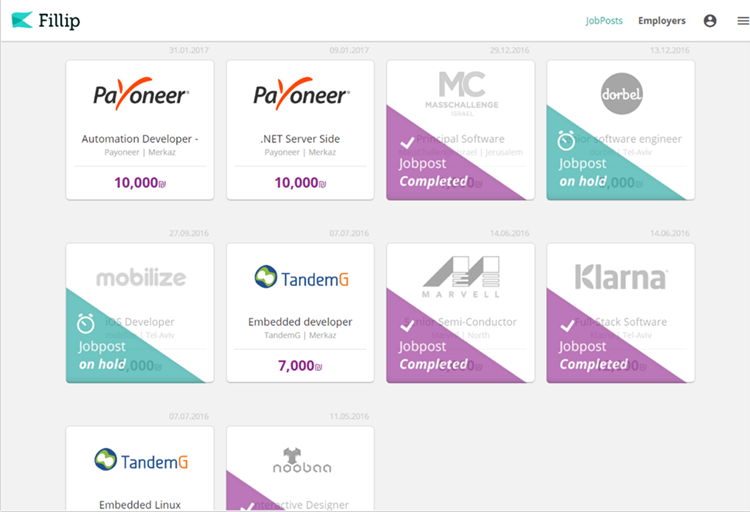 Nabeschouwing
Ik heb zonder uitzondering elke online referral site (in tegenstelling tot de online corporate referral service) een enkeltje deathpool voorspelt en er is zover ik heb gezien geen reden om voor Fillip eeen uitzondering te maken.
De recente geschiedenis is bezaaid met online referral lijken zoals Jobflirters, Jobtippers, Recruitr, JobAmbassadors, Jobster, Zubka, Friendhunter en Spotajob, Whizper, Jobylon,CareerSonar, Whistetalk, GooodJob, WorkWith.Me,SocialCareer,SocialCruiter, Surge, PopHire, TopProspect, Bonu$box, Kenjijiemand,  Jobadvisor, Usersix, Gooozup, techTribe, Nexi, Zao, Zalp, Referagig, Jobhuk, Employyd en MyJobCompany.