Het moet maar weer eens: een blog over Big Data.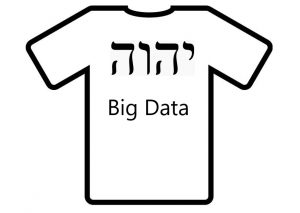 Ik kan bijna een boek samenstellen met de blogs over dit onderwerp die ik heb geschreven.  Er blijven veel nieuwe dingen die worden gedacht, gezegd en geschreven over Big data en  helemaal binnen de recruitment en HR-wereld. De adepten laten zien dat de mogelijkheden oneindig lijken de tegenstanders laten zien dat de problemen de haren ten berge doen rijzen. Ik zelf schommel heen en weer. De vernieuwingen trekken mij aan en de snelle conclusies met grote gevolgen stoten mij af.
Mensen-business en alles wat mensen doen is natuurlijk een bron van data, logisch dat Big data technieken en -theorieën het HR domein als speeltuin zien. Op de site HRtrendinstitute las ik het volgende blog over Big Data in recruitment. Uitgebreid gaat dit blog in op de Big Data toepassingen binnen het mooie recruitment vak. Het blog eindigt met de conclusie "Big data is just like any other tool that's used in the recruiting process. However, it has proved to be effective, efficient and results- oriented. The secret to success with big data is using the information that's available to you to enrich your recruitment efforts."  Waar komt dat bewijs vandaan vraag ik mij af.
Big Data is een trend, dat geloof ik alleen al op basis van hoe vaak er over gesproken wordt, maar voor ik geloof dat het  "bewezen"  effectief en efficiënt is, wil ik ook bewijs zien.  Een claim to fame kan acceptabel zijn met Big data. Recruitz.io heeft met Lena en Lars een paar mensen die deze claim kan maken. Lars stond laatst in het FD waarin hij zegt "Wie big data het best in de vingers heeft, wint de oorlog om talent". Hoe zeer ik ook geloof in Recruitz.io als verbetering ten opzichte van in het wilde weg wat vacatures op het internet verspreiden, de stappen naar oorlogen winnen met Big Data (als er al een war on talent is) zijn nog vrij groot.
Big Data en AI (Artificial Intelligence) worden vaak in één adem genoemd. Twee verschillende zaken allebei een trend en high tech. Ook allebei worden ze concreet gemaakt door software waar algoritmes in zijn verwerkt. Algoritmes die beweringen in rekenregels hebben gemaakt. Als Lars in het stuk in de FD zegt "Ik geloof niet in het cv"  baseert hij zich net als de tool CrystalKnows, de tool die in het FD wordt genoemd,  op een hoop aannames.  Aannames waar rekenregels van zijn gemaakt. CrystalKnows baseert zich op DISC, een assessmentmethodiek die zich al vanaf het ontstaan in 1972 baseert op gedragspatronen die verschillende persoonlijkheidsstructuren bij mensen vertonen.  Bij uitstek een methode die zich leent voor Big Data en AI toepassingen in de HR. Hoewel de methode vele criticasters heeft en nog vaker volledig verkeerd wordt toegepast of geïnterpreteerd, is het populair bij tools binnen de HR omdat de DISC methode makkelijk in allerlei algoritmes is vast te leggen.
CrystalKnows vertelt dan ook precies hoe een tweet of mailtje gericht aan iemand zoals ik eruit moet zien. Volgens hun analyse word ik omschreven als " Herbert is naturally transparent, open, and friendly. Adopt the same attitude when working with him and you'll immediately earn his trust" en mijn persoonlijke afwijzing zou er volgens CrystalKnows zo uitzien:
"Hey Herbert,
Thanks so much for coming in to meet the team yesterday. I personally enjoyed getting to know you some more, and I hope it was a nice break for you.
I do have some bad news –
After thoroughly reviewing all of our options, we have decided to hire a different candidate for the position. This was an extremely difficult decision, and you were on our short list, but ultimately it came down to years of experience with our technology.
Even though this won't work out right now, I absolutely believe we could work well together in the future in the right environment. If you are open to it, I'd love to keep the conversation going as we move forward. Things can change quickly, and I want to make sure we can inform you about other job openings that you would enjoy.
Thanks again,
[Your Name] ".
Logisch dat iemand dat makkelijk vindt: een mailtje lekker persoonlijk met één druk op de knop.  Of het klopt zal niemand weten.
Dit is dan ook precies waar ik mij druk om maak. Zonder constante bewaking van de aannames waar wij de algoritmes op bouwen en controles op de effecten van de algoritmes, is iedere 'claim to fame' van Big Data en AI-toepassingen een stap in de richting van Dataism. Dataism dat van algoritmes onze nieuw god maakt zodat we eindelijk weer iets hebben om in te geloven.