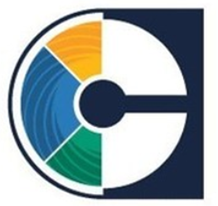 Met de van Amerikaanse bedrijven bekende hyperbole heeft CareerBuilder op 1 oktober een productlancering gedaan onder de volgende, ronkende titel: CareerBuilder Unveils Advanced AI-Based Talent Acquisition Platform for Employers and Job Seekers, Turning the Industry on Its Head while Addressing Diversity. Ja, ja een platform voor iedereen dat de markt op haar kop zet en waarmee tevens diversiteitsproblemen als sneeuw voor de zon verdwijnen. Panacee, iemand?
O ja, er was ook nog een subtitel : Leveraging More Than 2 Billion Data Points and Artificial Intelligence, the New AI-Powered Tools Reduce Time to Hire By Over 30%. De winnende combinatie van big data en AI levert een 30% kortere time to hire op. Is dat overigens een red issue bij Amerikaanse bedrijven?
Maar wat is dat Talent Acquisition Platform for Employers and Job Seekers nou eigenlijk, en hoe gaan werkzoekers daarvan profiteren? Tijd om het persbericht eens grondig te gaan spellen.
Het persbericht is duidelijk: CareerBuilder is geen vacaturesite meer, of wil geen vacaturesite meer zijn. Haar toekomst ligt elders:
CareerBuilder is the largest provider of AI-powered hiring solutions serving the majority of the Fortune 500 across five specialized markets, and has more than 20 patents, with a quarter focused on AI technologies, enabling it to provide unmatched solutions to its clients.
Geen idee hoe dit zich vertaald naar werkgevers en werkzoekers maar hopelijk wordt dat duidelijker bij het bespreken van het Talent Acquisition Platform for Employers and Job Seekers
Talent Acquisition Platform for Employers and Job Seekers
En dat is ook zo, want dit stelt CareerBuilder als het om het nieuwe platform gaat:
Built on a foundation of billions of data points and extensive client and user feedback, CareerBuilder's enhanced Talent Discovery Platform enables companies to hire 30% faster, and support job seekers as they determine the next steps in their professional development or look for new opportunities.

Over the past year, CareerBuilder leveraged its more than 200 data scientists and more than 20 patented technologies to bring 25 years of data and insights to the fingertips of recruiters and job seekers. AI-powered tools rank the candidate appeal of job postings, promote diversity and turn job post creation into an easy four step process that takes less than five minutes.
Zijn we er nog met zijn allen? Als het om inflated expectations gaat dan hebben we nog veel te leren. En zo te zien kunnen we prima bij CareerBuilder in de leer. Ik laat overigens verstek gaan want dit is echt teveel van het goede. Maar laten we vorm en inhoud niet met elkaar verwarren en gewoon noest door blijven speuren naar wat het platform nou waardevol maakt voor de werkzoeker. Er zijn vier kopjes in het persbericht die met de werkzoeker van doen hebben:
1. Helping Job Seekers Find Their Next Role
Dit is eigenlijk de klassieke rol van een vacaturesite, toch? Dus dat doet het bedrijf al 'eeuwen'. En daarover zegt CareerBuilder:
Candidates' expectations have heightened, and with more than 70% of CareerBuilder's job seekers searching for jobs on mobile, improving the user experience is critical. With almost 1.5 million more unfilled jobs than unemployed people, searching for a new role can feel overwhelming. CareerBuilder makes it easier for job seekers to search through the 30 million jobs posted on the platform each year.
Oke, nothing to see here folks! Geen big data, geen AI maar business as usual.
2. CareerBuilder's tools allow candidates to find the best paying jobs and skills development and career advancement opportunities.
Is dit het dan?
Understanding a potential career path can be overwhelming for a candidate who is considering several new roles. Through the new career path feature, job seekers can determine where each role can lead in the next six months or even the following 5 to 20 years. This helps them choose the job that's right for them now, and in the future. CareerBuilder's salary estimator helps candidates understand what the salary range is for the jobs they are considering, and allows them to compare the position to similar roles.
Salarissen zijn natuurljk
Dit is de Career Path tool: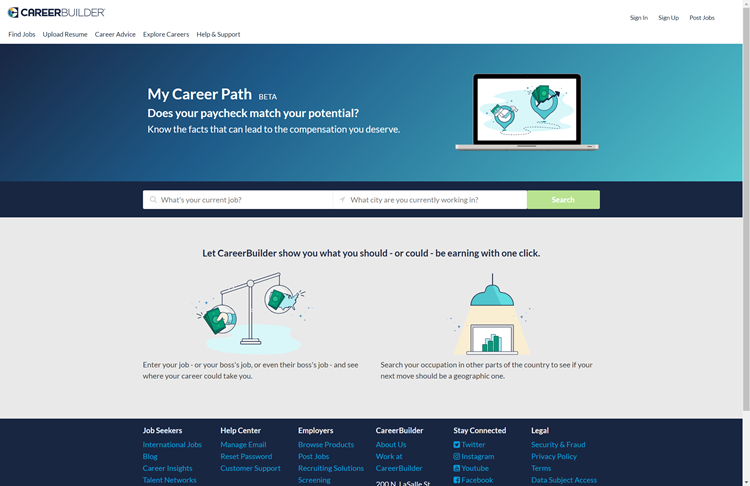 Ziet er simpel genoeg uit, slechts een beroep en locatie worden van mij gevraagd.
Dat is simpel, account manager / San Francisco: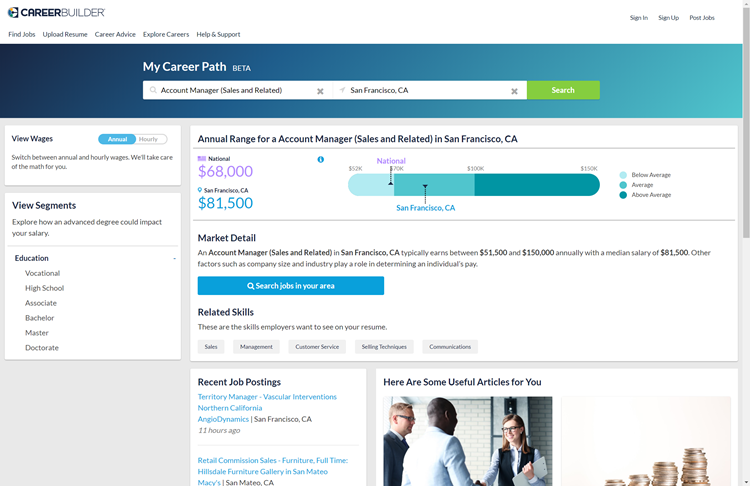 Oke, waar is mijn career path? Het enige wat ik krijg is een salarisindicatie die volstrekt zinloos is omdat de range zo groot is dat er geen enkele waarde aan verbonden kan worden. Ik krijg geen aanvullende vragen, ik zie geen volgende functie in hetzelfde carrièrepad en eventuele uitstapjes naar andere carrièrepaden. Niets. Hoe dit Career Path kan worden genoemd is mij een raadsel.
Overigens maakt CareerBuilder de 'klassieke' fout om de salarisindicator ook bij individuele vacatures te laten zien. En dat kan spectaculair fout gaan: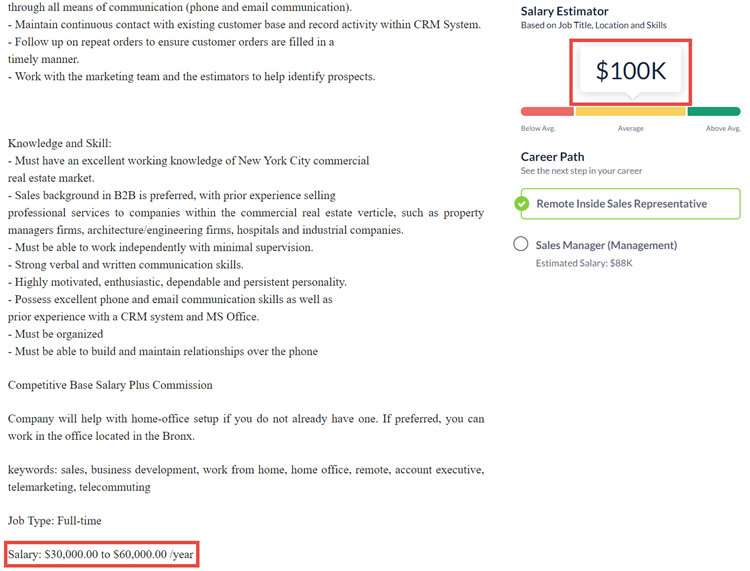 Hier komt CareerBuilder met een salarisschatting van $100.000 terwijl in de vacaturetekst zelf een veel lager salaris staat ($30.000 – $60.000). Ik zou als werkgever not amused zijn als sollicitanten met overspannen verwachtingen aan tafel komen zitten.
Overigens zou dit niet bijzonder eenvoudig te voorkomen zijn via big data en AI? Want volgens mij is die salarisindicator weliswaar big data, maar daar komt toch geen AI bij kijken? Want verder komt er binnen dit onderdeel geen fancy stuff onder de motorkap vandaan.
De term koude douche is denk ik gepast voor dit onderdeel van het CareerBuilder persbericht.
3. Building a tailored resume can be challenging for job seekers.
Het derde onderdeel:
Since its introduction, the AI Resume Builder has helped more than 80,000 job seekers build resumes in just three easy steps, and it is now available across all CareerBuilder platforms. Its 25 years of resume data helps to create competitive resumes that capture job skills, ensure tone neutrality and normalize language across genders, while also increasing opportunities for qualified applicants who may have imperfect grammar. For veterans, the tool transfers military experience into traditional job titles, underscoring the company's commitment to supporting military veterans and helping them to communicate their experience in meaningful ways as they enter the civilian workforce.
Even gekeken, en dit is de AI resume builder: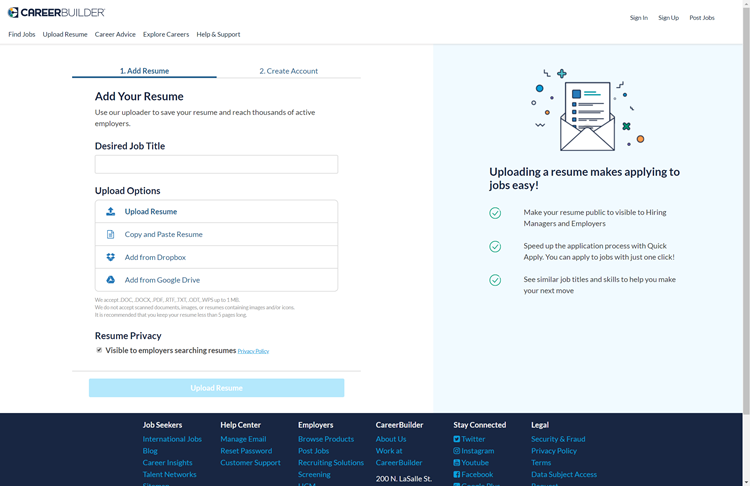 Dat is vreemd! Ik kan de AI resume builder niet gebruiken als ik geen digitaal cv heb. Waarom niet? Maakt niemand meer een cv van scratch aan? Ik ben ondertussen stokoud geworden dus ik kan volledig out of touch zijn met de solliciterende werkzoeker van tegenwoordig. Maar het gaat er bij mij niet in dat er geen mensen zijn die een cv van scratch willen maken.
Dit blijft voorlopig dus een dark horse.
4. Finding and applying to relevant roles is often time-consuming, and can cause candidates to drop off during the application process.
En het laatste onderdeel:
CareerBuilder helps job seekers narrow down their searches by providing targeted job recommendations. It also enables candidates to apply to jobs with one click, making submitting job applications on-the-go nearly effortless.
Dit is niets nieuws en daarmee geen innovatie die met het nieuwe platform samenhangt.
Conclusie
CareerBuilder wil de indruk wil wekken dat zij een Advanced AI-Based Talent Acquisition Platform for Employers and Job Seekers heeft gelanceerd op 1 oktober. Nadere inspectie van het persbericht leert dat dit voor wat betreft het werkzoekersdeel niets voorstelt. Mogelijk dat werkgevers wel in hun handen mogen knijpen. Ik heb geen idee.