Of het nou een job-alert e-mail of een ander soort nieuwsbrief is; uitschrijven moet natuurlijk eenvoudig zijn. En hoewel iedere nieuwsbriefgebruiker het hier waarschijnlijk mee eens is, maken de nieuwsbrief aanbieders het vaak onnodig moeilijk. Vandaag wil ik een voorbeeld laten zien van een wel heel kinderachtige manier om de gebruiker te frustreren: een klein lettertype.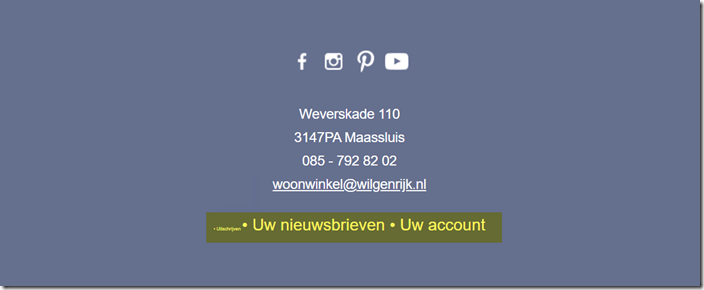 Zie jij een mogelijkheid om je af te melden? Nee, he?
Slechts een superheld met laserogen zal het wel meteen kunnen zien, maar hoeveel superhelden met laserogen melden zich gemiddeld aan bij een e-mail nieuwsbrief? Ik heb eerlijk gezegd geen idee, maar ik schat in dat ze daar simpelweg geen tijd voor hebben, druk met het redden van de wereld, en zo.
Maar laten we het gemarkeerde segment eens ferm uitvergroten (300x):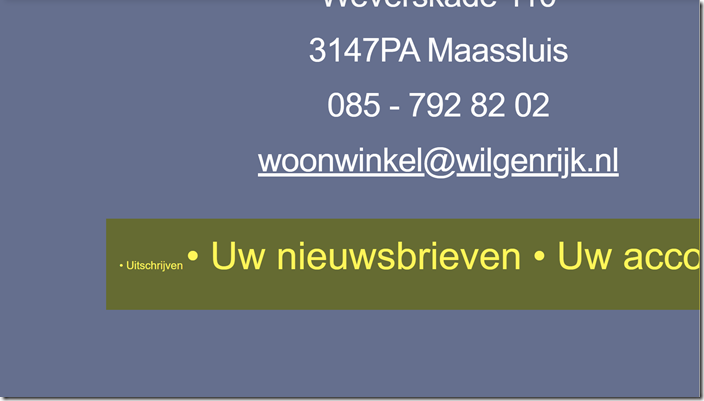 Jawel, daar is de functie om je uit te schrijven, in een ieni-mieni klein lettertype. Wat in een normale vergroting op een vuiltje op het scherm lijkt, is met een 300x vergroting ineens een tekst. Waar je ook daadwerkelijk op kan klikken.
Slotopmerking
Welke hersendode developer of andere zombie heeft dit in hemelsnaam verzonnen? En met welke gedachte? Waarschijnlijk vinden/vonden ze het een heel slimme methode om het aantal uitschrijvingen te minimaliseren. En heeft iemand in het bedrijf gedacht aan het belang, het gemak van de bezoeker? Waarschijnlijk geen moment, en anders hebben ze die gedachte binnen 10 seconden bij het oud vuil gezet. Niet beseffend dat ze hiermee een ferm risico kunnen lopen als gevolg van negatieve beeldvorming.