Vandaag heb ik na jarenlang aarzelen de stap gewaagd en ben ik overgestapt van KPN naar T-Mobile. En ik heb nu al een soort van spijt… Waarom? Omdat T-Mobile, met ongetwijfeld een leger aan ux-ers in dienst, niet in staat is mij een probleemloze ervaring te bieden. Dus hoe zit het dan straks met hun Internet dienstverlening? O, o, o, als dat maar goed gaat…
Laat ik maar meteen met een eerste (van twee) voorbeelden komen. Het gaat hierbij om de bevestiging van mijn bestelling: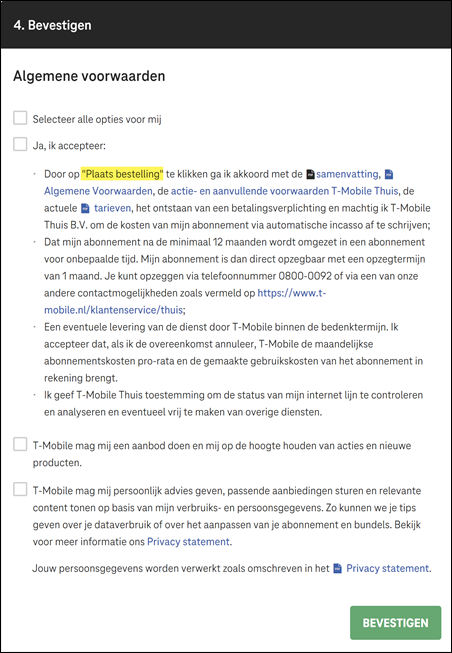 Om het makkelijk te maken heb ik de koeienfout (vanuit usability perspectief) in geel getoond. Ik heb dus anderhalf uur gezocht naar een knop met het label Plaats bestelling. Maar die knop bestaat helemaal niet! Ik moet op de knop Bevestigen klikken, wat achteraf bezien best wel een duidelijk label is.
Afgezien van het feit dat het een volledig werkwoord is terwijl het label Bevestig voor mij van toepassing is en ook nog eens twee letters korter. En als je naar de eerste twee checkboxes kijkt wordt daar ook in het enkelvoud gecommuniceerd (Selecteer, accepteer)… Consistency is a bitch
Was dat het? Nee, er is meer.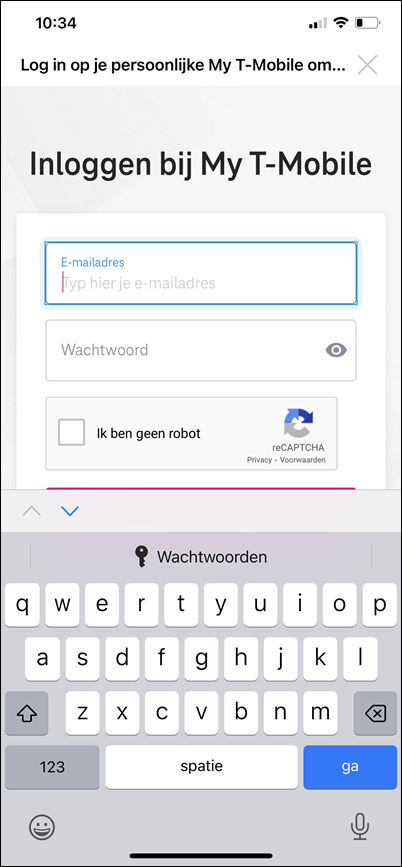 Als ik wil inloggen bij de My T-Mobile app, krijg ik dit scherm te zien op mijn smartphone. Ervaren lezertjes hebben het natuurlijk meteen gezien, er is een CAPTCHA aanwezig. De ultieme luiheid van een aanbieder (in dit geval T-Mobile) om bij het tegenhouden van ongewenst bezoek haar legitieme bezoekers te belasten met het zoeken naar alle plaatsen waar een stoplicht/vrachtwagen/motor of enig ander object te vinden is en dit vervolgens aan te vinken.
Dit is normaal al irritant, maar als je bedenkt dat de nieuwste CAPTCHA versie geen hinderlijke onderbreking oplevert dan is het verbijsterend om te zien dat T-Mobile het blijkbaar nodig vindt om haar kersverse nieuwe gebruikers te pesten met een CAPTCHA.
Overigens geeft de CAPTCHA mij een vrije doorgang nadat ik beide velden heb ingevuld. Maar mijn bloeddruk zit ondertussen al op 180 (onderdruk).
Maar de gifbeker is nog niet leeg, want als ik denk probleemloos in te kunnen loggen, krijg ik dit te zien: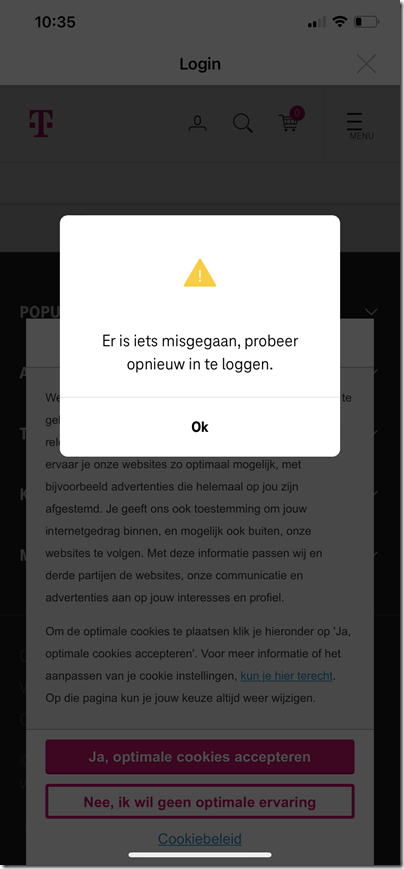 Er is iets misgegaan? Dat is lekker behulpzaam… Kan T-Mobile niet met een duidelijker melding komen dan er is iets misgegaan? En natuurlijk heb ik geprobeerd om weer in te loggen maar zonder resultaat. Nou ja, met hetzelfde resultaat. En dit is zowaar een harde stop. Ik kan niets meer. En dat terwijl deze app mijn levensader met T-Mobile moet zijn.
En daarom vraag ik mij af of ik er goed aan heb gedaan om over te stappen. Financieel leek het allemaal zo gunstig, maar de dienstverlening van het electronische kanaal doet me ernstig twijfelen.