Een bijproduct van de Jubelindex is onderstaand overzicht, waar de Y-as het aantal werklozen/werkzoekenden (UWV) gedeeld door het aantal vacatures ((CBS + Textkernel) / 2) laat zien: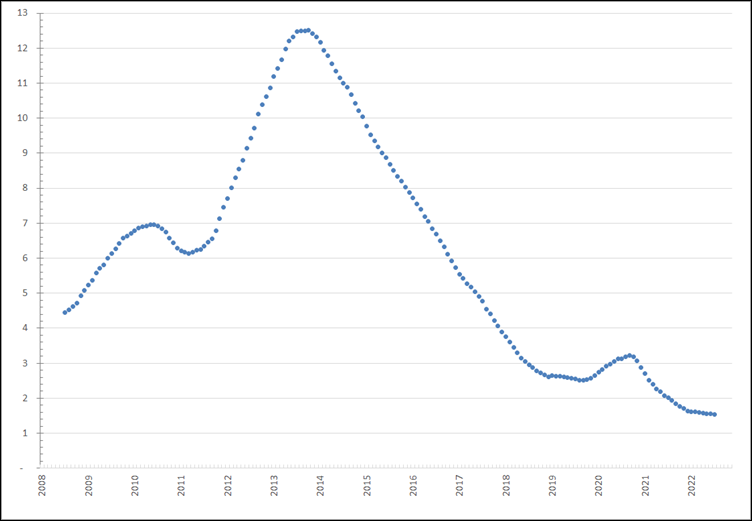 Verandering van het aantal werklozen per vacature, voortschrijdend jaargemiddelde, januari 2008 –december 2022
Ik vind het een zeer informatieve grafiek, waarbij je heel fraai het 'overschot' aan werkzoekenden in de periode 2012 – 2016 (waarbinnen het dieptepunt van de financiële crisis in 2013 – 2014) geleidelijk kan zien veranderen in een steeds grotere 'krapte' aan werkzoekenden sinds 2016, hoewel elke grens natuurlijk relatief is.
Op dit moment is de krapte zeer hoog en de trendlijn lijkt nog maar nauwelijks verder te dalen. Tegelijkertijd is ondubbelzinnig duidelijk dat er geen sprake is van een situatie waar er meer openstaande vacatures zijn dan er werklozen zijn om deze te vervullen. Die claim, gemaakt door het CBS en doorgetoeterd door de mainstream media, is op basis van bovenstaande grafiek pertinent onjuist. Er zijn evident meer werklozen dan er vacatures zijn . Waarbij nog moet worden aangetekend dat het vacaturevolume zoals gemeten door Jobfeed zeer waarschijnlijk nog altijd kunstmatig hoog is en er daarmee nog meer werklozen per vacature zijn.
Tegelijkertijd is de trendlijn min of meer aan het flatlinen. De vraag is of we hiermee een omkering van de trendlijn binnen afzienbare tijd mogen verwachten. Gezien het (voorlopig) uitblijven van een recessie lijkt me dat niet erg waarschijnlijk maar de toekomst is altijd ongewis. Veel belangrijker is natuurlijk de mismatch tussen vraag en aanbod, waardoor er steeds prangender knelpunten binnen bepaalde sectoren ontstaan. Geen goede ontwikkeling voor de gezondheid van onze arbeidsmarkt.