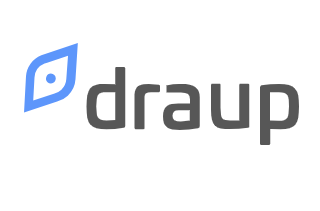 Heb je behoefte aan een opkikker dan raad ik je aan het volgende interview(?) te lezen met Vijay Swaminathan (CEO van Draup). De titel is al een beetje een weggever:
Vijay Swaminathan (Draup): 'Talent Intelligence implies furnishing contextual insights at an ecosystem level'
Geen zorgen, ik was het spoor ook al meteen bijster. Maar ik geef niet zo snel op, en dus begon ik het artikel te lezen:
Draup is an AI-powered platform for talent leaders. During the Talent Intelligence Conference in the Netherlands on September 27-28, Draup CEO Vijay Swaminathan will take to the stage to talk about GenAI, TI and the expansion of his unicorn company into Europe.
Dat geeft iets meer context en een donkerrode vlag. Want de informatie die ik over Draup op Crunchbase vond, lijkt in volledige tegenspraak met de kwalificatie van een unicorn company. Tenslotte vertegenwoordigd een unicorn een waardering van (meer dan) $1 miljard en Draup staat op dit moment op een serie A funding van $20 miljoen. Wat overigens een fors bedrag is voor een serie A funding, maar geen unicorn material.
Overigens overdrijf ik misschien met de kwalificatie "iets meer context" want eigenlijk heb ik geen idee wat een AI-powered platform for talent leaders nou eigenlijk behelst. Daarom ging ik maar eens daar de Draup site: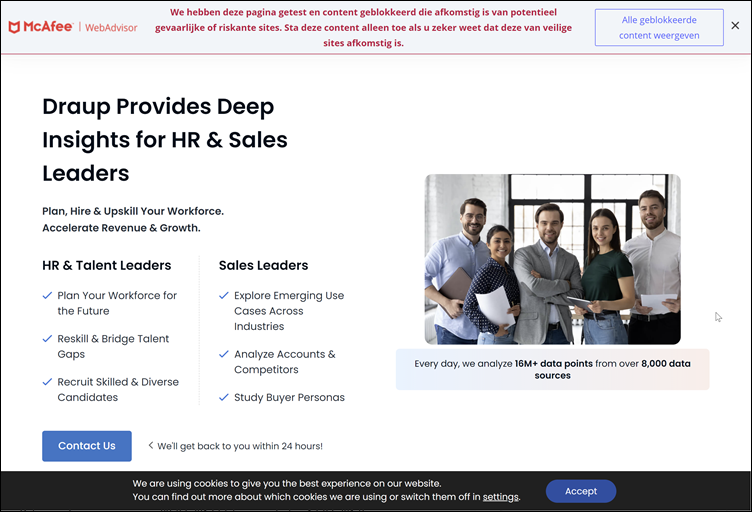 Draup homepage met McAfee waarschuwing
Oké, een site met wat issues zo te zien. Maar ik zie wel dat Draup provides deep insights. Goed om te weten, maar het is me niet helemaal duidelijk welke diepe inzichten dat dan zijn. Vervolgens zegt Draup: Plan, Hire & Upskill your workforce. Dat doe ik dan met die diepe inzichten van Draup fo biedt Draup tooling om dat te doen? Blijkbaar dat laatste en Draup gooit er ook nog eens reskilling en diversity bij voor dezelfde prijs. Een onvervalst Zwitsers zakmes.
Terug naar het artikel.
Op de vraag van de aangever waar zijn praatje over zou gaan zegt Swaminathan het volgende:
Swaminathan: "In the post-Generative AI era, European locations are gaining prominence due to innovative tech approaches as efficiencies of smaller size teams increases. Descartes Underwriting's case study from Paris showcases AI's fusion with human expertise in insurance. The Balkans transformed from tech back office to a hub, as seen with Databricks' center in Belgrade."

"Tech advancements, like SAP's Bucharest site and Sofia's GATE initiative for Big Data, enhance regions' potential. Education also thrives, evident in Renishaw's STEM center and Schaeffler's Slovakian mobility hub. Evolving tech dynamics redefine Europe's role, to be discussed at the upcoming Netherlands conference in September."
Wat, WAT, WAT?
Maar het kan nog veel onbegrijpelijker:
Aangever: What does Talent Intelligence mean to you, to your company and how do you use it?

Swaminathan: "For Draup, Talent Intelligence implies furnishing contextual insights at an ecosystem level, encompassing a comprehensive delineation of skills as well as the intricate interconnections between them. Our clientele gains the ability to comprehend fundamental and related proficiencies, prevalent across worldwide ecosystems, along with the sophistication of use cases executed within these domains."
Hahahaha! Dit is hogeschool bullshit bingo! Ik heb mij tot mijn onafscheidelijke allesweter gewend en die kwam met onderstaande tekst:
Vertaling ChatGPT: Talent Intelligence involves offering in-depth insights about skills within a larger context. This includes a thorough explanation of skills and the intricate ways they are connected. Our clients gain the ability to understand both fundamental and related skills that are important globally. They also learn how these skills are used in different situations and fields.
Dit kan ik verteren maar ik weet eerlijk gezegd niet of Swaminathan dit ook heeft willen zeggen.
Op een andere vraag de aangever weet Swaminathan wederom een onbegrijpelijk antwoord te geven
Aangever: Which kind of companies are your clients. And what sort of impact does Draup have on how these companies are run?
Swaminathan: "Collaborating with over 200 diverse clients spanning various industries, we offer a comprehensive array of Talent Intelligence datasets. The primary benefit our clients derive revolves around meticulous peer benchmarking, tracking trends, gauging skill availability, as well as scrutinizing the intricate connections between different skills and their transitions. Consequently, our customers gain a distinct competitive edge, effectively leveraging their existing location strategies to optimal advantage and seamlessly integrating new strategic locations when needed."

Vertaling ChatGPT: Our clients mainly benefit from comparing themselves to others, following trends, checking available skills, and understanding how different skills are connected. This helps our clients stay ahead, use their current location strategies better, and easily add new strategic locations when needed.
Wederom, ik weet eerlijk gezegd niet of Swaminathan dit ook heeft willen zeggen. Maar het is in ieder geval iets wat ik kan begrijpen.
En dan is er nog dit, met betrekking tot de unicorn droom:
Aangever: Draup is now considered a unicorn. Was that the ultimate mission?

Swaminathan: "Our ultimate goal is to achieve Unicorn status in the future. Our objective is to maintain simplicity in engagement for our clients while delivering exponential value. The essence of Draup's identity lies in our unwavering commitment to go above and beyond to serve our customers effectively. We are confident that this approach will lead us to success, progressing steadily yet surely."
Hier heb ik geen ChatGPT vertaling voor nodig, Draup/Swaminathan ultieme doel is het bereiken van een unicorn positie. Een uitsluitend financiële wens als ultiem doel. Dat belooft wat voor de toekomst. Vandaar dat geraaskal.
Nog eentje dan, omdat het zo leuk is:
Aangever: How is your expansion in Europe going?

Swaminathan: "Our expansion into the European market has been met with success as we secure new customers and engage in numerous events. Our profound comprehension of the technological landscape and scientific applications being pioneered in Europe positions us uniquely. The potential that lies ahead is immensely exciting and promising."
Inderdaad, bullshit bingo.