Een tweet van @TestlaRecruiting laat de future of hiring zien voor Tesla brands. En dat ziet er zo uit: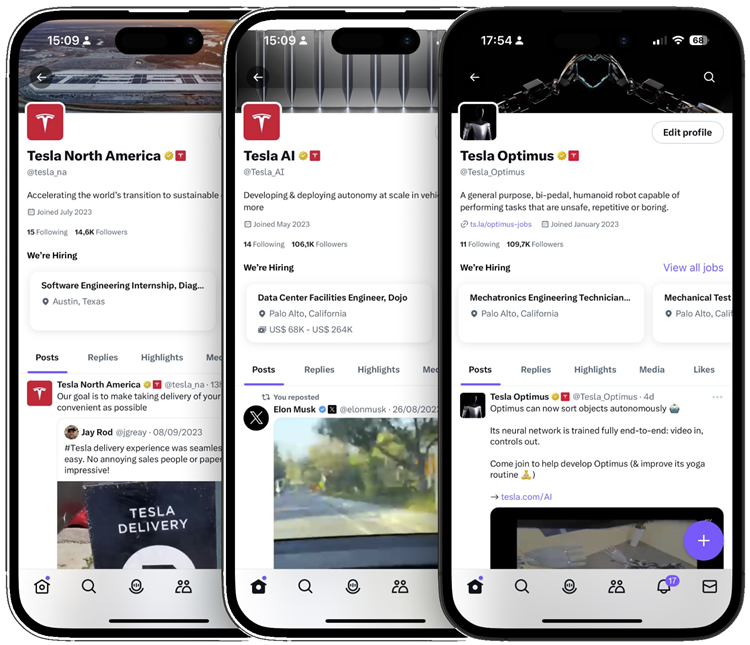 Voorbeelden van de profielpagina's van drie Tesla brands met daarbij vacaturevermeldingen in een horizontal scroll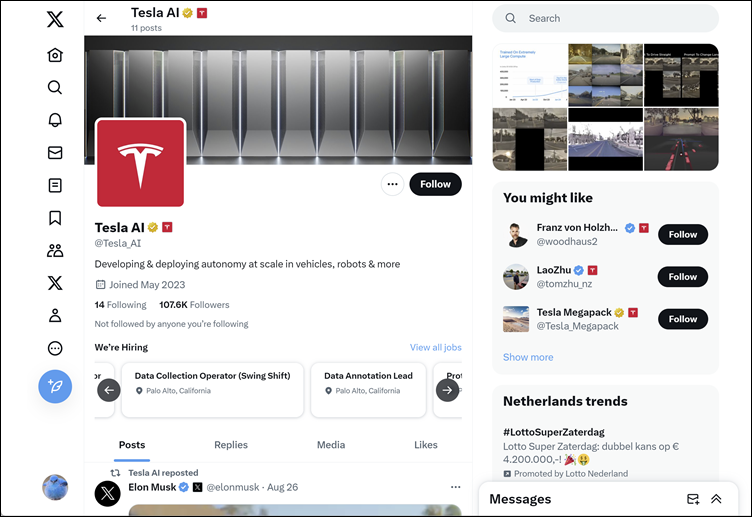 Profielpagina van een zakelijk Twitter account, met vacaturevermeldingen
Er is een horizontal scroll met een zeer compacte vermelding van de vacatures (functienaam, plaatsnaam en salaris (indien aanwezig)). Daarnaast kan de bezoeker klikken op de link (rechtsboven de horizontal scroll) View all jobs. In dat geval wordt een lijstscherm met vacatures binnen X(Twitter) getoond: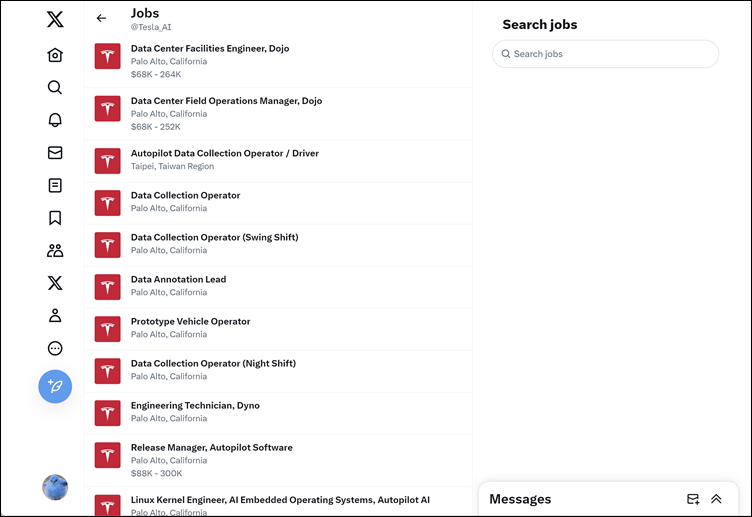 Lijstscherm vacatures binnen X(Twitter)
Er is een zoekfunctie zonder autocomplete (nog?) en filters schitteren (nog?) door afwezigheid. De lijst aan vacatures kan opmerkelijk lang zijn, waardoor een uitgebreidere zoek- en filterfunctie zeer behulpzaam zou zijn.
Als er op een vacaturevermelding binnen de horizontal scroll of op een vacaturevermelding in het lijstscherm wordt geklikt gaat de bezoeker naar de site van de vacaturehouder. Hier kan worden vervolgd met de rest van het eventuele sollicitatieproces. Wat natuurlijk wel de vraag oproept of de bezoeker ooit nog terugkomt naar het lijstscherm met vacatures op Twitter, of (en dat lijkt logischer) verder binnen de (werken-bij) site van de vacaturehouder blijft rondstruinen.
Voor de volledigheid ook nog even de mobiele versie van bovenstaande twee schermen: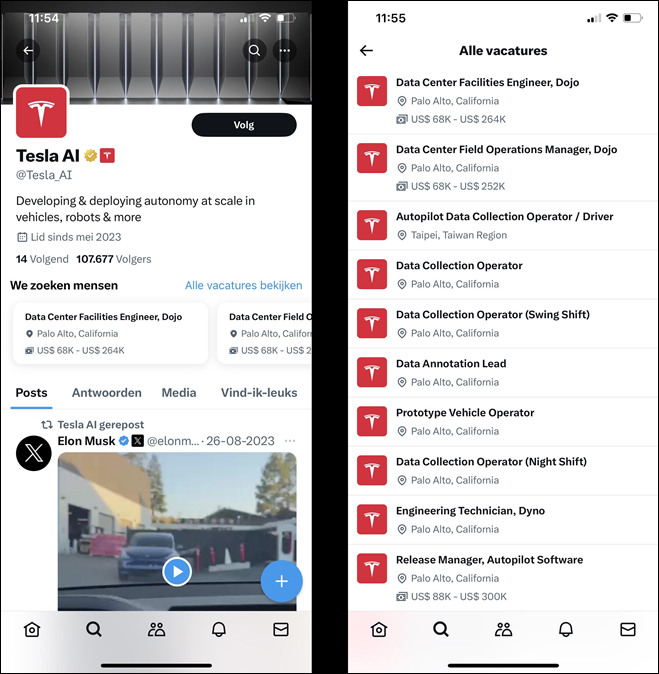 Profielpagina (links) en vacaturelijst (rechts), mobiele versie
In de vacaturelijst is er geen mogelijkheid om te zoeken en te filteren, waardoor de lijst (veel te) lang kan zijn.
En dat was het dan, de volgende update van de recruitment functionaliteit op X(Twitter). Er is nog wel wat te wensen over; zeker als dit een LinkedIn killer zou moeten worden, zoals een aantal enthousiaste optimisten claimen op basis van bovenstaande functionaliteit. Ik dacht het niet…