Een dag voordat Textkernel haar LLM cv parser variant lanceert, plaatste Bill Fischer (CTO van VONQ) een berichtje op LinkedIn met een nogal pugilistisch karakter: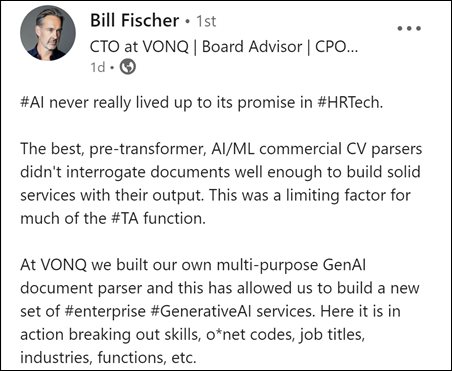 LinkedIn posting Bill Fischer
Oftewel, de oude garde (lees Textkernel c.s.) heeft maar wat aangeklooid, maar wij doen het beter/slimmer/sneller (doorhalen wat niet van toepassing is). En, by the way, er komen nog meer generatieve AI diensten aan.
Was getekend: Bill Fischer.
Voor wie Bill Fischer niet kent, hij is de man achter de eerste people aggregator gebaseerd op sociale netwerken, TheSocialCV, die al snel werd overgenomen door Dice. Wat vervolgens leidde tot een nieuwe recruitment tech tak van sport met vele nieuwkomers die ondertussen overigens allemaal tot deathpool bewoners zijn gepromoveerd. Met mogelijk Talentwunder als enige uitzondering….
Maar met bovenstaande uitspraken, zonder enig bewijs, doet Fischer volgens mij zichzelf en daarmee VONQ tekort.
Om de overbodige angel uit deze opmerkingen te halen, lijkt het me daarom een uitgelezen gelegenheid om eens een beauty contest te organiseren met de meest bekende cv parser tools, georganiseerd door ondergetekende en vormgegeven & uitgevoerd door de cv parser vendors zelf. We hebben dus Textkernel, VONQ, DaXtra en JANZZ en mogelijk 8vance (ik weet niet zeker of zij over een cv parser beschikken). En er zijn er vast nog een paar die ik in mijn enthousiasme ben vergeten.
Doen?