Wie vandaag de dag binnen het recruitment domein niet dagelijks over AI struikelt is een geluksvogel. Alle andere stervelingen moeten zich dagelijks moeizaam een weg banen door een laag AI die ondertussen tot boven kniehoogte is gestegen. En dat alles als gevolg van vooral ChatGPT, of liever gezegd, Generative AI. En Generative AI is binnen de Gartner hype cycle op de Peak of Inflated Expectations aangekomen. Zeg maar de piek van de hype: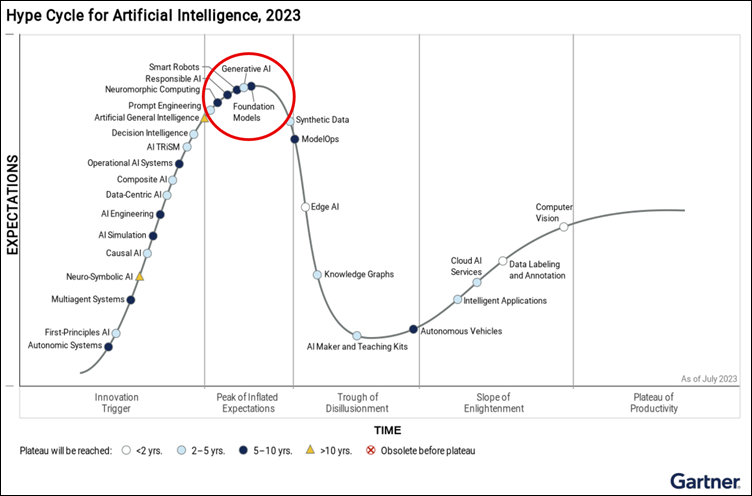 Gartner: hype cycle for artificial intelligence, 2023
Ik denk dat velen met mij een zucht van opluchting slaken wanneer Generative AI richting de Through of Disillusionment lazert en in dat proces talloze AI-slangenolieverkopers en stiekeme meehoppers sneven. Het leven lacht ons dan weer toe, we kunnen rustig zin van onzin scheiden en de eerste werkelijk waardevolle toepassingen met een AI component steken hun kopjes voorzichtig boven het maaiveld.
Ons mooie vakgebied is bepaald niet verschoond gebleven van AI onzin. Sterker nog, door de oververtegenwoording van alpha en gamma typetjes in HR en recruitment is het risico huizenhoog dat in wonderschone beloftes wordt getrapt die vrij van zwaartekracht zijn. In dit verband wil ik iedere lezer oproepen om het artikel; AI Will Dominate Every Element Of Recruiting – A Snapshot View Of The Future Of Recruiting te lezen. En als je niet bij elk van de vijf primary drivers minstens één tegenargument kunt verzinnen dan ben je zeer bevattelijk voor AI bullshit. Het artikel is overigens geschreven door John Sullivan. Pardon, Dr. John Sullivan, zoals mijn voormalige blogpartner Annemarie Stel altijd zei.
Als je nog niet buiten adem bent van het bovenstaande artikel dan wil ik je in het kader van AI bullshit, zonder bronvermelding de volgende schoonheid aanbieden:
[…]de eerste autonome matchingtechnologie voor talenten en recruiters heeft ontwikkeld. Onze matchingsalgoritmen zijn getraind op meer dan 85 miljoen profielen. Middels AI, Big Data en Digital Twin-technologie streven we naar frictieloze talentmobiliteit in een transparante arbeidsmarkt.
Hyperbool der hyperbolen natuurlijk, maar wat is er in deze twee zinnen dat met name alle alarmbellen moet laten rinkelen?