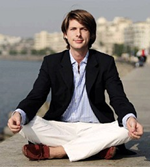 BraveNewTalent wist twee jaar geleden de nodige wenkbrauwen te laten stijgen met ongekend ronkende uitspraken zoals:
By focusing on what gives most value for employers and candidates, which is building talent communities, BraveNewTalent has brought the idea of social recruitment to a whole different level, reinventing its very concept.
Volgens haar oprichter Lucian Tarnowski zou BraveNewTalent zelfs het volgende doen: going to change recruitment forever. En dat zijn toko een Facebook for professionals zou worden. Wat na een verkenning van BraveNewTalent voor mij reden was voor de volgende verzuchting:
BraveNewTalent is vooral een enorme hoeveelheid gebakken lucht komend van haar oprichter Lucian Tarnowski. 
En blijkbaar is Tarnowsk ondertussen tot hetzelfde inzicht gekomen:
We realised we were trying to build communities around recruitment content. But trying to build user engagement around transactional content like that doesn't work. Job seekers just wanted jobs, and recruiters just wanted to fill positions.
No shit, Sherlock!