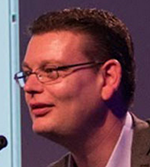 Een volgende oude bekende, Martin Lee. Die in zijn nieuwe rol bij Kelly aan talent mapping doet. Talent Mapping?:
Learn how talent mapping can be mastered just by anyone regardless of past background and training.  Learn Tools & techniques to find everyone in a department or company. How to qualify people still work at a company. How to build organograms. Using social media to cross reference. Using search engines to find entire employee lists.
Tijdens de vorige #SOSUEU liet Lee een eindeloze serie tools 'zien'.
En dit keer laat hij stapsgewijs zien hoe je alle relevante informatie over een bedrijf en de medewerkers daarbinnen kan vinden. Wat vooral veel zoekwerk betekent. Eerst het aantal medewerkers (jaarverslag) en vervolgens alle medewerkers. En dat betekent in de nodige bronnen zoeken, waarbij hij natuurlijk ook Google en Facebook Graph Search noemt.