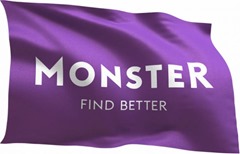 Bijna twee weken geleden was er de aankondiging tijdens de presentatie van de cijfers over het vierde kwartaal:
Monster today announced a series of cost savings initiatives to reduce costs globally while continuing to support our new strategy. The initiatives currently include a global workforce reduction of approximately 300 associates, or 7% of its full-time staff, consolidation of certain office facilities, and continuing discretionary-spending and office and general expense controls.
En gisteren was het dan zover voor 13 medewerkers bij Monsterboard. Ik weet niet of dit 7% van het aantal medewerkers in Nederland is en evenmin of hiermee voor Nederland ook deze ontslagronde voorbij is.